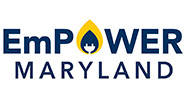 EmPOWER Maryland programs are funded by a charge on your energy bill. EmPOWER programs can help you reduce your energy consumption and save you money.
Programs for Limited Income Customers
---

*This is a link to a third-party site. The site is maintained by the third-party vendors administering these programs on behalf of The Potomac Edison Company (FirstEnergy's Maryland utility).