Our communication tools give you simple and convenient ways to get important information related to your electric service.
Learn how to:
Receive Email and Text Alerts

Sign up for automated email or text messages on topics including:
Restoration updates when you have reported an outage
Notifications of scheduled power outages
Severe weather alerts in advance of storms
Billing reminders, including alerts when a new bill is available, a payment is due, a payment has been posted, or no payment has been received
Reminders to submit a meter reading
You will need to sign in to your online account, or set up an online account if you don't already have one. Message and data rates may apply.
Alert preferences can be updated at any time. For more information, please view our frequently asked questions. Click here for terms and conditions.
Get Outage and Account Updates Via Text Message
You can easily report a power outage, request a status update on a reported outage, or make billing inquiries by sending a text message from your mobile phone.
You will need your account number to register by text message, or you can register your mobile phone by logging in to your account and updating the text & email alerts page. Message and data rates may apply.
Get started with this service by texting REG to 544487 (LIGHTS)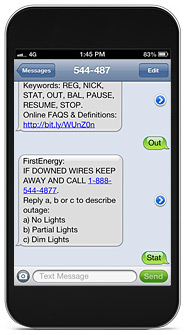 Once you are registered, you can send the following commands to 544487 (LIGHTS):
REG - register for text messages
BAL - obtain your account balance
OUT - report a power outage
STAT - obtain status on a reported outage
HELP - get a list of keywords and link to FAQs
PAUSE - temporarily stop receiving alerts
RESUME - reactivate alert
STOP - stop current alert you received
STOP ALL - stop all alerts
NICK - create a nickname for your account. This may be helpful if you need to retrieve information for multiple accounts (max 12 characters, no spaces or special characters)
For more information, please view our frequently asked questions. Click here for terms and conditions.
Visit Us Online When You're On the Go with Our Responsive Website
Our responsive website provides on-the-go access to the important information and services related to your electric account.
The site includes:
A simple power outage reporting process and easy access to our mobile-optimized 24/7 Power Center outage maps

Secure and convenient account access where you can view and pay your bill, review electric usage or payment history, and enroll in electronic billing
(enrollment in electronic billing is required to view your entire bill statement)

A click-to-call feature to reach our contact centers
Personal Outage Information
You can receive a status update on a reported outage by simply logging into your account. You can also learn about other outage activity in your area. Log in to your account here.
Outage Maps

Our 24/7 Power Center outage maps show individual outage locations with estimated restoration time, outage cause and crew status as available.
Social Media
Stay connected with us on social media for news, energy efficiency and electrical safety tips, and updates during major weather events. Click here for links to our accounts on Twitter, Facebook, LinkedIn, YouTube and Flickr.
Additional Resources