Our Mission:
We are a forward-thinking electric utility centered on integrity, powered by a diverse team of employees committed to making customers' lives brighter, the environment better and our communities stronger.
FirstEnergy (NYSE: FE) is dedicated to integrity, safety, reliability and operational excellence. Headquartered in Akron, Ohio, FirstEnergy includes one of the nation's largest investor-owned electric systems, approximately 24,000 miles of transmission lines that connect the Midwest and Mid-Atlantic regions, and a regulated generating fleet with a total capacity of more than 3,500 megawatts.
Our Electric Companies
FirstEnergy's 10 regulated distribution companies form one of the nation's largest investor-owned electric systems, based on serving 6 million customers in the Midwest and Mid-Atlantic regions. Stretching from the Ohio-Indiana border to the New Jersey shore, the companies operate a vast infrastructure of more than 269,000 miles of distribution lines and are dedicated to providing customers with safe, reliable and responsive service.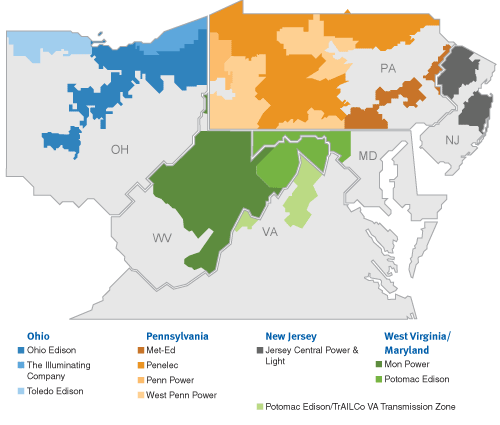 Transmission Operations
FirstEnergy's transmission operations include approximately 24,000 miles of lines and two regional transmission operation centers. Since 2014, the company has been working to upgrade or replace existing power lines, incorporate new, smart technology into the grid, and upgrade substations with new equipment and enhanced security features. This "Energizing the Future" transmission program has produced reliability improvements across our transmission system.
Regulated Generation
FirstEnergy controls approximately 3,569 megawatts from regulated scrubbed coal and hydro facilities in West Virginia and Virginia.
Products and Services
FirstEnergy and its subsidiaries offer innovative solutions for home and business that are designed to meet the demands of today. We're expanding our product and service offering to provide you with even more proven, practical and affordable solutions for your home. In addition, BETA Lab offers businesses a one-source solution for calibration, analytical testing, and safety and health training needs.
Review our Corporate Responsibility Website

FirstEnergy's Corporate Responsiblity Website
At FirstEnergy, corporate responsibility is about staying true to our mission, core values and commitment to integrity. It's about understanding the impact our company can make in the world around us and choosing to do what is right and good with that opportunity. For us, that means pursuing initiatives and goals that align with our foundational principles and positively impacting all of our stakeholders. We are proud of the steps we've taken to demonstrate our commitment to corporate responsibility, and we look forward to continuously refining our approach and improving our performance on environmental, social and governance (ESG) matters.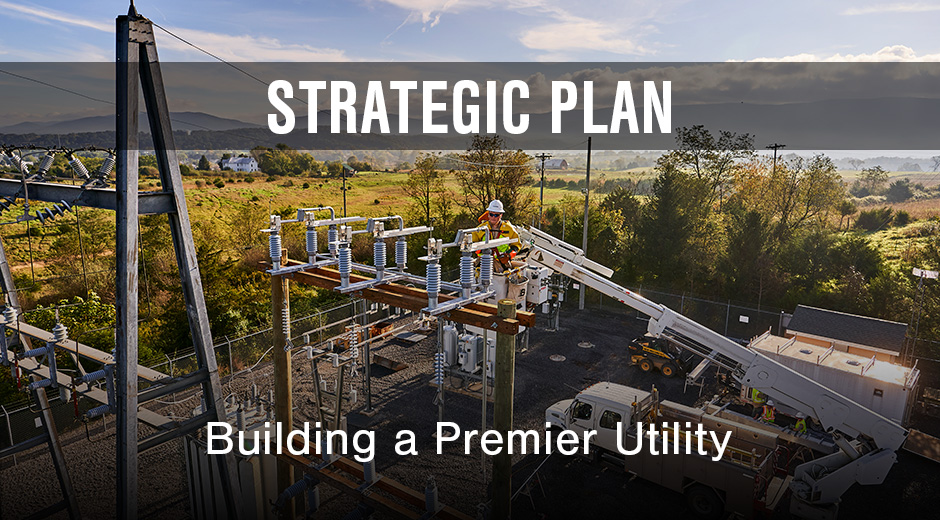 FirstEnergy's Strategic Plan articulates numerous goals that support the company's objectives. The goals include:
Enhancing a culture of compliance through transparency and accountability
Enabling a smarter, more resilient electric system
Embracing innovation across the organization
Meeting the challenges of climate change
Achieving carbon neutrality by 2050
Developing a diverse and inclusive workforce
Building collaborative relationships, marked by trust and respect, with all our stakeholders
Strengthening the company's safety-first culture
Delivering strong and predictable financial results

FirstEnergy's mailing address is:
FirstEnergy Corp.
76 South Main Street
Akron, Ohio 44308