Appliance Turn-In Program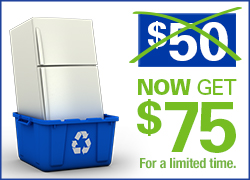 FirstEnergy's Ohio utilities will pick up and recycle your old refrigerator or freezer and you'll get $75.*
Getting rid of your old fridge or freezer couldn't be easier. We'll pick up and recycle your old fridge or freezer and you'll get $75. Plus you can save up to $150 a year in reduced energy costs. Recycle a working room air conditioner or dehumidifier along with a qualifying refrigerator or freezer and you'll get an additional $25 per unit.
Program Guidelines
Must be an electric customer of FirstEnergy's Ohio utilities
You must own the appliance(s)
Refrigerators and freezers must be 10 – 30 cu. ft., plugged in, and operating (cooling) at the time of the scheduled pickup
Limit of two refrigerators/freezers plus up to two room air conditioners/dehumidifiers per calendar year**
Your incentive will be mailed to you 4-6 weeks after pickup of appliance(s)
Please note that this is NOT an appliance replacement program. Your old appliance will be removed and recycled in an environmentally friendly manner and will not be replaced with a new appliance.
Click here*** to sign up or call 1-855-485-7463
---
Costs of these programs may be recovered through customer rates in accordance with Ohio law. For a complete list of commercial, industrial, residential and low income energy efficiency programs, please visit www.energysaveOhio.com
*Promotion applies to orders placed January 1 - March 31, 2020.
**Room air conditioners and dehumidifiers must be recycled in conjunction with a qualifying refrigerator or freezer.
***This is a link to a third-party site. The site is maintained by the third-party vendors administering these programs on behalf of Ohio Edison, Toledo Edison and The Illuminating Company (FirstEnergy's Ohio utilities).
***This program is subject to end at any time without notice. Please check energysaveOhio.com/fridge to verify the continued availability of this program.