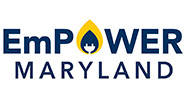 EmPOWER Maryland programs are funded by a charge on your energy bill. EmPOWER programs can help you reduce your energy consumption and save you money. To learn more about EmPOWER and how you can participate, go to www.energysaveMD.com.
---
What is the EmPOWER Low Income Energy Efficiency Programs?
The EmPOWER Low Income Energy Efficiency Program (LIEEP), administered by the Maryland Department of Housing and Community Development (DHCD) helps low income households with installation of energy conservation materials in their homes; no payment is required for these services. These improvements may reduce a household's energy use, lower monthly utility bills, make occupants more comfortable and may improve the air quality and overall health of the family.

Potomac Edison provides funding for this program through EmPOWER Maryland partners.
Below is a list of some of the items qualified homeowners and renters may be eligible to receive:
Insulation in the attic, floors and walls
Hot water system improvements
Energy efficient lighting
Furnace cleaning, tuning and safety repairs
Refrigerator replacement, if applicable
Health and safety items
Energy education

Am I Eligible?

Households may participate in the program if their annual household income is equal to or less than the equivalent of 200% of the federal poverty level. Please see the chart below to find out if your household income qualifies you to take advantage of this program. In addition, to meeting income requirements, you must also have an account with Potomac Edison. If you own your home, you must be able to prove ownership of your home. If you rent your home, your landlord must be able to prove ownership and agree to participate in the program.
Curent Annual Household Income Eligibility Guidelines
Size of Family Unit
Maximum Annual Household Income
(200% of Federal Poverty Level)


1

$24,280

2

$32,920

3

$41,560

4

$50,200

5

$58,840

6

$67,480

7

$76,120

8

$84,760
Families with more than 8 persons, add $8,640 for each additional person.
For more information about the Maryland Low Income Energy Efficiency Programs, call 1-855-583-8976, or you may visit their website at dhcd.maryland.gov/empower* and click on Energy Efficiency Programs.

Additional Programs
Potomac Edison is proud to partner with state, local and social service agencies in Maryland to provide assistance to eligible low-income families who need help paying past due bills, or reducing the amount of future bills. There are three bill assistance programs that eligible customers can apply for in Maryland: the Electric Universal Service Program (EUSP), the Maryland Energy Assistance Program (MEAP), and the Utility Service Protection Program (USPP). These programs encourage energy conservation, financial responsibility and energy independence. For more information you may visit the Office of Home Energy Programs (OHEP)* website or call 1-800-352-1446. Home weatherization programs may also be available to reduce electric consumption.
Get more information about saving energy from the Maryland Energy Administration*.
---
*This is a link to a third-party site. The site is maintained by the third-party vendors administering these programs.