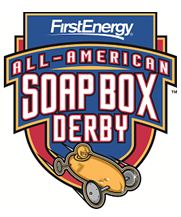 FirstEnergy is proud to be the title sponsor of The All-American Soap Box Derby, the greatest amateur-racing event in the world.
Each year, boys and girls in local communities throughout the United States and several foreign countries assemble gravity-powered racers in their basements, garages, schools or clubhouses in hopes of qualifying for the annual FirstEnergy All-American Soap Box Derby at Akron's Derby Downs.
In 2012, more than 550 youngsters between the ages of 7 and 17 represented their home communities in the championship finals. They earned the right to compete in the FirstEnergy All-American Soap Box Derby by winning local Soap Box Derby races in their hometowns or by accumulating points in a series of rally competitions held around the United States.
In July, champions and their families from the United States, and countries including Canada, Germany, Japan and New Zealand, arrive in Akron in for a week of race-related activities. The week begins with technical inspections, weigh-ins and trial runs on the famous 989-foot-long track at Derby Downs.
Racers compete in separate divisions, based on their age and construction skills. Boys and girls ages 7 to 13 compete in the Stock Car division, which features the simplest ready-to-assemble kits purchased from All-American Derby headquarters. Youngsters 10 through 17 will be in the Super Stock division, whose cars are similar but larger to accommodate larger youngsters,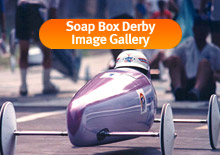 or the Masters division, featuring the traditional, more sophisticated cars.
The Ultimate Speed division is open to drivers between 16 and 24 who pilot innovative race cars at speeds not attainable with the traditionally designed cars.
Division champions compete in Akron for college scholarships.
The National Super Kids Classic, a race in which special needs children compete in two-person cars driven by veteran Soap Box Derby racers, is also part of the festivities.
Additional information can be found at www.aasbd.org. Also, follow the Derby on Facebook and Twitter for updates, photos and more.
The idea of the Soap Box Derby grew out of a photographic assignment of Dayton, Ohio, newsman Myron Scott. He came across a group of boys racing their homemade cars in the summer of 1933, and was so impressed with the event that he acquired a copyright and began efforts to establish a national program. The first official All-American Soap Box Derby was run in Dayton in 1934. The event moved to Akron the following year, where it has been held annually except for a four-year hiatus during World War II. Derby Downs, located in the southeast section of Akron adjacent to the Rubber Bowl and Akron Fulton Airport, was built in 1936.