Work Underway to Upgrade West Penn Power's Electrical System in Westmoreland County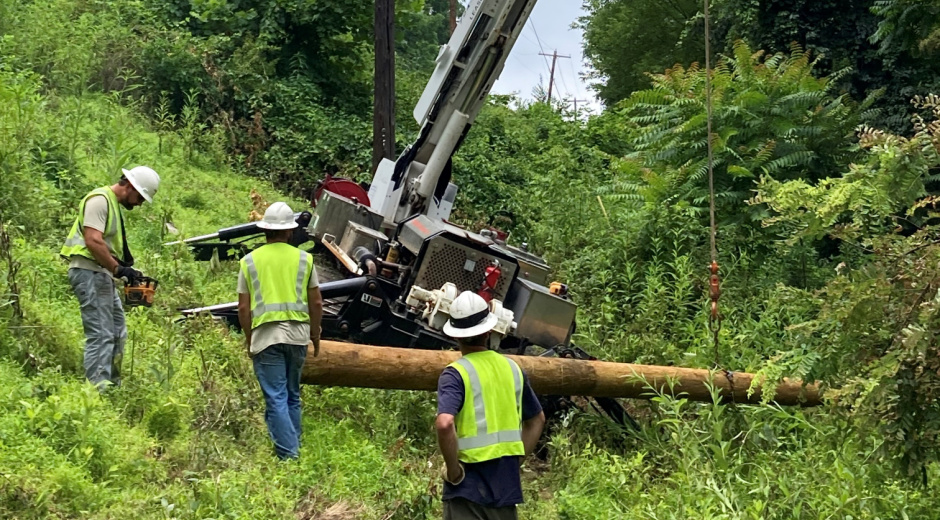 Projects designed to enhance electric service reliability for nearly 5,000 customers
GREENSBURG, Pa., Aug. 14, 2023 -- West Penn Power, a subsidiary of FirstEnergy Corp. (NYSE: FE), is upgrading its electrical distribution system in Westmoreland County to help prevent lengthy service interruptions, particularly during severe weather. The work includes replacing utility poles and installing animal guards, fuses and other protective devices on power lines.
"Our crews are working on three projects designed to help reduce both the number and duration of power outages for a combined 4,800 customers," said Scott Wyman, president of FirstEnergy's Pennsylvania operations. "This work is part of more than $100 million invested since 2016 to accelerate improvements to the local electric system that powers homes and businesses across West Penn Power's service area."
The upgrades are part of West Penn Power's Long Term Infrastructure Improvement Plan II, a $147 million initiative to accelerate capital investments to the company's electric distribution system over five years to help ensure continued electric service reliability for customers.
West Penn Power line crews are working at 70 locations along a 31-mile power line that serves nearly 1,800 customers in North Huntingdon Township in the areas of Guffey, Robbins Station Road and Clay Pike. Crews will replace 18 wooden utility poles – raising the height of many by 5 feet to improve clearances and provide space to accommodate broadband cable or other future attachments – and 47 crossarms. Additionally, crews will install new wildlife guards to help prevent squirrels and other climbing animals from contacting transformers and disrupting electric service.
The project also includes installing 55 new fuses on the line. Fuses are protective devices that open automatically when they detect a system irregularity, such as a tree branch contacting the wire. Fuses safeguard electrical equipment from damage while limiting the scope of outages to smaller sections of a power line. This results in fewer customers impacted by outages caused by trees, vehicle accidents or equipment issues. The work is expected to be completed by the end of summer.
Further north in the county, West Penn Power crews are installing 53 new lightning-protection devices and 47 fuses on a distribution line that serves more than 1,300 customers in Murrysville. The 30-mile circuit provides electricity to numerous housing plans in the North Hills Road area, including Foxwood Estates, Windbrook Estates, Ramsgate, Friesell and Murrysville Manor near the Old William Penn Highway. This project is slated for completion by late August.
The third project targets the replacement of 19 poles that have stood for decades along a 65-mile line in Salem Township. The power line serves about 1,700 customers in the areas of Congruity Road, Old Route 22, Route 819 and the Williamsburg and Monticello housing plans. Many of the new poles will stand 5 feet taller than the ones they replace to provide more clearance. The job is scheduled for completion later this summer.
West Penn Power serves approximately 737,000 customers in 24 counties within central and southwestern Pennsylvania. Follow West Penn Power on Twitter @W_Penn_Power and on Facebook at www.facebook.com/WestPennPower.
FirstEnergy is dedicated to integrity, safety, reliability and operational excellence. Its 10 electric distribution companies form one of the nation's largest investor-owned electric systems, serving customers in Ohio, Pennsylvania, New Jersey, West Virginia, Maryland and New York. The company's transmission subsidiaries operate approximately 24,000 miles of transmission lines that connect the Midwest and Mid-Atlantic regions. Follow FirstEnergy online at www.firstenergycorp.com and on Twitter @FirstEnergyCorp.
Editor's Note: A photo of West Penn Power crews installing new equipment to upgrade the electric distribution system in Westmoreland County is available on Flickr.
News Media Contact: Todd Meyers, (724) 838-6650 or Investor Contact: Irene Prezelj, (330) 384-3859