Potomac Edison Welcomes New Line and Substation Graduates from Training Program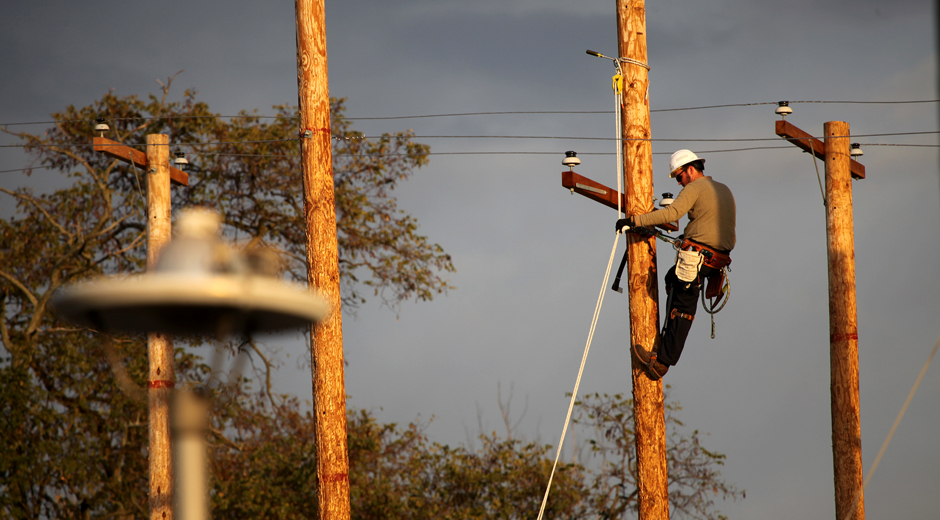 Company is transitioning to a new, paid apprentice program
WILLIAMSPORT, Md., July 5, 2023 -- Potomac Edison, a subsidiary of FirstEnergy Corp. (NYSE: FE), has hired 13 recent graduates of Power Systems Institute (PSI), a two-year educational program that helps prepare the next generation of line and substation workers for FirstEnergy's 10 electric companies. This will be one of the last graduating classes of PSI as the company transitions to a new, paid apprentice program to best meet the needs of future line and substation personnel.
The new employees include 11 line workers who recently graduated from the company's PSI program offered at Blue Ridge Community & Technical College in Martinsburg, West Virginia. Two new substation electricians graduated from Pierpont Community & Technical College in Fairmont, West Virginia.

"These men and women have dedicated themselves to their education, and we welcome the graduates to our workforce. They are making lives brighter in the communities we serve," said Linda Moss, president of FirstEnergy's Maryland operations.
The new line workers and their hometowns are:
Ethan Champ, Old Fields (WV)
Chayson Combs, Augusta (WV)
Michael Hipkins, Adamstown
Garrett Landman, Clear Spring
Cole LaPierre, Taneytown
Bryan Layman, Waynesboro (PA)
Adam Marshall, Woodsboro
Jayden Miller, Mount Savage
Matthew Sprecher, Smithsburg
Cole Stotler, Hagerstown
Adam Taylor, Bunker Hill
The new substation employees and hometowns are:
Cody Forester, Warren (OH)
Bernie Sislo, Oakland
The PSI curriculum for line workers requires two and a half days each week spent at Blue Ridge Community & Technical College, with the remainder of the week spent at a Potomac Edison training facility in Williamsport, Maryland. Similarly, substation electricians spend two and a half days each week at Pierpont Community & Technical College completing academic course work and the remainder of time at the Potomac Edison training facility. All students focus on safe work practices and procedures in the electrical environment. The graduates earned an associate of applied science degree in Electric Utility Technology.
Since the program's inception, FirstEnergy has hired more than 2,800 line and substation personnel who completed PSI programs in Maryland, New Jersey, Ohio, Pennsylvania and West Virginia.
To help address the continuing need for new line workers, FirstEnergy is transitioning to a paid apprentice program that will consist of more on-the-job training alongside seasoned line and substation employees, offer opportunities for relationship-building with local personnel from the outset of the training program and continue with classroom requirements to gain a deeper understanding of the electric industry and safe work practices.
"PSI has served us well for many years, and we believe an apprenticeship program is more in step with today's competitive labor market and is being successfully utilized by a number of our electric industry peers," said Moss.
Potomac Edison serves about 275,000 customers in all or parts of Allegany, Carroll, Frederick, Garrett, Howard, Montgomery and Washington counties in Maryland and 151,000 customers in the Eastern Panhandle of West Virginia. Follow Potomac Edison at www.potomacedison.com, on Twitter @PotomacEdison, and on Facebook at www.facebook.com/PotomacEdison.
FirstEnergy is dedicated to integrity, safety, reliability and operational excellence. Its 10 electric distribution companies form one of the nation's largest investor-owned electric systems, serving customers in Ohio, Pennsylvania, New Jersey, West Virginia, Maryland and New York. The company's transmission subsidiaries operate approximately 24,000 miles of transmission lines that connect the Midwest and Mid-Atlantic regions. Follow FirstEnergy online at www.firstenergycorp.com and on Twitter @FirstEnergyCorp.
Editor's Note: Photos of FirstEnergy's Power Systems Institute training program are available for download on Flickr.
CONTACT: News Media Contact: Chris Hoenig, (609) 350-8599, Investor Contact: Irene Prezelj, (330) 384-3859