FirstEnergy Upgrading Transmission Line in Portage County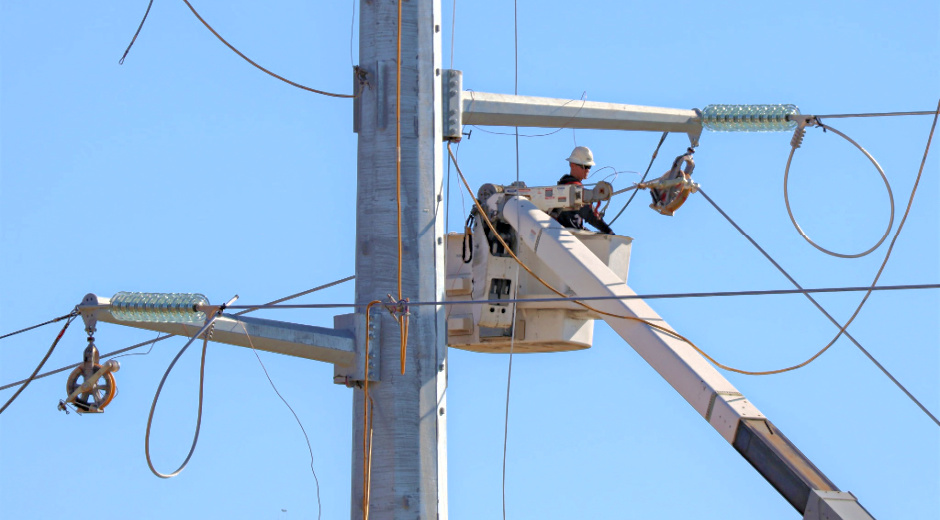 New poles and wires to strengthen regional transmission system
AKRON, Ohio, Sept. 11, 2023 -- American Transmission Systems, Inc. (ATSI), a subsidiary of FirstEnergy Corp. (NYSE: FE), has begun upgrading four miles of a high-voltage transmission power line in Portage County, Ohio, a project that will strengthen the regional transmission system and enhance service reliability for nearly 2,000 Ohio Edison customers.
The four miles of 69-kilovolt power line run from the West Ravenna substation to the Ravenna Substation, through Ravenna and Franklin townships. ATSI will replace the existing wires, hardware and structures with new steel poles, wires and equipment and will also enhance equipment at both substations.
The new wires can carry more electrical load and will be able to accommodate greater customer demand. They will also be able to carry increased power flow in the event of unplanned service interruptions on other lines in the area. The project will enhance reliability for 1,900 Ohio Edison customers served by the Ravenna Substation and is on track to be completed by early 2024.
The project is part of Energizing the Future, a multi-year initiative designed to upgrade FirstEnergy's transmission system with advanced equipment and technologies that will reinforce the power grid and help reduce the frequency and duration of customer outages. Since 2014, FirstEnergy has upgraded or replaced existing power lines, incorporated smart technology into the grid and upgraded dozens of substations with new equipment and enhanced security features. Through 2022, FirstEnergy had invested more than $10 billion in the Energizing the Future initiative.
ATSI provides transmission services in Ohio and in the western portion of Pennsylvania and owns or maintains more than 8,100 miles of transmission lines, substations and other facilities.
FirstEnergy is dedicated to integrity, safety, reliability and operational excellence. Its 10 electric distribution companies form one of the nation's largest investor-owned electric systems, serving customers in Ohio, Pennsylvania, New Jersey, West Virginia, Maryland and New York. The company's transmission subsidiaries operate approximately 24,000 miles of transmission lines that connect the Midwest and Mid-Atlantic regions. Follow FirstEnergy online at www.firstenergycorp.com and on Twitter @FirstEnergyCorp.
CONTACT: News Media Contact: Will Boye, (301) 790-6420; Investor Contact: Irene Prezelj, (330) 384-3859