Toledo Edison Partners with Maumee Valley Habitat for Humanity to Build Playhouses for Deserving Children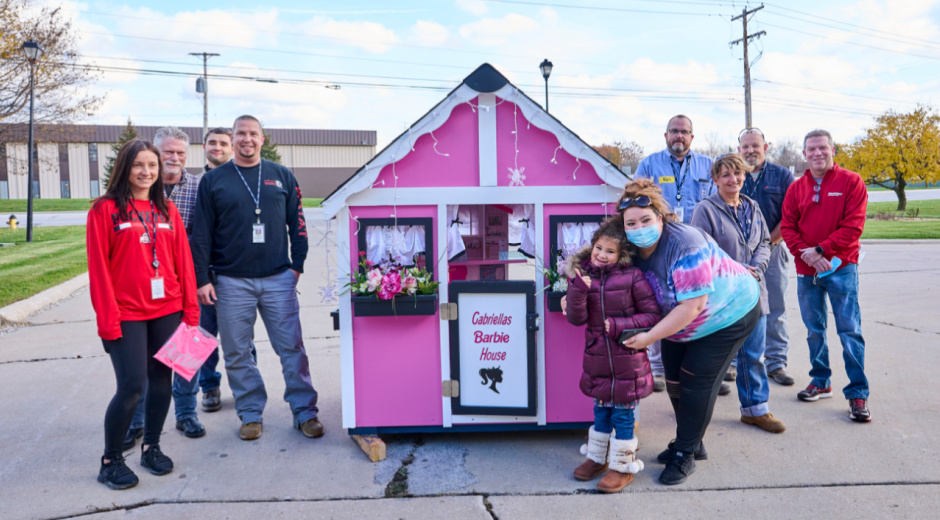 Six-year-old Gabriella Ernest couldn't believe her eyes when she walked into Toledo Edison's Holland Operations Center and was surprised with a bright pink Barbie playhouse decked out with colorful flower boxes, holiday lights and her name painted on the front door.
"Thank you, thank you so much," Ernest said to the nearly 20 Toledo Edison and Maumee Valley Habitat for Humanity volunteers who built her custom playhouse just in time for the holidays.

Ernest grinned from ear to ear and gave several thumbs up as she toured her new digs, which was stocked with a Barbie Dream House, Barbie dolls and other accessories gifted by Toledo Edison employees and their families.

The Barbie playhouse was the last of four playhouses built by Toledo Edison employees over the past two months for local children. These projects were a fun way for employees to celebrate the company's 100th anniversary, which was on Nov. 1.
WATCH: Playhouse built for local family (13abc.com)
"This build was extra special to us because it provided Gabriella with her own space to avoid sensory overload and help ease anxiety triggered by her autism," said Meg Adams, a FirstEnergy external affairs consultant who organized the event. "The FirstEnergy Foundation covered the cost of the materials to build the playhouses and dozens of our employees went above and beyond to positively impact the children who received them."

Playhouses have long been known as a great way for kids to learn social skills and explore their imagination. The playhouse recipients were deserving Lucas County families who applied for the Maumee Valley Habitat for Humanity's Project Playhouse.

Under the direction of Maumee Valley Habitat for Humanity's Bonnie Berland, volunteers painted and assembled walls and doors, nailed donated shingles onto two roof panels and added painted decorations inside and outside the playhouses. The decorations were based on a theme that reflected the recipients' interests.
Maumee Valley Habitat for Humanity is one of only a few Habitat chapters in the U.S. to use Project Playhouse to help raise funds. According to Berland, the program is the organization's biggest fundraiser and has brought in well over $250,000 in recent years.

"These little playhouses help us raise money to build big houses, as well as make critical health and safety repairs to existing homes in Lucas County," said Berland.

This community partnership is just one example of how Toledo Edison's commitment to northwest Ohio extends far beyond the delivery of reliable electric service. Toledo Edison employees have also participated in countless charitable causes across the region, like installing free smoke detectors for Toledo families, donating and preparing meals for families at the Ronald McDonald House of Northwest Ohio and hosting food and monetary donation drives for local foodbanks.
To learn more about FirstEnergy's community involvement initiatives, visit www.firstenergycorp.com/community. Photos from the recent playhouse build can be found here.

MEDIA CONTACT: Lauren Siburkis, (330) 203-8850