FirstEnergy Employees Speak Up About Racial Inequity and Social Injustice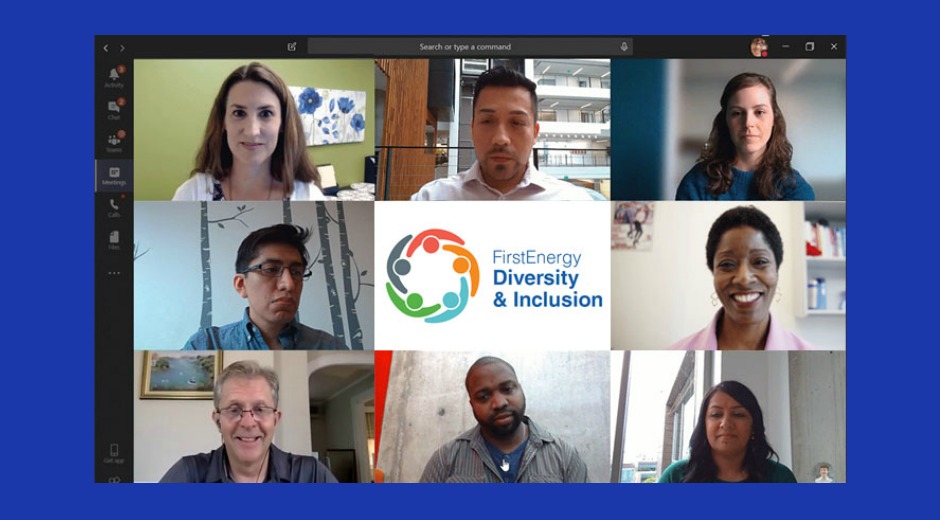 Over the past several months, a number of tragic events have put a spotlight on the racial inequalities faced by African Americans.
To support employees during this time and to continue focusing on our core value of diversity and inclusion, FirstEnergy has been hosting interactive "Speak Up" sessions. During these virtual discussions, employees can engage in meaningful conversations to understand how each of us is managing – personally and professionally – and identify ways we can bring about positive change.
A Safe Space to Share and Discuss
In February, our Diversity & Inclusion (D&I) team piloted the Speak Up series with a Speak Up: Dialogue about Differences event where employees participated in several interactive sessions and explored how the use of dialogue can help build relationships, deepen understanding and foster a culture of inclusion.
To build on a successful start and continue engaging employees who are working remotely during the COVID-19 pandemic, the D&I team partnered with our MOSaic Employee Business Resource Group (EBRG), a FirstEnergy EBRG serving as a resource to employees of color and allies, to host virtual forums throughout June and July to further these important conversations and discuss employee responses to the nationwide protests and other current events.
The Speak Up: Dialogue about Racial Inequity and Social Injustice sessions have served as a safe space where employees can have open and honest dialogue about racial inequality and social injustice, share feelings and experiences and get support. It's also an opportunity for employees to discuss how FirstEnergy can continue to further embed diversity and inclusion in its culture.
The Speak Up sessions have been well received, with approximately 2,000 employees participating to date in addition to dedicated sessions held within business units.
A Commitment to Diversity & Inclusion
Our commitment to our core value of diversity and inclusion is unwavering. We encourage our employees to keep engaging in meaningful conversations about the social challenges our country is facing, as well as use peaceful actions to enact positive change.
To learn more about FirstEnergy's diversity and inclusions initiatives, visit www.firstenergycorp.com/diversity.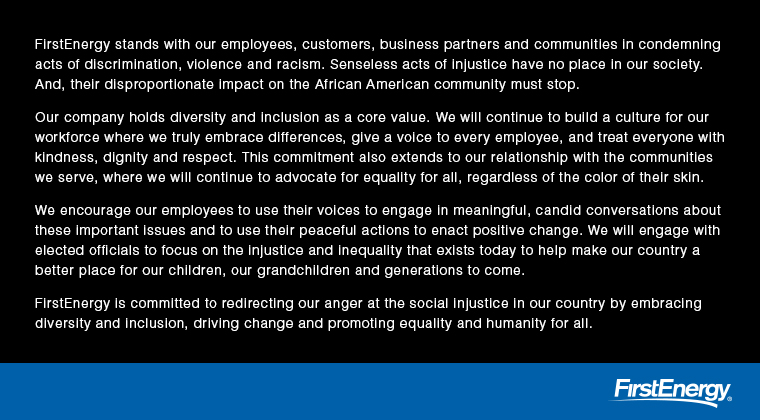 FirstEnergy released the above statement regarding acts of racial injustice and nationwide protests on June 3, 2020. The message was shared on all FirstEnergy social media accounts.
CONTACT: Christy Hajoway, 330-374-6544