Employee Business Resource Groups (EBRGs)
Employee business resource groups were established around a common dimension of diversity and provide employees and their allies with networking, mentoring, coaching, recruiting, individual development and community outreach opportunities. EBRGs are voluntary, employee-led groups, and all employees are welcome to join an EBRG that resonates with them.

MOSaic – Serves as a resource to FirstEnergy's people of color and allies. Its members seek to further strengthen recruitment, development and advocacy, and to assist in positively influencing the company's culture of diversity and inclusion.
Veterans & Allies – Strives to positively influence the organizational culture to ensure the hiring and development of veterans, and to assist FirstEnergy in achieving its diversity and inclusion business imperative and aspirations.
Women in Leadership – Dedicated to establishing a group of FirstEnergy employees who are committed to developing current and future women leaders for leadership positions and addressing the challenges of work/life balance.
Alternate Current – The vision of Alternate Current is to alternate from what was to what will be by becoming current with industry and societal trends. Alternate Current strives to enhance and sustain the health and wellbeing of the LGBTQIA+ community within FirstEnergy by providing a safe and supportive environment through a partnership between corporate, community, and member employees.

THRIVE – Serves as a resource to FirstEnergy's employees with disabilities and major illnesses, as well as family members and friends who support and assist them. Thrive is committed to fostering an inclusive work environment where employees are empowered to be authentic, valued and respected.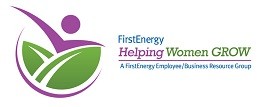 Helping Women GROW – Strives to positively influence the environment, ensure professional and personal development of women employed at the Fairlawn (Ohio) Contact Center and assist FirstEnergy in achieving its diversity and inclusion business imperatives. They are also developing leadership through mentoring across the company.

Family Network – Committed to creating awareness of issues and concerns working caregivers face daily. The Family Network strives to provide workplace support to create balance between career and family while taking steps to positively change the culture around caregiving.