Penn Power Donates, Installs Nesting Platform at Lakeview High School to Protect Growing Osprey Population in Mercer County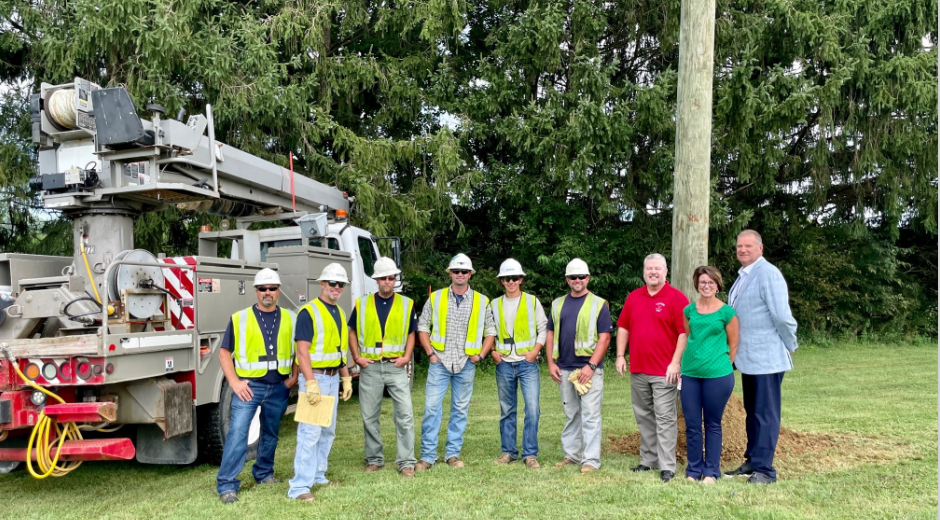 As part of its ongoing efforts to protect nesting birds, Penn Power recently donated and installed a 55-foot wooden pole with a nesting platform at Lakeview High School in Stoneboro, Mercer County. This proactive work will provide a safe nesting location for the growing osprey population and promote osprey conservation efforts in the area while providing an interactive learning experience for students this school year.
"Teaming with Lakeview High School allows us to continue to proactively complete work to further discourage birds from nesting on or near electrical equipment and will help prevent the birds from nesting within the school's outdoor stadium lights," said Amy Ruszala, an environmental scientist and avian expert at FirstEnergy. "We've installed more than a dozen nesting platforms across our service area over recent years, and they've proven to be successful in keeping nesting birds out of harm's way."

Over the past few years, the stadium lights at Lakeview High School have been a popular nesting location for the birds because the property is situated near Sandy Lake, which provides the birds' source of food. The new, 5-square-foot wooden nesting platform was installed on top of a new wooden pole next to the stadium lights. Penn Power donated the materials and labor needed to complete the installation.

"We thank Penn Power for giving back to our local community and installing this nesting structure before the start of the school year," said Ryan Fagley, a biology teacher at Lakeview High School. "This is a win for everybody because it helps keep the nesting birds safe, benefits the electric company and will eventually allow our students to observe ospreys in their natural habitat when we install a web cam prior to their peak breeding season in the spring."

Birds of prey, like ospreys, often seek out tall structures including electric transmission towers and poles to build their nests, which can measure up to three feet in width. These nesting habits often place the birds near energized electrical equipment – jeopardizing their well-being and potentially causing power outages. The newly installed platform will help discourage the birds from nesting on poles with energized equipment.

The work builds upon Penn Power's efforts in recent years to protect nesting birds. Over the past three years, the company has donated several nesting platforms to the Erie Bird Observatory and other conservation groups to provide safe nesting sites for ospreys along local bodies of water. The company also proactively installed new fiberglass crossarms on nearly two dozen utility poles along the Route 18 causeway over the Shenango River Lake in Mercer County to discourage ospreys from nesting on the utility poles.

In addition, FirstEnergy deployed an app last spring that allows utility personnel to report avian issues in real time, streamlining the process to protect nesting birds and enhance electric service reliability. The app arms field workers with the ability to submit photos and answer key questions using a drop-down menu to report the locations of bird nests or other bird-related issues along the company's power lines, all from their mobile devices.
MEDIA CONTACT: Lauren Siburkis, (330) 203-8850