FirstEnergy Foundation Donation Helps Fund At-Home STEAM Activities for Children in Mahoning and Shenango Valleys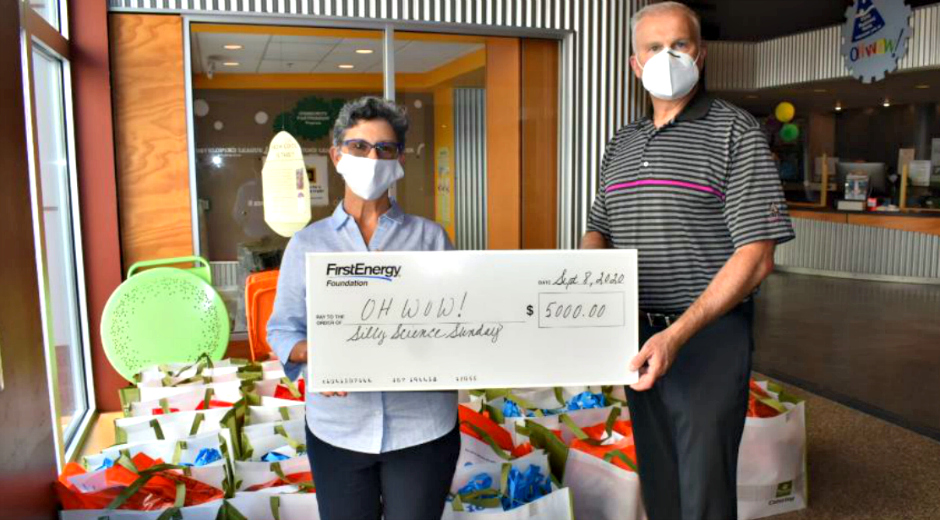 When a popular science fair in northeast Ohio was canceled this year due to the coronavirus pandemic, the FirstEnergy Foundation partnered with local businesses to donate more than $23,000 to OH WOW! Children's Center for Science & Technology in Youngstown to create free activity kits for children in the Mahoning and Shenango valleys. This initiative provided a safe alternative to holding the annual Silly Science Sunday event in person on Sept. 20.
"Because of our generous community partners, like FirstEnergy, the Silly Science Sunday event was able to continue safely during this pandemic in a new form," said Suzanne Barbati, OH WOW!'s executive director. "They truly rallied together on short notice to help make this year's at-home event a success." 

In addition to providing electrical safety materials for the packs, the FirstEnergy Foundation made a $5,000 contribution to this "Sciencing at Home" event. Each kit includes at least four activities in the areas of science, technology, engineering, arts and mathematics (STEAM), like marble labyrinth kits that students can make at home using pizza boxes. They were distributed to the community at local libraries across Mahoning, Trumbull, Columbiana, Mercer and Lawrence counties.

"Our company has a heart for the community, especially when it comes to educating our youth," said Lorna Wisham, vice president of corporate affairs and community involvement at FirstEnergy and president of the FirstEnergy Foundation. "We continue to support educational activities that encourage students to pursue careers in STEAM fields because they help build a strong workforce for the future."

Over the past 10 years, OH WOW!'s Silly Science Sunday event has attracted thousands of people to downtown Youngstown to watch science demonstrations, participate in activities and visit the center for free. This year, about 4,000 free STEAM kits were distributed to children across the region.

FirstEnergy has been a long-time supporter of OH WOW! because of the organization's mission to introduce children to STEAM fields at an early age. Since 2001, the company has donated resources and funds to help enhance OH WOW!'s educational offerings for the community.

Families and individuals participating in the OH WOW! STEAM activities are encouraged to share their projects on social media using the hashtag #SciencingAtHome.
MEDIA CONTACT: Lauren Siburkis, (330) 203-8850