FirstEnergy Foundation Honors U.S. Service Members and Veterans During Holiday Season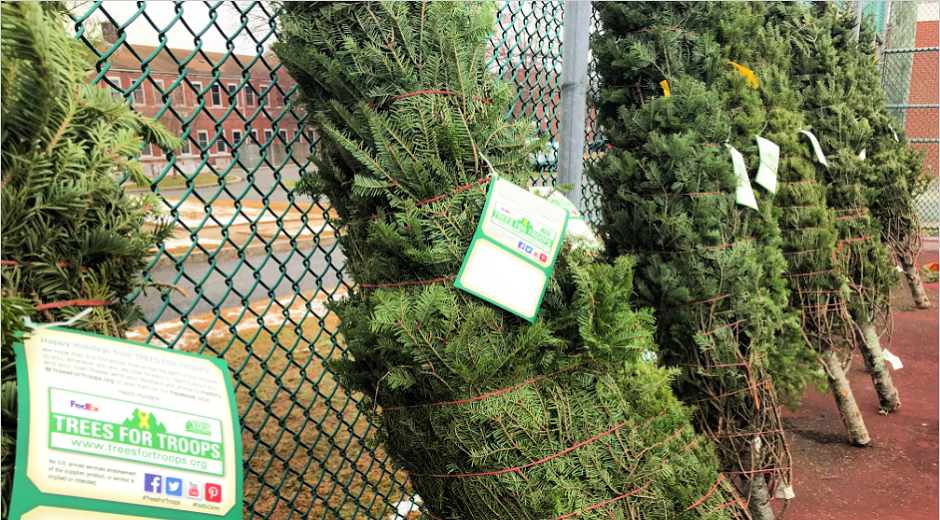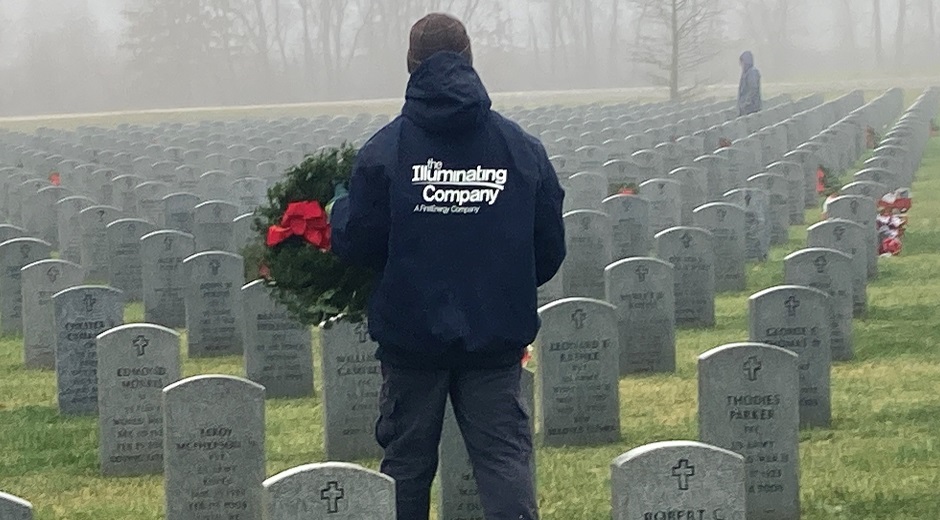 As a 31-year veteran of the U.S. Air Force, FirstEnergy employee Troy Rhoades has witnessed the positive impact a kind gesture can have on a military family who's either stationed away from their extended families or their loved one is away during the holidays serving their country.
To help make the holidays brighter for U.S. military families, the FirstEnergy Foundation donated $15,000 to the 2021 Trees for Troops program. This is the third year the Foundation has provided financial support or employee volunteers to assist with the program, which has distributed nearly 280,000 Christmas trees to military members and their families stationed abroad and domestically since 2005.

"FirstEnergy is committed to supporting our communities and giving back to those who serve our country," said Rhoades, a FirstEnergy external affairs consultant and a co-chair of the company's Veterans and Allies employee business resource group. "We are proud to partner with Trees for Troops to bring a festive spirit and joy to the brave men and women who selflessly serve our country."

The Trees for Troops program is a partnership between the Christmas Spirit Foundation, FedEx and Christmas tree growers across the country. Last month, FedEx Freight drivers delivered about 15,000 trees to 77 military bases across the country. Nearly 350 trees were distributed to service men and women at Naval Weapons Station Earle in Monmouth County, New Jersey, located within FirstEnergy's service area.

In previous years, U.S. veteran employees from FirstEnergy have distributed trees to military bases in Ohio, but many coronavirus pandemic restrictions remain in place that prevented them from doing so this year.

"The unwavering support for Trees for Troops from the FirstEnergy Foundation and other sponsors and donors through the pandemic has allowed us to continue delivering the spirit of Christmas to military families one tree at a time," said Rudy Dungey, executive director of the Christmas Spirit Foundation, which runs the Trees for Troops program. "Every single service member who receives a tree will know it was made possible through the generous support of our donors, no matter where they live in the world."

Hundreds of tree farms across 27 states donated and collected trees for this year's program. As customers at these tree farms picked out their trees for the season, they also were able to purchase trees to be donated to military families across the country. Those who donated trees had the option to attach a holiday message for their tree's recipient. More information about the program can be found at www.treesfortroops.org.

In addition to its support of Trees for Troops, the FirstEnergy Foundation donated $5,000 to Wreaths Across America to honor veterans at three national cemeteries in Ohio, Pennsylvania and West Virginia. Dozens of FirstEnergy employees and their families placed holiday wreaths on gravestones at Indiantown Gap National Cemetery in Annville, Pennsylvania; Grafton National Cemetery in Grafton, West Virginia; and Ohio Western Reserve National Cemetery in Seville, Ohio.

FirstEnergy proudly employs more than 1,000 past and present members of the U.S. Armed Forces. FirstEnergy has been recognized by Military Friendly® as military-friendly employer, earning the Military Friendly Employer silver designation and Top 10 Supplier Diversity Program designation for 2022.
For more information about FirstEnergy's commitment to U.S. service members and veterans, visit www.firstenergycorp.com/military.
MEDIA CONTACT: Lauren Siburkis, (330) 203-8850