FirstEnergy's Distribution Technicians are Key to Delivering Safe, Reliable Electric Service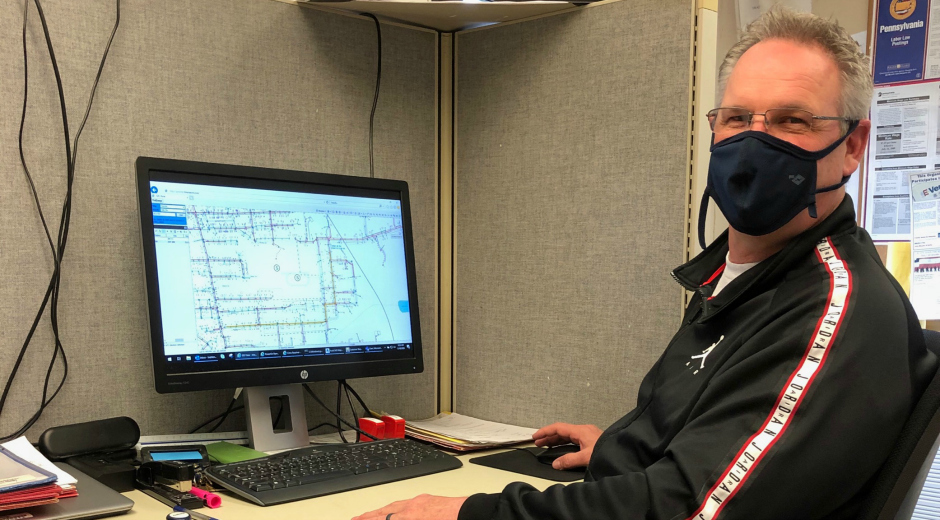 You won't see FirstEnergy's Todd Nehlen climbing a utility pole any time soon. 
Nevertheless, Nehlen and dozens of other distribution technicians play a key role in providing safe and reliable electric service to customers across FirstEnergy's 10 electric companies in Ohio, Pennsylvania, New Jersey, Maryland and West Virginia. 

As a distribution technician for Penn Power, Nehlen works closely with engineers and line supervisors to plan, design and execute all work necessary to establish new electric service and enhance existing service in western Pennsylvania.  

"We work behind the scenes to plan and design the work customers see line workers doing out in the field each day," said Nehlen, who has been with the company for more than 25 years. "Behind every work order takes hours of planning on our end to ensure each job is performed safely and cost effectively." 

Nehlen – a self-proclaimed "people person" – enjoys interacting with customers, property owners, architects and engineers daily to develop electrical distribution designs to complete projects on time. However, due to recent COVID-19 developments, Nehlen and other distribution technicians are relying on technology to complete their work. When they are not in the field independently doing property assessments, they are holding conference calls and working from home.  

Before any new work begins, Nehlen conducts field investigations to assess the terrain, building conditions, equipment clearances and potential obstacles utility crews could face on a job site. He uses that information to determine the utility personnel, equipment, materials and permits that will be required to operate, maintain and construct the overhead or underground lines and equipment. 

Nehlen previously worked as a line supervisor and distribution engineer for the company. This unique experience is especially beneficial during storms because Nehlen can step in to assess damage and create work orders to help speed restoration. 

Distribution technicians like Nehlen have important forward-facing roles with the company and interact with customers on a daily basis, said Jeff Doran, operations manager at Penn Power. 

"This is a great career for individuals who enjoy the planning and design components of our operations side of the business," said Doran. "It definitely takes an organized, disciplined and flexible person to be able to do this job because the there are many factors that can change daily operations, like severe weather." 

Visit www.firstenergycorp.com/careers to view and apply for current job openings at FirstEnergy. 
CONTACT: Lauren Siburkis, (330) 203-8850