FirstEnergy and Akron RubberDucks Step Up to the Plate to Benefit Local Youth this Summer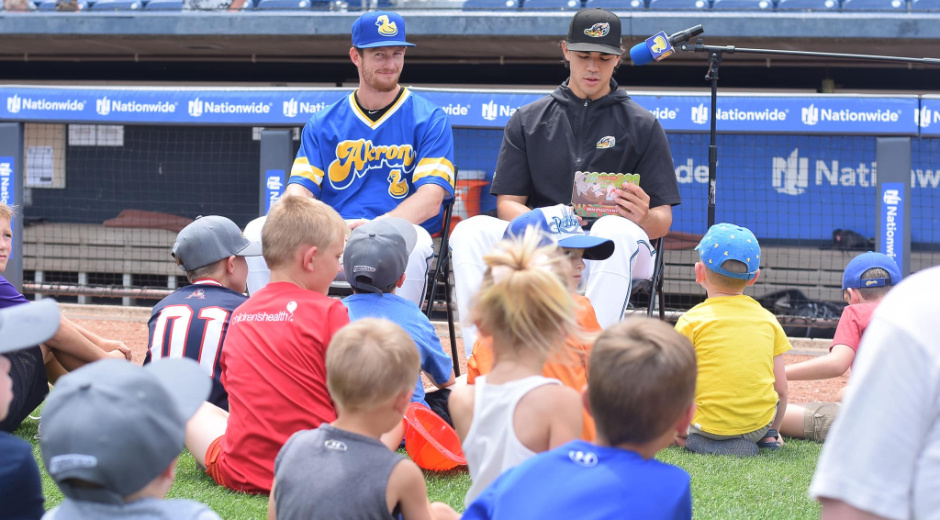 From a new reading program to youth baseball opportunities, FirstEnergy is stepping up to the plate this summer to provide affordable family fun and invest in the growth of future leaders through its continued sponsorship of the Akron RubberDucks.
The FirstEnergy reading program, "Quack Open a Book," is an exciting initiative for students in grades 3-6 across northeast Ohio to earn a free ticket to a game. By reading and logging three books between April and July, students can earn a free ticket to a RubberDucks game on Sunday, Aug. 6, and participate in a pregame parade around the field.
The student who reads the most books will throw out a ceremonial first pitch. One deserving school will also be selected to host a live reading event with the RubberDucks mascots, personnel and FirstEnergy representatives.
"We're leveraging our sports sponsorships to directly impact the communities we serve," said Lorna Wisham, vice president of corporate affairs and community involvement at FirstEnergy. "By promoting summer literacy programs and encouraging a love for baseball and teamwork, FirstEnergy is investing in the growth of our future leaders and empowering the community with the tools they need to succeed."
In addition to the reading program, the Akron RubberDucks Baseball Academy will provide opportunities for local youth teams to play baseball at Canal Park. For the 2023 season, the RubberDucks' Academy on the Road will debut with local youth baseball programming and instruction in the community, courtesy of FirstEnergy.
"Thanks to this community partnership, we are thrilled to be able to provide the best in affordable family fun for all of Northeast Ohio," said Jim Pfander, president and general manager of the RubberDucks. "Get your reading materials and baseball gloves ready for a summer of fun with the Akron RubberDucks and FirstEnergy."
The new community initiatives with the RubberDucks complement FirstEnergy's work with the Cleveland Cavaliers this school year to host free Scholastic Book Fairs for more than 1,000 children in Akron Public Schools and Cleveland City Schools.
For more information about the RubberDucks season and community programs, visit akronrubberducks.com, on Facebook at www.facebook.com/AkronRubberDucks, Twitter @AkronRubberDuck and Instagram @akronrubberducks.
MEDIA CONTACT: Lauren Siburkis, 330-203-8850