Potomac Edison Partners with Jennings Randolph Lake on Nesting Platform
Company donates and installs pole for future osprey nesting at lake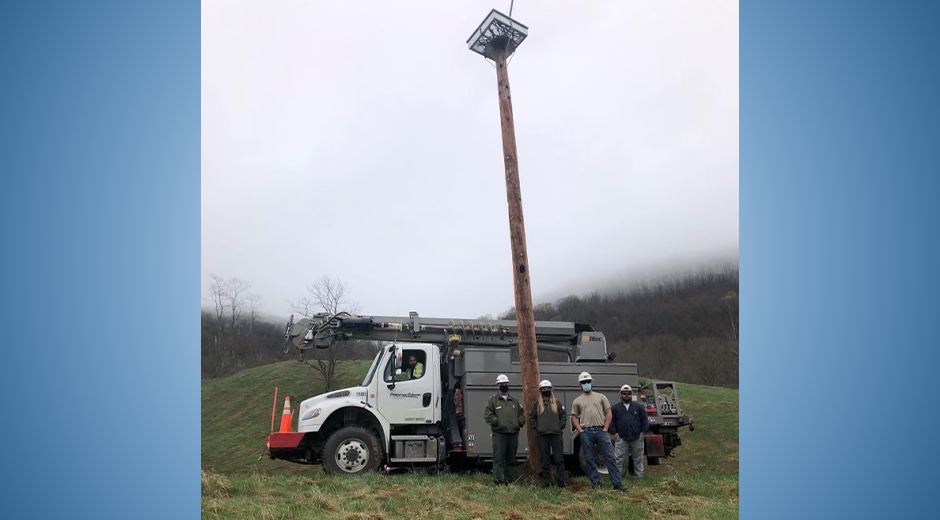 Visitors to Jennings Randolph Lake have long kept their eyes peeled for a pair of bald eagles that have been nesting for more than 10 years at the property along the North Branch Potomac River in Garrett County, Maryland, and Mineral County, West Virginia. Now, with some assistance from Potomac Edison, the staff at Jennings Randolph are working to promote even more birdwatching with the installation of a new osprey nesting platform at the 952-acre lake.
In recent years, FirstEnergy, Potomac Edison's parent company, has partnered with various organizations across its footprint to protect birds and to provide safe nesting locations that will discourage them from building nests on electric transmission towers and poles with energized equipment. The company found another opportunity to partner when Francesca Gullion, a park ranger and natural resources specialist at Jennings Randolph, reached out to some friends at Potomac Edison's Fort Ashby, West Virginia, service center to share plans for a new platform to host nesting ospreys along the lake's Sarbanes River Access Trail.
Potomac Edison donated a 30-foot utility pole for a new nesting platform at the lake, and three linemen from the service center worked with Gullion to set and install the pole. Mineral Fabrication, a local contractor, designed and built the platform, which is visible from a new overlook along the Sarbanes River Access Trail. Located across the river from the platform, the overlook will include benches, a split-rail fence, spotting scope and some informational boards on birds of prey. Although it may take a year or more for ospreys to utilize the new nesting platform, Gullion says a female osprey has already flown over the platform to give it a closer look.
"We have a pair of nesting ospreys in the area, and it's our goal to have them use this platform for nesting in the future," she said. "It will be a safe location for them, and the overlook will help enhance the trail experience for our visitors."
Amy Ruszala, an advanced scientist and in-house avian expert at FirstEnergy, says the rollout of a new app that allows utility employees to report avian issues has helped to increase awareness of the company's efforts to protect birds. The app arms field workers with the ability to submit photos and answer key questions using a drop-down menu to report the locations of bird nests or other bird-related issues along the company's power lines, all from their mobile devices.
"With the osprey population continuing to grow, it's important for us to do what we can to help provide nesting alternatives away from our energized equipment," she says. "Donating materials and helping to build platforms like this will hopefully train generations of osprey at Jennings Lake that this is a safe place to nest for years to come."
CONTACT:  Will Boye, (301) 790-6420