From Fleet Mechanic to External Affairs: FirstEnergy's Lisa Taddei Takes Pride in Her Career
Longtime FirstEnergy employee Lisa Taddei launched her career with the company as a fleet mechanic at Ohio Edison right out of high school – marking the start of a 35-year journey that has given her many opportunities to grow professionally and personally.
"Shortly after I graduated from high school, a human resources manager saw media coverage that I had won state and national competitions for automotive skills demonstrations during my junior and senior years and recruited me to join the company," said Taddei, now an external affairs consultant who covers Trumbull, Portage and Ashtabula counties in northeast Ohio.
Taddei eventually worked her way up to meter services, where she spent more than 20 years as a meter service technician and supervisor. After successfully raising two sons, Taddei was ready for the next step in her career.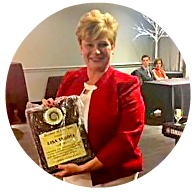 At age 45, she took advantage of the company's tuition reimbursement program and completed her bachelor's degree in business in 2014. This opened the door to her current role in external affairs.
"Having worked in various areas of the company, I know firsthand the processes that go into the operational work on blue-sky days and during storms," said Taddei. "Electricity is a vital commodity and I am proud to work for a company that values its customers and its employees."
As an external affairs consultant, Taddei serves as a liaison between Ohio Edison's utility operations group and the local communities and businesses within her territory. One of her favorite aspects of the job includes engaging with residents and government officials to build and maintain strong relationships between the company and the communities it serves.
"Whether it is discussing the assistance programs we offer, scheduling the first responder electrical training sessions or volunteering for community projects, I truly enjoy helping our customers realize that FirstEnergy employees live in the communities in which we serve and feel privileged to do so," said Taddei.
She encourages high school and college graduates to seek entry-level career opportunities with FirstEnergy and work their way up in the company.
"My own career path here at FirstEnergy has shown abundant opportunities abound within the organization," she said. "Every job I've had was a steppingstone and I am thankful to work for a company that invests in its employees and is always looking to the future."
And for those wondering, Taddei can still give a car a tune up and change a flat tire in lightning speed.
Visit www.firstenergycorp.com/careers to view and apply for current job openings at FirstEnergy.
MEDIA CONTACT: Lauren Siburkis, (330) 203-8850