Serving Up Generosity, Goodwill and Grace at the Jersey Shore
JCP&L, FirstEnergy Foundation lead donation drives in support of Monmouth County nonprofit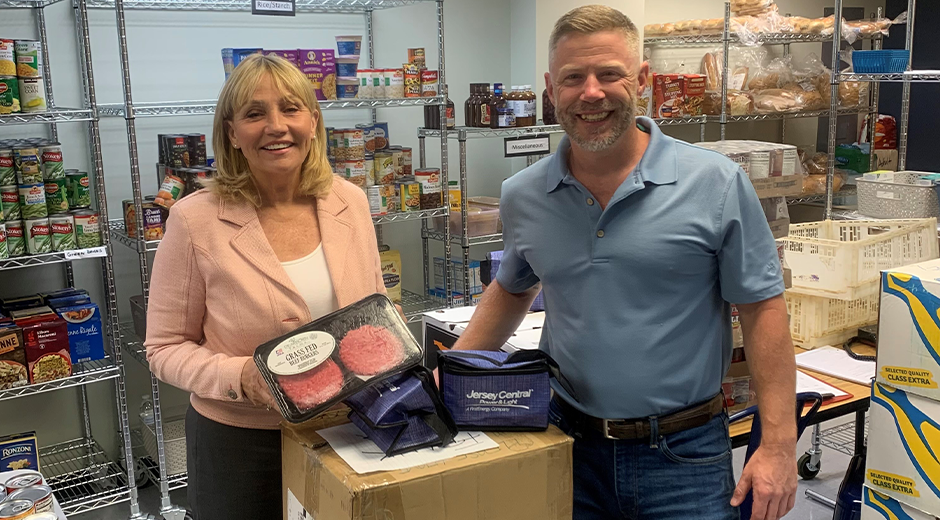 Americans nationwide are feeling the pinch of inflation, but perhaps nowhere more than in our country's underserved communities.
One such community is Asbury Park, New Jersey, located within FirstEnergy's Jersey Central Power and Light (JCP&L) service territory, where more than 22 percent of the population lives below the poverty line. In February 2022, the New Jersey Economic Development Authority designated the city as a Food Desert Community, highlighting the lack of access residents have to nutritious foods through supermarkets and grocery stores.
With essential goods already difficult to get and their prices climbing, Fourth of July cookouts became prohibitively expensive for many residents of this town.
Enter JCP&L and the Mercy Center, a nonprofit focused on empowering, enriching and educating the residents of Asbury Park and its surrounding Jersey Shore communities. With the help of cooler bags donated by JCP&L, Center volunteers distributed all of the fixings for a Fourth of July feast: hot dogs, hamburgers, rolls, fresh corn, chips, cookies and drinks. More than 700 families benefitted from the June 30th event.
"This was all about giving everyone a Fourth of July. Everyone should have a chance to celebrate our nation's birthday," said Kim Guadagno, Mercy Center executive director and the state's former Lieutenant Governor. "What we wanted to do is be sure that people here in Asbury Park had the wherewithal to do it."
In addition to the meal kits, residents were able to pick up bags of feminine hygiene products thanks to the commitment of JCP&L employees. Members of three JCP&L Employee Business Resource Groups (EBRGs) – Women in Leadership, MOSaic and Veterans & Allies – collaborated earlier this year on a feminine hygiene product drive to benefit 50 4th-8th grade girls attending the Sisters of Mercy Academy, a middle school in Asbury Park sponsored by the Mercy Center. The collection was so successful that more than 130 bags were donated, with the excess bags available at the Fourth of July meal distribution.
The cooler bag donation is just the latest support the Center has received through FirstEnergy and its related organizations.
The meals were prepared at the Mercy Center's newly-expanded food pantry, which opened in February. The expansion was made possible, in part, by a $10,000 donation from The FirstEnergy Foundation.
"The FirstEnergy Foundation partners with nonprofit organizations that are making transformational changes in the local communities we serve, and the Mercy Center fits seamlessly with that mission," said Elaine Vincent, Advisor, Community Involvement at JCP&L. "The Mercy Center moves the needle by empowering, enriching and educating the underserved community of Asbury Park so they can break the generational poverty."
You can learn more about the FirstEnergy Foundation's commitment to local nonprofit organizations at https://www.firstenergycorp.com/community/firstenergy_foundation.html. For more information about the Mercy Center, visit https://mercycenternj.org.
Above video courtesy of the Mercy Center.
News Media Contact: Chris Hoenig, (609) 350-8599