FirstEnergy Hits Hole-In-One with Donation to Support Veterans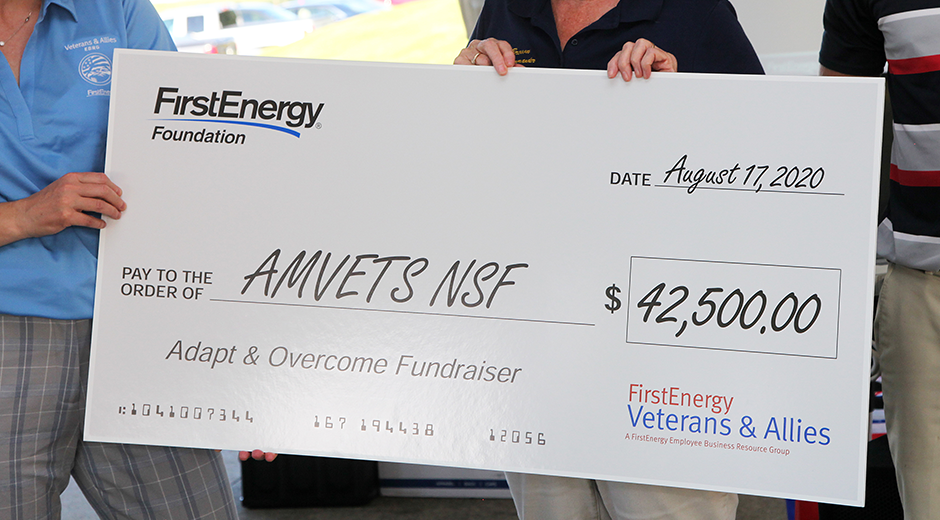 With the help of matched contributions from FirstEnergy Foundation, employees and contractors from FirstEnergy's Veterans & Allies Employee Business Resource Group (EBRG) teed off at the Legends of Massillon golf course on August 17 to donate $42,500 to American Veterans (AMVETS). 
The check was presented to AMVETS at the EBRG's 2020 Golf Outing event, where attendees had the opportunity to play golf, win prizes, eat dinner, network and support veterans. Attendees were supplied with masks and hand sanitizer, and social distancing was encouraged throughout the event. 
The Veterans & Allies EBRG is a team of FirstEnergy employees supporting the company's diversity and inclusion culture by championing the hiring and development of veterans within the company and implementing programs that support and recognize veteran employees and their families.
AMVETS is one of America's leading veteran service organizations and is made up of more than 250,000 veterans whose mission is to improve the quality of life for American veterans and safeguard their entitlements.
"Veterans & Allies chose AMVETS because they're nationally recognized as being a supporter of veterans and they are able to serve our entire footprint," said Sam Belcher, senior vice president and president of FirstEnergy Utilities and executive sponsor of the Veterans & Allies EBRG. "They are in the elite group of organizations helping better the lives of veterans." 
Speaking on behalf of AMVETS at the event was Jan Brown, the organization's National Commander, who served in the U.S. Air Force for 27 years before retiring as Senior Master Sergeant. 
"FirstEnergy's emphasis on the inclusion and support of veterans and their community outreach programs fall right in line with what we do," said Brown. 
The $42,500 donation being made to AMVETS comes at a very crucial time, when, like many organizations, AMVETS has been experiencing difficulties due to constraints the coronavirus pandemic has placed on their sources of funding. 
"It's been really hard for us lately; we've not been able to raise funds the way we have in the past," said Brown. "This donation goes a long way to help us continue to support veterans in this time of need." 
The donation to AMVETS helps fill their pantries with food, personal care items and more for veterans in need within FirstEnergy's service territory. All money raised will remain within our communities. 
In addition to the donation to AMVETS, the FirstEnergy EBRG and FirstEnergy Foundation also donated a collective $7,500 to Save A Warrior, a program that helps veterans heal and cope who are dealing with afflictions such as Post Traumatic Stress.
In coordination with employees, contractors and FirstEnergy Foundation, nearly $100,000 has been raised on behalf of organizations that support and recognize veterans since the Veterans & Allies EBRG began. The EBRG will continue to support organizations like AMVETS and Save A Warrior that are committed to improving the quality of life for veterans and their families going forward.
The FirstEnergy Foundation is funded solely by FirstEnergy Corp. and provides support to non-profit, tax-exempt health and human services agencies; educational organizations; cultural and arts programs and institutions; and civic groups in areas served by FirstEnergy's 10 electric operating companies and in areas where the company conducts business.
CONTACT: Josh Duke, 330-374-6544