FirstEnergy and Ohio Edison Brighten Downtown Elyria with Holiday Lights, Cheer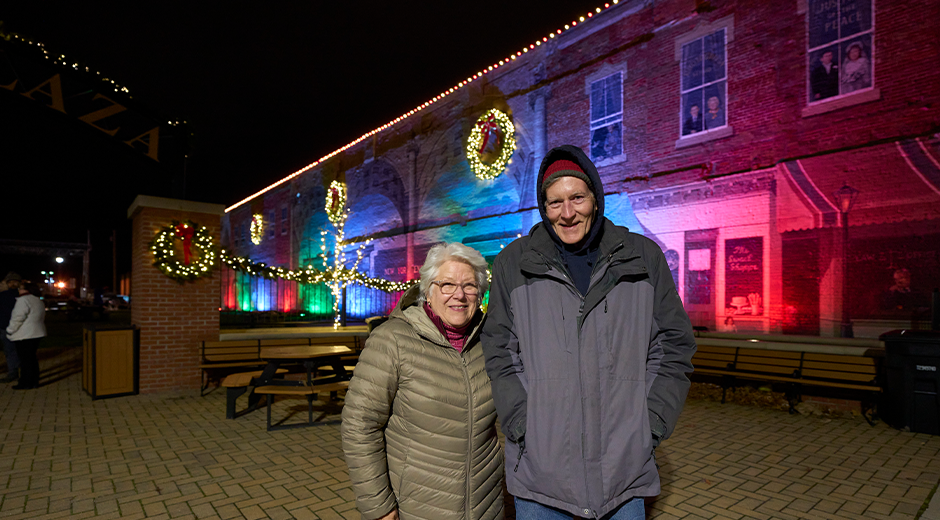 Megan Rowe and David Pavlak are local artists behind the historical, hand-painted murals on the side of the Elyria Arts Council building adjacent to Pioneer Plaza Park in downtown Elyria, Ohio.

On Nov. 30, the duo was among more than 250 residents of all ages who saw the park and nearby buildings light up with holiday magic during a special lighting ceremony gifted to the City of Elyria by FirstEnergy Corp.
The city was selected as the recipient of a professionally designed light display as part of FirstEnergy's second annual "Light Up Holiday Smiles with FirstEnergy" program. The lighting ceremony was part of a public event that included free seasonal refreshments, food trucks, cocoa with a cop, a photo booth, crafts, face painting and more.
The brisk and windy weather didn't keep residents, like Rowe and Pavlak, from coming out and having a good time. Several activities were held in the Arts Council Building and Elyria Public Library on each side of the park to keep attendees warm and comfortable before the outdoor holiday display was lit around 6 p.m.
"To see our artwork in this beautiful city lit up with holiday lights and watch younger generations gather here to enjoy seasonal festivities brings me such joy, it's so breathtaking," said Rowe, a lifelong Elyria resident who spent years researching the city's history prior to painting the elaborate murals that feature renowned Lorain County natives.
"We've literally never seen our murals displayed in this light," Pavlak added. "This is the first time Pioneer Park has been illuminated with holidays lights, and we hope this is the start to building a larger display for the community in the future."
To qualify for the program, cities were required to be served by a FirstEnergy utility and part of the state's Reinvention Cities Network or eligible for JobOhio's Vibrant Communities Program, both of which demonstrate a degree of economic difficulty. Interested communities were asked to submit statements outlining why they should be considered for the display, including local efforts to promote diversity, equity and inclusion in the community.
"FirstEnergy has chosen three cities within its six-state service area, and Elyria is one of those cities, which just goes to show you we are an exceptional city with exceptional people," said Elyria Mayor Frank Whitfield. "We're a very diverse city in terms of social, economic background, our racial background, sexual orientation. But there's one thing we have in common: We all love Elyria and we're grateful to community partners like FirstEnergy."
While the lights will bring holiday magic to Pioneer Park for just a few weeks, FirstEnergy chose Elyria for its ongoing inclusion efforts to brighten the city of all residents, every day of the year, said Pat Mullin, acting president of FirstEnergy's Ohio operations.
"We hope the spectacular lighting display brightens spirits and warms hearts in the Elyria community this holiday season and many years to come," she said.
MEDIA CONTACT: Lauren Siburkis, (330) 203-8850