FirstEnergy Employees Light the Way for 25 Years
A photo gallery of FirstEnergy through the years is available on Flickr.
In November 1997, two electric utilities from America's heartland, Ohio Edison Company of Akron, Ohio, and Cleveland, Ohio-based Centerior Energy, joined to form FirstEnergy Corp. The union created a stronger organization with greater resources to safely deliver power to 2.2 million customers in Ohio and Pennsylvania through its Ohio Edison, Cleveland Electric Illuminating Company, Toledo Edison and Penn Power subsidiaries. FirstEnergy would soon grow through two more mergers – in 2001 with GPU of Morristown, N.J., operator of Jersey Central Power and Light (JCP&L), Met-Ed and Penelec, and in 2011 with Allegheny Energy of Greensburg, Pa., and its West Penn Power, Mon Power and Potomac Edison electric utilities.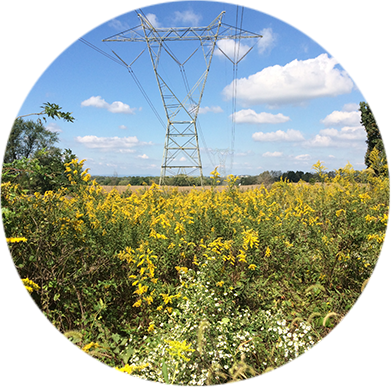 Today, FirstEnergy's 10 regulated electric distribution companies form one of the nation's largest investor-owned electric systems, serving more than six million customers in Ohio, Pennsylvania, New Jersey, West Virginia, Maryland and New York.

FirstEnergy's legacy and successes over its first 25 years are best measured by its employees, both past and present, who come together as a team time and again to light the way for its customers and communities. Even in the most challenging circumstances, FirstEnergy's 12,000-plus employees show compassion, grit and resilience, keeping the lights on and powering exciting opportunities.
Caring for Customers
From connecting customers with resources to manage electric bills to implementing cutting-edge digital tools and options that support self-service, FirstEnergy's dedicated employees have a proud history of innovating new ways to light the way for an enhanced customer experience. Learn more about FirstEnergy's bill assistance programs. To explore ways to stay connected with FirstEnergy, view our communication tools.
Making Community Involvement a Way of Life
Lighting the way by volunteering time and talents to plant trees, work at food banks, build affordable housing, tutor elementary school students and whatever it takes to improve the quality of life in the communities served by our utilities is a focus for FirstEnergy's employees. In addition, The FirstEnergy Foundation has invested in more than 1,500 nonprofit organizations to enable positive, sustainable changes that strengthen communities. Learn more about FirstEnergy's involvement in your community.
Protecting the Planet

FirstEnergy's scientists and field employees light the way to protect wildlife and the environment as we build and maintain infrastructure to ensure electric service reliability for our customers. From protecting osprey, eagles and other birds to cultivating pollinator gardens that attract bees and butterflies and planting trees that clean the air, prevent soil erosion and sustain wildlife, our employees are proud to embrace the environment. To learn more our environmental commitment, visit our Corporate Responsibility website.
Restoring Power After Storms

Responding quickly to restore electric service in the wake of severe weather is a hallmark of FirstEnergy's line workers and support personnel. Traveling far from home to spend long hours in difficult and dangerous conditions repairing power lines and restoring electric service has earned FirstEnergy honors from Edison Electric Institute, which has for 16 consecutive years recognized company employees for emergency response efforts. Learn more about FirstEnergy's storm restoration process.
A Smarter, More Reliable Grid
FirstEnergy's forward-thinking engineers light the way by designing the smart distribution grid of tomorrow. Projects such as installation of automated equipment to help limit the scope and shorten the duration of service interruptions, deployment of smart meters that give customers more control of their energy use and modernization of the transmission system to enhance reliability and help support a clean, carbon-neutral future are providing benefits to customers across our footprint. Learn more about our Energizing the Future transmission program.
A Brighter Electrified Future
FirstEnergy's employees work hard every day to light the way to a brighter, more sustainable future. We remain committed to providing the same reliable electric service, innovative customer experiences, cutting-edge technologies and dedicated community support for the next 25 years and beyond.