FirstEnergy Utilities Using New Apps to Streamline Storm Restoration Efforts
New Apps Help Crews Save Time When Assessing and Reporting Damage to System
Crews from FirstEnergy's 10 utilities are now using smartphones and laptop computers to more efficiently assess damage to the electrical system and help expedite power restoration efforts in the wake of major storm events.
When severe weather causes power outages, utility personnel make it a priority to identify and address safety issues, such as downed wires and other hazards, as well as conducting an initial assessment of the damage to send back to dispatchers.
To help expedite this process, FirstEnergy has developed two new apps that employees can use on mobile devices to automatically enter damage information into the company's outage management system.
View Full Story
New Scam & Fraud Information Site
FirstEnergy has launched a Scam and Fraud Information section on its website to help raise awareness of fraudulent activity and educate utility customers about these threats to their personal safety and security. The new site, available at www.firstenergycorp.com/scaminfo, describes known scams targeting utility customers, and provides tips and resources to help consumers identify fraudulent schemes.
View Full Story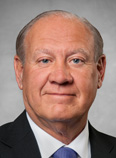 CEO Chuck Jones Addresses Shareholders
Company announces preliminary results from 2015 annual meeting
FirstEnergy Corp President and Chief Executive Officer Charles E. Jones told shareholders on May 19 that the company is focused on meeting the energy needs of its customers.
"Our industry continues to change at a rapid pace," Jones said. "But our mission remains the same – producing and delivering safe, reliable, clean and affordable electricity to the customers we are privileged to serve. Those customers count on our product...to bring greater comfort, convenience, safety and productivity to their everyday lives."
Jones discussed the company's focus on regulated growth, including the efforts to ensure reliable service to distribution customers, and the company's Energizing the Future transmission investment program.
View Full Story
Last Modified: October 9, 2015