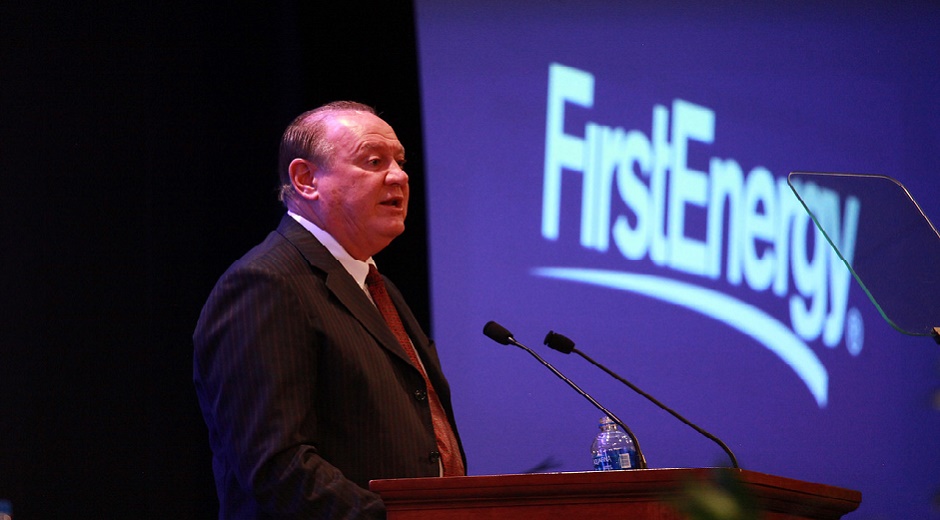 Remarks by Chuck Jones, President and CEO, FirstEnergy
2019 Annual Meeting of Shareholders
May 21, 2019
Thank you, Don, and good morning, everyone.
As some of you know, I've been with FirstEnergy for more than forty years, and I'm certain 2018 was one of the most pivotal and productive in our company's history.
We began last year by announcing a 2.5 billion-dollar equity investment from several prominent investors. This new investment strengthened our balance sheet by reducing our holding company debt and eliminating the need to issue additional equity outside of our employee benefit and stock purchase plans through 2021. It also supported a total contribution of 1.25 billion dollars to our pension last year.
Among other achievements, we completed many of the difficult steps needed to successfully complete our transition into a premier, high-performance, regulated utility company with a long-term, sustainable shareholder growth.
We also completed our FE Tomorrow initiative, which realigned our shared services organization to better serve our regulated operations and, most important, our 6 million customers, who are at the heart of everything we do. As part of this effort, we identified and eliminated approximately 300 million dollars in costs associated with our previous support of competitive operations, and we expect to realize an incremental 85 million dollars in savings due to additional reductions in capital and operating expenditures and interest expense.
At the same time, we created a flatter, leaner management structure by eliminating positions and increasing spans of control. Through a voluntary enhanced retirement package and the elimination of open positions in our corporate support functions, we reduced headcount by 40 percent and expenses by 43 percent. I'm proud that we achieved these cost and headcount reductions without any involuntary employee layoffs.
Reflecting its confidence in our long-term, sustainable growth plans, your Board of Directors approved a new dividend policy in November that targets a payout ratio of 55 to 65 percent of operating earnings. As a result of this action, the Board authorized an initial 6 percent dividend increase in the first quarter of this year to 38 cents per common share. This new policy supports an expected increase in shareholder returns as we continue to invest in our strategic initiatives. It's worth noting that our stock ended the year with a total shareholder return of nearly 28 percent, making FirstEnergy the best performer in the Edison Electric Institute Index. And yesterday, our stock hit a 6-year high of 42 dollars and 89 cents, which is a very nice lead-in to an Annual Shareholders' meeting.
You've probably noticed a key theme of today's meeting is Energy for a Brighter Future. We feel it captures the spirit and momentum behind our efforts to ensure our customers benefit from a smarter, stronger and more secure power grid for years to come. We plan to invest 1.2 billion dollars per year in our transmission system and up to 1.7 billion dollars per year in our distribution operations from 2019 through 2021. These modernization initiatives enhance our ability to serve customers and support the projected compound annual earnings growth rate of 6 to 8 percent through 2021.
Through our multibillion-dollar Energizing the Future program, we continue to build on the scale and scope of our transmission system. From 2014 to 2018, we invested 5.6 billion dollars on grid improvement projects, including replacing or rebuilding more than 700 miles of transmission lines across our service territory. We currently have about 1,000 projects underway, in stages ranging from engineering and development to project management and construction. Many of these projects are multi-year endeavors, and we expect to bring 600 to 700 of them into service this year, which is consistent with our pace over the past several years. These customer-focused investments are driving significant performance improvements.
Since launching Energizing the Future in 2014, we have achieved a 50 percent reduction in equipment-related outages on our ATSI transmission system, which serves our three utility companies in Ohio as well as our Penn Power service territory in western Pennsylvania.
To support our Energizing the Future initiative, we recently opened our Center for Advanced Energy Technology, or CAET, near our West Akron Campus. The 88,000-square-foot facility is among the most comprehensive grid technology testing and training facilities of its kind in the nation. It provides our engineers and technicians with a centralized, hands-on environment for developing and evaluating new technologies and for maintaining and securing the power grid by simulating real-world conditions of the transmission system.
In addition to supporting our grid modernization program, CAET also creates opportunities for us to advance best practices across the industry. We plan to collaborate with other utilities, research institutes and device manufacturers, who could potentially utilize our state-of-the-art facility.
As part of our customer-focused growth strategy, we formed an Emerging Technologies organization to explore advanced technologies that benefit customers and support state and federal policies to improve grid performance, energy security and environmental stewardship. These technologies build on our existing regulated business platform while offering customers the flexibility and functionality that they want. We see great potential in electric vehicles, solar power, microgrids and utility-owned storage.
Turning to our distribution business, our Ohio utilities filed a request with the Public Utilities Commission in early February for a two-year extension to the Distribution Modernization Rider. If approved, the rider would enable our three distribution companies in the state to collect about 170 million dollars annually through 2021 to support grid modernization investments.
Also, in Ohio, our settlement on tax reform and grid modernization is pending with the PUCO. This settlement addresses how customers will benefit from savings associated with federal tax reform and seeks approval to invest 516 million dollars over three years to modernize our electric system with advanced automation equipment and the initial installation of 700,000 smart meters across our Ohio service territory.
In New Jersey, we were pleased to reach a settlement on our Infrastructure Investment Program. Our JCP&L Reliability Plus plan builds on service reliability enhancements we've made in our New Jersey service area in recent years with an additional 97 million-dollar investment. Through this program, we plan to implement more than 1,400 projects over the next 18 months aimed at enhancing the reliability and resiliency of overhead power lines, replacing existing equipment with smart technology devices, and expanding our vegetation management program to reduce tree-related outages.
In March of this year, the Maryland Public Service Commission issued a favorable decision in our Potomac Edison rate case. The PSC approved a base rate increase and authorized an electric distribution investment surcharge that allows us to earn a return on investments made over the next four years. This supports our plans to install more distribution automation equipment and accelerate the replacement of underground electric cables. By making significant investments in recent years in grid modernization projects and vegetation management, Potomac Edison's customers in Maryland experienced 11 percent fewer outages in 2018 than in 2011, and those service interruptions were nearly 27 percent shorter in duration.
To support Maryland's goal to have 300,000 zero-emission vehicles on the road by 2025, Potomac Edison is participating in a pilot program to expand the availability of electric vehicle charging stations in the state. As part of this effort, Potomac Edison will begin installing up to 59 utility-owned public charging stations, including nine "fast-chargers" throughout its Maryland service territory later this year. Residential customers will be eligible for rebates up to 300 dollars for the installation of EV charging stations at their home, and rebates will also be available for charging stations at multi-family properties. Our expertise at building electric infrastructure will help Maryland become a leader in EV technology and is aligned with our commitment to modernize our electric system to benefit our customers and the environment.
Energy for a Brighter Future is also about meeting our commitment to environmental, social and governance initiatives that support our mission to make customers' lives brighter, the environment better and our communities stronger. To drive the overall direction and implementation of our corporate responsibility and ESG strategy, we established a dedicated team within the Strategy organization, with executive and Board oversight.
Among other initiatives, we're producing a new corporate responsibility report to be released later this year to inform and engage stakeholders of our efforts on a wide range of topics, including diversity and inclusion, our environmental footprint, corporate governance and community support. This will complement our first Climate Report, which we published last month. The Climate Report explores how our strategies as a fully regulated utility support a lower-carbon future and examines the potential risks and opportunities associated with a carbon-constrained economy.
We're reducing our environmental impact as we build the energy grid of the future. In 2015, we set an aggressive goal to reduce carbon dioxide emissions companywide by at least 90 percent below 2005 levels by 2045. In 2018, carbon emissions from our generating fleet were 62 percent below 2005 levels, with about three-quarters of that reduction related to plant retirements. We expect to reach 80 percent later this year, putting us on track to achieve our carbon reduction goal.
It's important to note our considerable experience with plant decommissioning activities. Over the past 12 years, we have safely and responsibly retired and remediated seven coal plants, and successfully anticipated the economic and environmental concerns for each site.
This is just one example of how we have demonstrated our commitment to corporate responsibility, which is a core value we always stand by – including during the FES bankruptcy. That's why a key component of our settlement agreement included substantial support for FES to emerge from bankruptcy and meet any legacy and future obligations. This included all environmental responsibilities that could occur when the plants are eventually retired.
In light of FES' commitment to engage with the Department of Justice and others, we agreed to remove the broad third-party releases from the comprehensive settlement. This change does not, in our view, increase liabilities or obligations to our company. Reaching this agreement enables us to turn our full attention to FirstEnergy's future as a fully regulated utility. Just yesterday, the Bankruptcy Court approved FES's Disclosure Statement allowing FES to begin soliciting votes for approval of its plan of reorganization, and the Court also set the hearing to approve the plan for Aug. 20th to the 21st, 2019.
Delivering Energy for a Brighter Future requires advancing a safe, diverse and high-performing workforce. In 2018, we attained a companywide OSHA-recordable injury rate of 0.8, which is less than one injury per 200,000 hours worked. Although this places us in the top-quartile for safety performance in our industry and reflects the great importance we place on safety, we won't be satisfied until we achieve a zero-incident workplace.
We're also committed to building a more diverse and inclusive work environment that more closely reflects the demographics of the communities we serve and creates a culture of respect, appreciation and acceptance of everyone. Our success in this vital area will help us achieve higher levels of performance and innovation, better serve customers, and differentiate FirstEnergy among job seekers who wish to join a forward-thinking company.
In closing, I'm confident we are well-positioned as we continue to deliver Energy for a Brighter Future to our shareholders, customers and employees. I want to thank our dedicated employees, who have proven themselves at every step as we transitioned to a fully regulated utility. We will continue to require their best efforts as we build on our progress in the years ahead.
I'd also like to thank Paul Addison and Dr. Jerry Sue Thornton for their years of distinguished service to the Board … and welcome Leslie Turner as our newest Board member.
Now I would like to take a few questions from the audience. If you have a question, please raise your hand and wait for a microphone. Please limit your questions and comments to two minutes. I apologize in advance if we cannot answer every question.
Thank you for joining us this morning. And on behalf of our FirstEnergy team, I appreciate your continued support of our company. See you next year.