JCP&L Unveils New Live-Wire Safety Trailer
Updated trailer design allows for training to take place at almost any location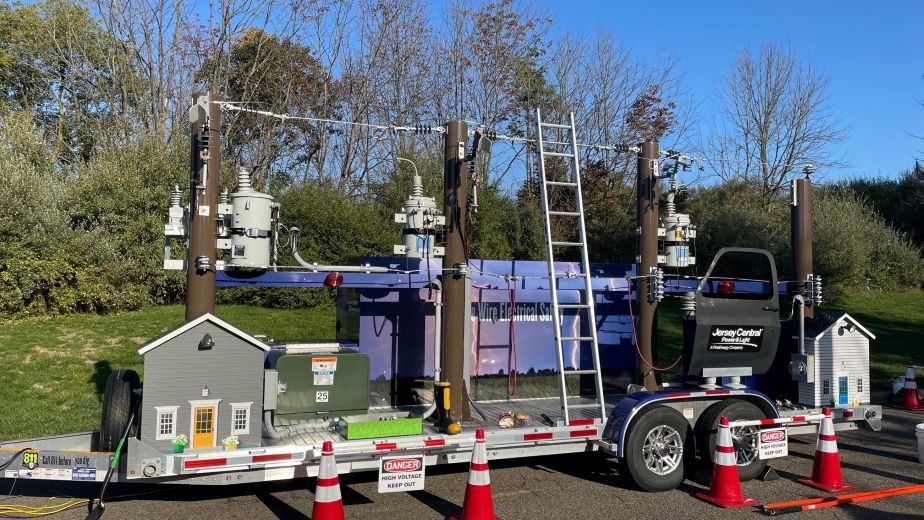 Live electric lines present a potential danger for anyone who encounters them, especially the first responders who respond to any emergency. To help protect the safety of those who protect the public, Jersey Central Power & Light (JCP&L) has unveiled its newest safety trailer, designed to educate about the danger of energized wires and how to stay safe around electrical equipment. 
Recently, representatives from the New Jersey Board of Public Utilities (NJ BPU) and New Jersey State Police gathered outside the Regional Operations and Intelligence Center at the State Police headquarters for the first large-scale demonstration of JCP&L's new self-contained safety training unit.
The trailer includes much of the electrical equipment seen in neighborhoods: power lines, transformers, equipment taking overhead power into underground systems and sample homes receiving both overhead and underground service. Powered by a generator mounted at the back of the trailer, the new rig allows JCP&L crews to show observers the dangers of live wires without the need for a location that has existing electric service.
"We provide safe, reliable electric service to our 1.1 million customers, and we emphasize the 'safe' part of that," said Jim Fakult, president of New Jersey operations for FirstEnergy. "We plan to put a lot of miles on this trailer, educating students, our contractors, first responders and the general public about what they can do to protect themselves and their loved ones around electricity."
Trained JCP&L instructors use the trailers to depict some of the most common causes of power outages, such as animals contacting equipment or tree branches falling on lines, as well as the hazards first responders face when approaching vehicles that may be in contact with live wires. 
The crews also can highlight the importance of avoiding contact between electrical lines and common household objects including ladders, kite strings and shovels. Instructors simulate contact between objects and the model's 7200-volt power lines, causing bright and startling electrical arcs that demonstrate the dangerous power of electricity.
In addition to plans for demonstrations with other emergency officials throughout the state, the new safety trailer is scheduled to visit local schools in the months ahead.
"It is very important for first responders to have a better understanding of the safety measures that need to be in place to allow us to create safe work zones and keep the public a proper distance from electrical hazards," said State Police Major Chris DeMaise, commanding officer of the New Jersey Office of Emergency Management, who just returned from this third deployment to hurricane-ravaged Puerto Rico. "We need to ensure that we don't create additional dangers in conducting rescue operations, and we thank JCP&L for sharing this resource and their expertise and being a safety ally."
"Education is one of the most important things we can do," said Frank Gaffney, business ombudsman for the NJ BPU. "Getting this trailer out and educating the public on the dangers that occur from contacting power lines during a storm, after a storm or any other time is critically important."
News Media Contact: Chris Hoenig, (609) 350-8599