FirstEnergy Foundation Supports New MetroHealth Program that Provides 'Hope' to Disadvantaged Patients Across Greater Cleveland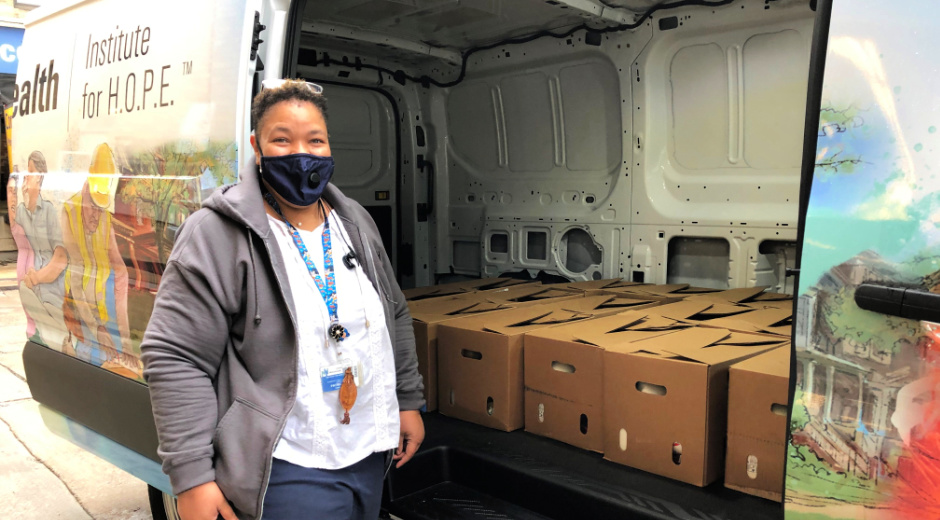 FirstEnergy is privileged to serve more than six million customers across its service area, spanning from Ohio to the Jersey Shore. Nestled in each community are hundreds of unique stories about the residents, businesses and organizations we serve. We provide them with the power and support they depend on each day to continue making a difference in their local communities, and we look forward to sharing their stories with you.

Imagine being a primary care physician with a diabetic patient who needs insulin but does not have a home, let alone a refrigerator, to properly store the medication.
This is a daily struggle for many healthcare workers within the MetroHealth System in Cleveland, who have seen firsthand how economic disparities can negatively impact the health of patients from impoverished communities.

About 80% of a person's quality of health depends on factors outside of the walls of a hospital or medical clinic, like access to affordable housing, nutritious food and reliable transportation, said Susan Fuehrer, president of MetroHealth's new Institute for H.O.P.E.TM

MetroHealth, which is located within FirstEnergy's northeast Ohio service territory, recently launched its Institute for H.O.P.E. to identify and address the root causes of health disparities in the region. The program, which stands for Health, Opportunity, Partnership and Empowerment, aims to help disadvantaged patients in northeast Ohio achieve healthy lifestyles by providing services and resources for them to secure necessities like nutritious meals, safe living arrangements and transportation.

"The socioeconomic issues that physicians and patients wrestle with daily are largely a result of social and racial inequities in areas like employment, housing and education that prevent them from having the means to lead healthy lifestyles," said Fuehrer. "Unfortunately, the coronavirus pandemic has created additional barriers for so many across our region."

The healthcare system has screened more than 67,000 patients for social risk factors and connected thousands of them with social service referrals and resources. Food insecurity, social isolation and lack of physical activity were among the top health-related concerns shared by at-risk patients in the Cleveland area, according to MetroHealth data.

A $250,000 FirstEnergy Foundation grant, presented through its "Investing with Purpose" initiative, will help expand the programs and resources offered by the Institute for H.O.P.E. to improve the health and wellbeing of underserved patients and their families. The grant will be used to help distribute 7,000 pounds of fresh produce monthly to residents in need, alleviate social isolation experienced by many at-risk patients in the area and connect local households with affordable internet service.

Additionally, the Institute for H.O.P.E. is the founding sponsor of Unite Ohio, an electronic referral platform that connects thousands of patients with a network of social services organizations, including Cleveland Housing Network, Greater Cleveland Food Bank, College Now and Seeds of Literacy.

"The FirstEnergy Foundation focuses contributions in areas that drive meaningful change in the communities we serve," said Lorna Wisham, president of the FirstEnergy Foundation. "The Institute for H.O.P.E. reflects FirstEnergy's core values of diversity, equity and inclusion and stewardship, and we're honored to support this program that benefits so many local individuals and their families."

In addition to the FirstEnergy Foundation's support of MetroHealth's Institute for H.O.P.E., since 2020, the Foundation has donated more than $3.4 million to support nearly 100 organizations across its six-state service territory as part of Investing with Purpose. The funds support organizations that advance health and safety, workforce development, educational and social justice initiatives. The first round of Investing with Purpose grants were awarded in December 2020, and the Foundation expects to present more than $3 million in additional charitable contributions as part of the program this year. 

To learn more about FirstEnergy's community involvement initiatives, visit www.firstenergycorp.com/community.

CONTACT: Lauren Siburkis, (330) 203-8850