FirstEnergy and Toledo Edison Employees Join Forces with Maumee Valley Habitat for Humanity to Build a Home for a Deserving Woman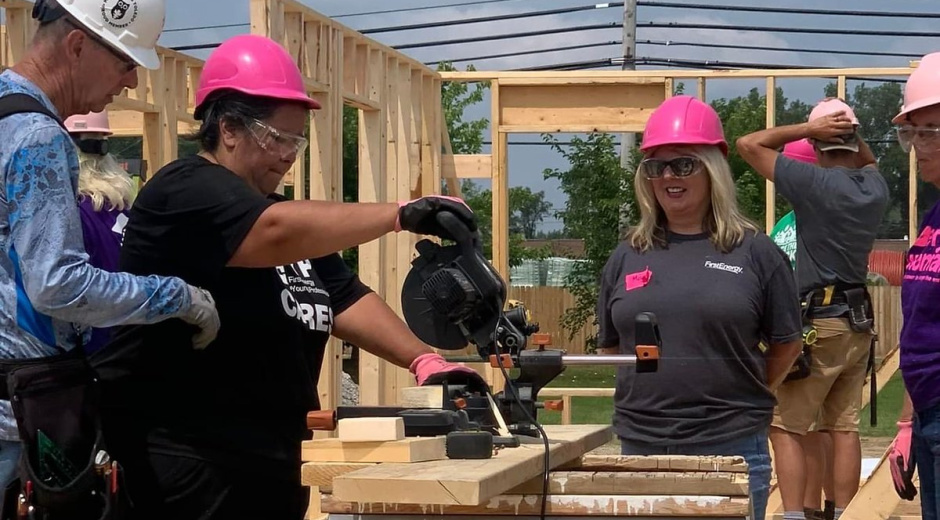 Several FirstEnergy and Toledo Edison employees recently joined hands with more than 200 individuals from the greater Toledo area to participate in Maumee Valley Habitat for Humanity's Women Build project.
This unique endeavor isn't just about construction—it's about empowering women to learn new skills and create lasting connections while helping local women achieve homeownership.
"At Maumee Valley Habitat for Humanity, we understand the impact and upward mobility that homeownership creates, especially for women," said Erin McPartland, director of development and engagement for the organization. "In fact, 80% of our homeowners are single female heads of household, and this project helps provide a firm foundation for their families."
Toledo-based FirstEnergy employee Trina Myers was among the enthusiastic participants and shared her excitement about using tools like a nail gun and circular saw for the first time.
"This project showcases the strength of women working together toward a shared goal," said Myers, a customer account specialist at FirstEnergy. "The Habitat team extended their guidance and expertise to us and made the entire process inclusive, educational and rewarding."
She, along with several coworkers and other women from northwest Ohio, united their efforts to construct a 950 square-foot home with two bedrooms and a bathroom for a local woman named Julie.
Julie personifies the impact of this initiative. Born with a rare neurological condition that left her with generalized weakness and dependent on a wheelchair for mobility, Julie embodies resilience and the spirit of overcoming challenges.
FirstEnergy employee volunteer Meg Adams believes that home ownership represents more than just putting a roof over Julie's head.
"This home, like all Habitat homes, will address Julie's distinct accessibility requirements and provides her with the independence she and many others with accessibility issues are entitled to," said Adams. "This is a place for her and her companion Papa the Dog to make long-lasting memories."
FirstEnergy and Toledo Edison are no strangers to supporting the Maumee Valley Habitat for Humanity. Employees have volunteered countless hours of their time in recent years to build custom playhouses for deserving children through the organization's Playhouse Project.
To learn more about FirstEnergy's community involvement initiatives, visit www.firstenergycorp.com/community. Photos from the recent Women Build can be found here.
MEDIA CONTACT: Lauren Siburkis, (330) 203-8850