Potomac Edison Participates in Frostburg Electric Vehicle Expo
Company shares details on EV Driven program during National Drive Electric Week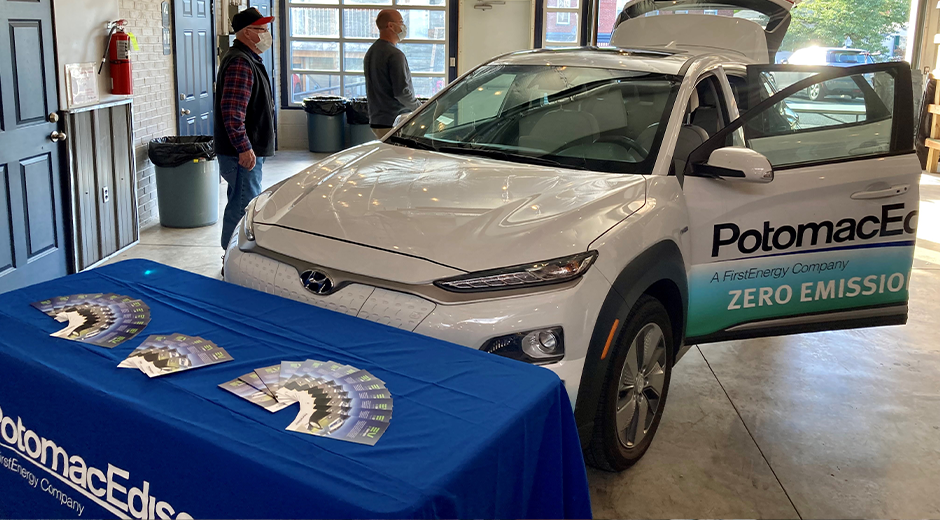 Chris Davis strolled through the EV Expo at the City Place building in downtown Frostburg, Maryland, on Sept. 25, inspecting the electric vehicles on display and asking their owners questions about driving range, charging time and cost.
"I'm contemplating making the leap (and buying an EV)," said Davis. "This event gives you the hands-on experience. You can only do so much research online."
Hosted by the city on the first day of National Drive Electric Week, a nationwide celebration to raise awareness of the benefits of electric vehicles, the expo drew roughly 35 attendees who perused a variety of electric and plug-in hybrid electric vehicles during an EV showcase in the City Place event hall. The showcase was followed by a panel discussion during which EV experts and owners shared information about what it's like to commute in an EV, how to manage charging at home and on the road, and upcoming models.
Potomac Edison participated in the expo, bringing its branded Hyundai Kona electric vehicle to the showcase. Company representatives also joined the panel discussion to share details about Potomac Edison's EV Driven program, which includes the installation of public EV charging stations, rebates for both residential and multifamily charger installations, and incentives for EV charging during off-peak hours.
Frostburg was a fitting location for Saturday's event because the city was one of the first to partner with Potomac Edison on a public EV charging station. Potomac Edison installed its first station at the St. Michael's Catholic Church Parish Hall lot in Frostburg in early 2020 and is currently working to install two fast-charging stations at the Frostburg Library. The company is in the process of installing 59 stations across its service territory, including 20 fast-charging stations. Fast-charging stations provide an 80% charge for most vehicles in less than an hour, enabling drivers to recharge quickly when they have a break in their day.
Through EV Driven, Potomac Edison offers customers a $300 rebate for the purchase and installation of a qualified smart Level 2 charging station at their home. Multifamily property owners can qualify for even more—up to $20,000 toward the cost of installing stations at their communities. Residential customers can also earn 2 cents per kilowatt-hour (kWh) for using a smart charger between 11 p.m. and 6 a.m. and on weekends.
Nina Forsythe, commissioner of water, parks and recreation with the city of Frostburg and an organizer of the EV Expo, has been driving electric for six years and brought her 2012 Nissan LEAF to the vehicle showcase. Forsythe said she enjoys driving electric because it's environmentally friendly and has reduced her auto expenses significantly.
"There's practically no maintenance," she said. "In the long run, it's been really cheap."
Skott Brill, an associate professor at Frostburg State University, participated in the panel discussion and told the audience that his experience owning a Chevy Bolt has been so positive that he'd like to purchase a second electric vehicle for his family.
"There's no going back for me," he said. "We haven't been to a gas station in four and a half years, which is beautiful."
Those interested in purchasing an electric vehicle can visit Potomac Edison's new online resource for information about available models, potential savings on fuel, and incentives and programs for buyers.
Join the National Drive Electric Week conversation on social media by following the #NDEW2021 hashtag. For ongoing updates about Potomac Edison's EV Driven program, follow us on Facebook and Twitter.
CONTACT: Will Boye, (301) 790-6420