FirstEnergy's Amanda Leek is 'More than Just a Meter Reader'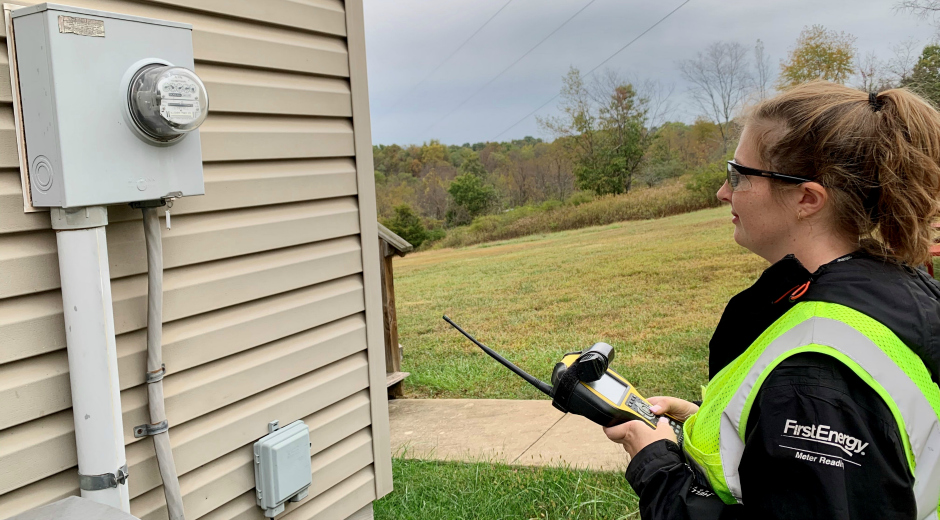 Each morning, hundreds of FirstEnergy meter readers set out to read thousands of electric meters across the company's six-state footprint.
"If you think it sounds like a stress-free, no danger type of job, think again," said Amanda Leek, a Potomac Edison meter reader. "We must be prepared for anything."
Nearly five years into her meter reading career, Leek has dodged aggressive dogs, been confronted by frustrated customers and has replaced more than a dozen tires on her Jeep. But she wouldn't have it any other way.
Leek, a self-proclaimed country girl from Paw Paw, W.Va., knows her route like the back of her hand because she has grown up traversing the rugged terrain all her life. For individuals unaccustomed to mountain life, Leek said the winding roads, wildlife, steep hills and long dirt roads would be enough to turn them away from the job.
However, those are many of the reasons why she loves working out of the company's Berkeley Springs Service Center in Berkeley County, W.Va. While meter readers in denser and developed regions can walk their daily routes, most of Leek's routes require her to use a 4X4 vehicle because the homes and meter locations are miles away from each other and inaccessible by foot.
"Some of my favorite things in life are being outside, driving my Jeep and interacting with people in my community," said Leek. "This job allows me to do all of those things and more, because I really do consider myself to be more than just a meter reader."
Public protector. Hazard responder. Neighbor. Those are just a few other roles her meter reading job encompasses.
When severe weather hits, Leek said it is "all hands on deck" within the company. Because there are often hundreds, even thousands, of damage locations to assess and make safe in the aftermath of a storm, Leek and her fellow meter readers are trained to go out to damage locations and keep the public far away from hazards, like downed power lines.
Leek also serves as a public protector in a different way – she is always looking out for the customers she serves, especially the elderly or those with summer homes who are not in the area year round.
"I've read these homes each month for more than four years, so I really do get to know the property and the owners," she said. "I've been the person to notify customers when a tree has fallen onto their home, a pipe has burst or their alarm system is going off, and it's an incredible feeling when they thank me for looking out for them."
Meter readers, like Leek, often look at this career as more than just a job because they take on an important role in their community, said Charity Emert, manager of meter reading at Potomac Edison.
"Although the terrain and areas covered vary greatly across FirstEnergy's entire service area, all meter readers have forward-facing roles with the company and interact with our customers on a daily basis," she said.
Emert said meter reading is a great way for new employees to get their foot in the door with the company and learn the ins and outs of the business. However, it is also a great long-term career for people who enjoy working in the field each day and it provides opportunities to advance within the company.
Visit www.firstenergycorp.com/careers to view and apply for current job openings at FirstEnergy.
MEDIA CONTACT: Lauren Siburkis, (330) 203-8850