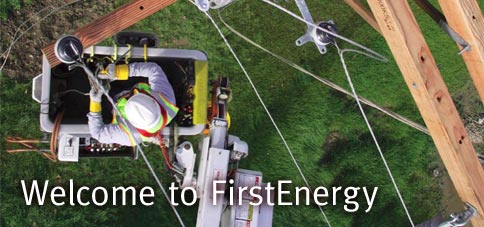 FirstEnergy (NYSE: FE) is a diversified energy company dedicated to safety, reliability and operational excellence. Headquartered in Akron, Ohio, FirstEnergy includes one of the nation's largest investor-owned electric systems, more than 24,000 miles of transmission lines that connect the Midwest and Mid-Atlantic regions, and a diverse generating fleet with a total capacity of nearly 17,000 megawatts.
FirstEnergy is dedicated to cleaner energy resources, smarter technology and a more sustainable planet. That's why we have invested $10 billion in environmental efforts since 1970 and continue our commitment to operating low- or non-emitting power plants.
Our Electric Companies
FirstEnergy's 10 regulated distribution companies form one of the nation's largest investor-owned electric systems, based on serving 6 million customers in the Midwest and Mid-Atlantic regions. Stretching from the Ohio-Indiana border to the New Jersey shore, the companies operate a vast infrastructure of more than 194,000 miles of distribution lines and are dedicated to providing customers with safe, reliable and responsive service.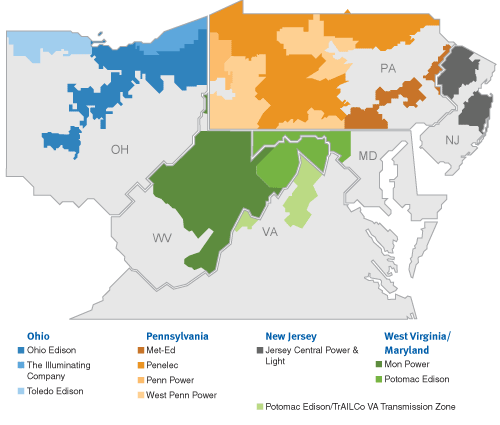 ---
Transmission Operations
FirstEnergy's transmission operations include approximately 24,000 miles of lines and three regional transmission operation centers. From 2014-2017, the company is implementing the initial phase of its "Energizing the Future" transmission investment program, which is designed to enhance system reliability and capacity for existing and new customers. All of FirstEnergy's transmission facilities operate as part of PJM Interconnection, LLC.
---
Generation Business
FirstEnergy's diverse generating fleet produces approximately 85 million megawatt-hours of electricity annually from a fleet of non-emitting nuclear, scrubbed coal, natural gas, and hydro plants. With nearly 500 megawatts of wind power under long-term contracts, the company is one of the largest providers of renewable energy in the region.
---
Competitive Electricity Sales

FirstEnergy Solutions Corp. (FES) is a leading energy supplier serving residential, commercial and industrial customers in the Northeast, Midwest and Mid-Atlantic regions. FES offers a wide range of energy and energy-related products and services and supplies electricity to millions of customers in Illinois, Maryland, Michigan, New Jersey, Ohio and Pennsylvania.
---
FirstEnergy's mailing address is:
FirstEnergy Corp.
76 South Main Street
Akron, Ohio 44308
Last Modified: April 1, 2016