Transmission Projects: Delivering improved electric service
Enhancing service reliability by reducing the number and duration of customer power outages.
Installing new, smart technology that can be operated remotely to help prevent some outages from occurring. Or, when an outage does occur, this advanced equipment can automatically pinpoint the location of a service disruption and limit the outage to only those customers where the damage occurred. This allows FirstEnergy to reduce the number of overall customers that are affected and shorten the duration.
Modernizing infrastructure will ultimately lower maintenance costs charged to our customers. While older equipment still functions, it costs more to maintain, is more prone to outages, and cannot be retrofitted with new smart technology.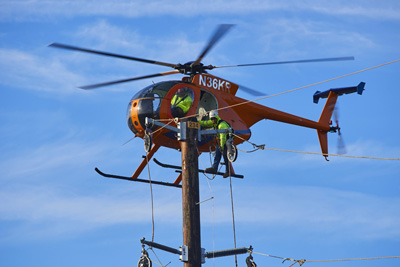 An aerial construction worker connects wires to new transmission line structures, part of a $20 million project to address rising electric demand in Pittsburgh's northern suburbs.