BETA Laboratory provides training by a Certified Safety Professional (CSP) for a variety of safety, health, and skills-related topics. Classes can be held at your location, or at BETA Laboratory's training center in Mayfield Village, Ohio.
Overseeing your safety procedures and training programs can be time consuming - but these disciplines are vital to your employees' health and your company's success. With OSHA-mandated regulation demanding more of your time and money, BETA Laboratory can help you reach your safety and health goals.
Our extensive resources can enhance your safety and health programs as well as improve productivity and employee morale.
Your time is valuable and we can help. Listed below are just some of the capabilities our Certified Safety Professionals provide:
Air and Noise Monitoring
Job Hazard Analysis
Safety and Compliance Audits
Program Development
Have a question for a safety professional or need information about availability and pricing? Please contact us for a quote or additional information on any of our services.

OSHA Safety Training
Course Name
Summary
OSHA 10-hour
OSHA 30-hour
General industry and construction. Clarifies the requirements of OSHA standards.
Asbestos Awareness
Exposure limits, monitoring, record-keeping & hazard communication.
Hazard Communication
Chemical identity and hazard communication.
Permit Required Confined Space
Practices and procedures to protect employees from confined-space hazards.
Hearing Conservation
Hearing conservation procedures.
Preparing for OSHA Inspections
Information regarding OSHA workplace inspections.
Personal Protective Equipment
Hazard awareness and personal protective equipment training.
Lockout/Tagout
Practices and procedures to shut down, lockout/tagout machines and equipment.
Fall Protection
OSHA safety standards and practices.
Forklift Training I, II, III
Operating procedure, testing, and train-the-trainer.
Bloodborne Pathogens
Workplace responsibilities for training and communication.
Respiratory Protection
Requirements for program administration, respirator selection and maintenance, and employee training.
Respirator Fit Testing
Hands-on qualitative and quantitative fit testing for employees.
Electrical Awareness Training
Electrical safety-related work practices
NFPA 70E
Electrical safety - Arc/Flash/Blast
Fire Extinguisher
Hands-on use of fire extinguishers
HAZWOPER
Hazardous waste operations
Lead
Hazards of lead
Customer Specific
Course is tailored to your needs and requirements
Hands-On Fire Extinguisher Training
BETA Laboratory provides state-of-the-art fire safety simul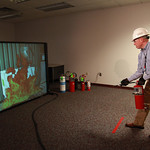 ator training to improve the safety of your workplace and employees. This training program focuses on understanding the fire tetrahedron, the chemistry of fire, the types of fire and their respective extinguishing agents, along with the practical use of a fire extinguisher. This training meets OSHA 1910.157(g) requirements for fire extinguisher hands-on use and the hazards involved with incipient fire fighting.
As an alternative to open burn extinguisher training, which can involve costly permits, dry chemical, travel to the training site and scheduling, BETA Laboratory offers a unique training simulator. This computer-controlled system uses a custom digitized computer program, with laser light and compressed air fed through a portable extinguisher. Scenarios can be altered to adjust the type of fuel and agent, the flame intensity and the difficulty in extinguishing the fire.
Simulator training can take place in a classroom or any suitably-sized room where the amount of light can be adjusted.
Simulator Benefits

Reduced costs
No expense for permits, dry chemical, extinguishers, gasoline, or kerosenes
Flexible scheduling
No delays due to rain, snow, wind, or EPA ozone action days
Time savings
Training is conducted at customer locations in single or multiple sessions
Environmentally friendly
No pollution or smoke caused by traditional fire training
Safe for employees
No open flame during practice

Training Details


Classroom instruction topics

Type of extinguishers
Evacuation planning
Fire classifications and prevention
P.A.S.S. extinguisher techniques
And more...

Simulator details

Meets OSHA's standard 1910.157(g) for hands-on training
Simulates four types of fire


Spill fire
Liquid in-depth fire
Gravity fire
Flammable storage cabinet