Potomac Edison Customers Can Save $5,000 off the Price of an All-Electric Nissan LEAF™ with Special Rebate Offer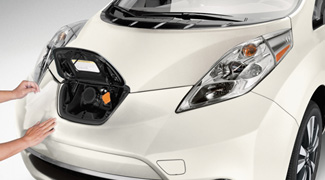 Potomac Edison customers in Maryland are eligible for a $5,000 rebate off MSRP on all 2018 trim models of the Nissan LEAF™ all-electric vehicle. The promotion runs now through January 2, 2019, or while supplies last.
LEAF™ vehicles must be purchased in Maryland.
Customers must show Potomac Edison billing statement as proof of eligibility, along with special flyers available here.
Offer cannot be combined with other Nissan special lease, APR or rebate offers.
The purchase also could qualify for up to $7,500 in federal electric vehicle tax credits, plus be eligible for a one-time Maryland excise tax credit, up to $3,000 for a qualifying plug-in electric vehicle.
To make charging the electric vehicle convenient at home, Potomac Edison customers also can lease an Electric Vehicle Charger by clicking here for more info.
FirstEnergy supports the adoption of electric vehicle technology, but this offer is not endorsing any specific product over another.
Participating Maryland Nissan LEAF-Certified Dealerships:

| | | | |
| --- | --- | --- | --- |
| Dealership | Street | City | Phone |
| Antwerpen Nissan, Owings Mills | 11405 Reisterstown Rd | Owings Mills | 443-548-3001 |
| Antwerpen Nissan, Inc | 1245 Auto Drive | Clarksville | 866-226-4930 |
| Antwerpen Security Nissan | 1701 Woodlawn Drive | Baltimore | 866-504-7086 |
| Bel Air Nissan | 1506 Bel Air Road | Belair | 410-879-1133 |
| Bob Bell Chevrolet/Nissan | 7900 Eastern Ave. | Baltimore | 800-782-9502 |
| Criswell Nissan | 19574 Amaranth Dr. | Germantown | 888-475-1246 |
| Darcars Nissan | 15911 Indianola Dr. | Rockville | 301-309-2200 |
| Darcars Nissan, College Park | 9330 Baltimore Ave. | College Park | 301-441-8000 |
| Hamilton Nissan, Inc | 1929 Dual Highway | Hagerstown | 800-527-4603 |
| Herb Gordon Nissan | 3131 Automobile Blvd. | Silver Springs | 301-890-8200 |
| Leckner Nissan of Ellicott City | 8569 Baltimore National Pike | Ellicott City | 410-465-5550 |
| Nationwide Nissan | 2085 York Road | Timonium | 410-252-8000 |
| Nissan of Bowie | 2200 Crain Highway | Bowie | 855-876-9556 |
| Passport Nissan, Marlowe Heights | 5000 Auth Way | Marlow Heights | 888-350-2187 |
| Pohanka Nissan, Salisbury | 2012 N. Salisbury Blvd. | Salisbury | 410-548-4700 |
| Sheehy Nissan | 7232 Ritchie Hwy. | Glen Burnie | 410-760-3500 |
| Sheehy Nissan, Waldorf | 2950 Crain Highway | Waldorf | 301-843-5300 |
| Younger Nissan, Frederick | 7418 Grove Road | Frederick | 301-662-0111 |