West Penn Power's 2018 Tree Trimming Program Underway
Work Includes More Than 5,000 Miles of Lines and Will Help Enhance Reliability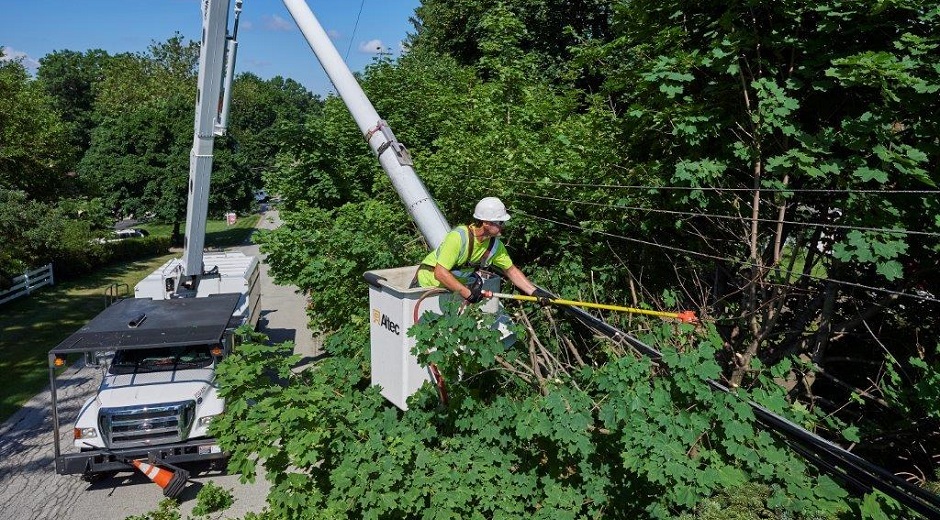 GREENSBURG, Pa., May 10, 2018 -- West Penn Power, a subsidiary of FirstEnergy Corp. (NYSE: FE), continues to conduct tree trimming work in communities across its 24-county Pennsylvania service area as part of its ongoing efforts to help enhance service reliability.
The work helps to maintain proper clearances around electrical equipment, which can reduce the frequency and duration of power outages, especially those associated with severe weather such as the numerous storms experienced this past winter.
Since the beginning of the year, tree contractors have trimmed more than 1,200 circuit miles of electric lines in the West Penn Power service area as part of the nearly $48.6 million vegetation management program for 2018, with an additional 3,900 miles expected to be completed by year end.
"The tree trimming we have done over the past several years is making a positive difference in keeping the lights on for our customers and restoring service in the wake of severe weather," said David W. McDonald, president of West Penn Power. "We have ramped up our efforts to proactively remove tens of thousands of deteriorated ash trees bordering our electric distribution lines that have been affected by the Emerald Ash Borer. Harsh winter storms further damaged these trees, and we want to remove as many as possible to protect our system before summer thunderstorms arrive."
West Penn Power's tree program in 2018 includes about $7.5 million to remove more than 68,000 ash trees along distribution lines in western Pennsylvania. As of early April, more than 13,000 ash trees had been removed.
During the upcoming months, West Penn Power will be conducting tree trimming work in the following counties and communities:
Allegheny – Curtisville, Elizabeth, Harrison Township, North Fayette Township, Oakdale
Armstrong – Boggsville, Burrell, Kiskiminetas Township, Rural Valley, West Kittanning
Bedford – Artemas, Bedford, Centerville, Clearville, Ellerslie
Butler – Bruin, East Butler, Hooker, Karns City, Middlesex Township, Petrolia, Portersville, West Liberty
Centre – Boalsburg, Houserville, Jacksonville, Matternville, Old Fort, Pine Grove Mills, Pleasant Gap, State College
Clarion – Rimersburg, Strattanville
Elk County – Kane, Johnsonburg, Ridgway, St. Marys, Wilcox,
Fayette – Brier Hill, Bullskin Township, Dawson, Farmington, Gibbon Glade, Grindstone, Indianhead, Labelle, Masontown, Merrittstown, Normalville, Ohiopyle, Point Marion, Smithfield, Smithton, Uniontown
Franklin – Blue Ridge Summit, Chambersburg, Fayetteville, Fort Loudon, Guilford, Mercersburg, New Franklin, Quincy, South Mountain, Waynesboro
Fulton – McConnellsburg
Greene – Bobtown, Bristoria, Crucible, Greensboro, Mather, Mount Morris, Rogersville, Waynesburg, Windridge
McKean County –Hazelhurst, Marvindale, Mount Jewett Township,
Potter County – Austin, Burtville, Costello, Coudersport, Roulette
Washington – Bentleyville, Burgettstown California, Charleroi, Craven, Donora, Fredericktown, Jefferson Hills, Marianna, McDonald, Midway, Vanceville,
Westmoreland – Ardara, Avonmore, Export, Harrison City, Hyde Park, Jeannette, Lower Burrell, Mount Pleasant, Murrysville, New Alexandria, Oakgrove, Pleasant Unity, Ruffsdale, Salina, Straw Pump, Wilpen, Youngwood
Tree trimming is done on a five-year cycle. The program includes inspecting vegetation near the lines to ensure trees are pruned in a manner that helps preserve the health of the tree, while also maintaining safety near electric facilities. Trees that present a danger or are diseased also may be removed.
As part of its notification process, West Penn Power works with municipalities to inform them of tree trimming schedules. In addition, customers living in areas along company rights-of-way also are notified prior to vegetation management work being done.
The vegetation management work is conducted by certified forestry experts under the company's direction, including: Asplundh Tree Expert Company, Jaflo Inc., Lewis Tree Service Inc., Penn Line Service Inc., and Davey Tree Expert Company.
West Penn Power serves about 720,000 customers in 24 Pennsylvania counties. Follow West Penn Power on Twitter @W_Penn_Power and on Facebook at www.facebook.com/WestPennPower.
FirstEnergy is dedicated to safety, reliability and operational excellence. Its 10 electric distribution companies form one of the nation's largest investor-owned electric systems, serving customers in Ohio, Pennsylvania, New Jersey, West Virginia, Maryland and New York. The company's transmission subsidiaries operate more than 24,000 miles of transmission lines that connect the Midwest and Mid-Atlantic regions. Follow FirstEnergy on Twitter @FirstEnergyCorp or online at www.firstenergycorp.com.
CONTACT: Todd Meyers, (724) 838-6650