Toledo Edison Line Worker Gives Back to Ronald McDonald House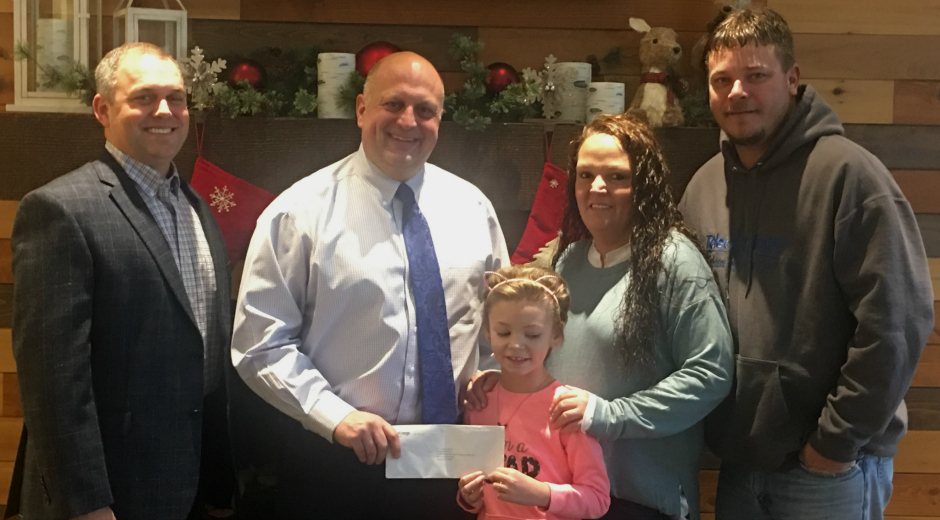 When Toledo Edison line worker Cory Poling's young daughter had a seizure, doctors were stumped. A second seizure 18 months later led to a hospital stay in Toledo, and eventually the family was referred to the Cleveland Clinic for treatment.
This required a long stay away from home, and with no extra funds for lodging, the family was advised to contact the Ronald McDonald House in Cleveland. This nonprofit organization offers a place to call home at little or no cost so families can access the best health care, regardless of their location.
They arrived in mid-March 2018 and stayed for 12 days, struggling with their daughter Collins' mysterious and frightening illness. Continued treatment and evaluation led to another lengthy stay at the house in May and again in June, when doctors successfully performed surgery to remove a lesion from a groove in her brain.
They were back in Cleveland for several days in August for a three-month checkup and again, earlier this month, for a six-month checkup.
Poling still gets emotional discussing the role the Ronald McDonald House played in their medical journey.
"I cannot begin to describe the financial and emotional benefit the Ronald McDonald House in Cleveland provided us," said Poling. "The staff and volunteers are so caring, and the other families staying there are going through similar ordeals. The camaraderie and support we continue to receive is just overwhelming."
Poling wasted no time in trying to return the favor as best he could. He arranged for a dozen or so co-workers from Toledo Edison to make breakfast one morning for the 50 or so people staying at the Ronald McDonald House in Toledo. This week, the FirstEnergy Foundation added a $1,000 gift to the gesture.
"We're very proud of Cory Poling's efforts to give back to the Ronald McDonald House," said Dee Lowery, president of the FirstEnergy Foundation. "This is a tremendous organization that steps up again and again to help families in crisis."
MEDIA CONTACT: Chris Eck, 330-384-7939