Students Partner with FirstEnergy to Bring STEM Projects to Life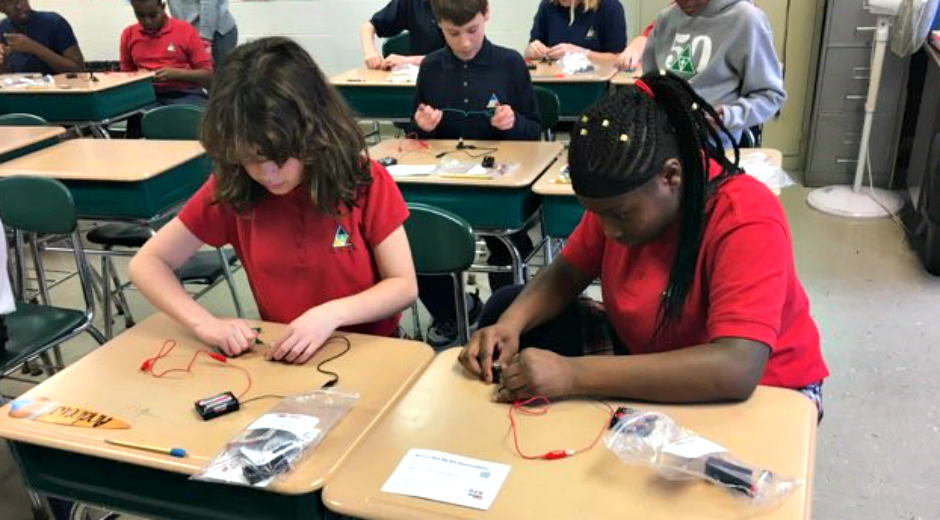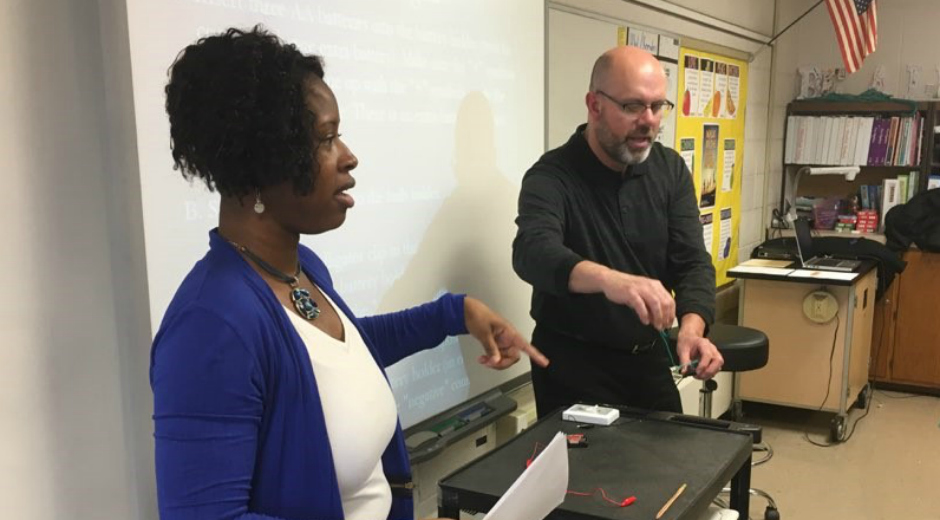 With the help of a FirstEnergy STEM grant, nearly 35 sixth graders at Chapel Hill Christian School turned ordinary pencils into a hands-on electricity demonstration.
Matthew Hickin, a science teacher at the school in Cuyahoga Falls, Ohio, used the grant to purchase supplies for students to construct dimmer switches using wooden pencils, mini light bulbs, alligator clip leads and AA batteries.
This activity gave Hickin the opportunity to teach his students about electricity and the fundamentals of electrical safety. He was joined by FirstEnergy employees Christina Brunson and Nick Toussant, who shared important safety tips with students, explained the concepts of electrical circuits and resistors, and helped them construct their dimmers.
To get started, students worked with adults to shave the wooden pencil down to its graphite core – which conducts electricity. Next, they attached the pencil to the batteries using alligator clip leads, and then slid the lead wire across the graphite to explore the relationship between resistance in the circuit and the amount of light produced. Students noticed that the light output changed as they moved the slider along the graphite core, in the same way a dimmer switch is used to brighten or darken a room.
"The kids had such a great time working on this interactive science project," said Brunson, a smart meter business analyst. "They were engaged and asked a lot of questions about how electricity works and why each item was important to get the dimmer to function properly."
While Brunson answered the hows and whys of electricity from the students, Toussant used his background in electrical engineering to explain and demonstrate each step of the electrical conduction process. They also used their time with the students to discuss their roles at FirstEnergy and the services their electric company provides to the community.
More than 1,000 educators and leaders of youth groups located in communities served by FirstEnergy's 10 electric companies—and in communities where the company has facilities or does business—have received classroom grants from FirstEnergy since the program began during the 1986-87 school year.
Applications for the 2018-19 school year are now available at www.firstenergycorp.com/STEM.
MEDIA CONTACT: Lauren Siburkis, (330) 203-8850