FirstEnergy engineers, high schoolers team up to design 'grid of the future'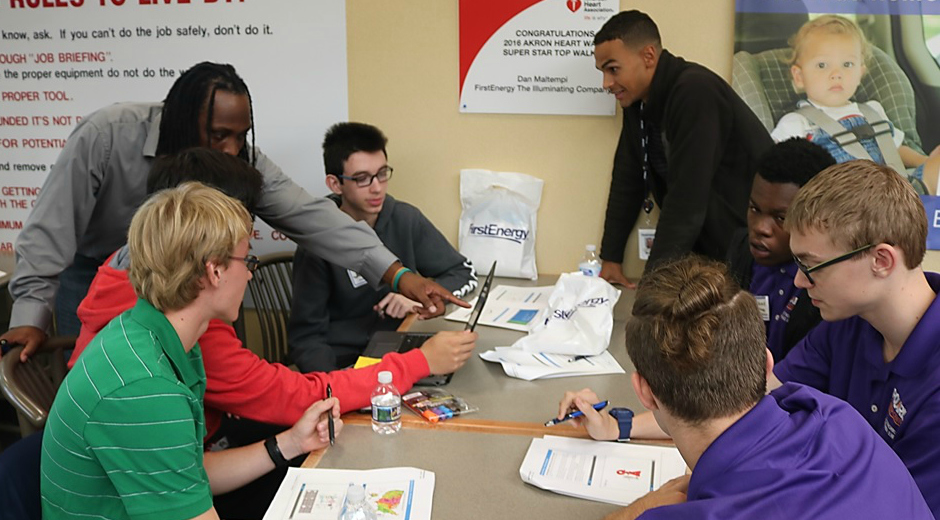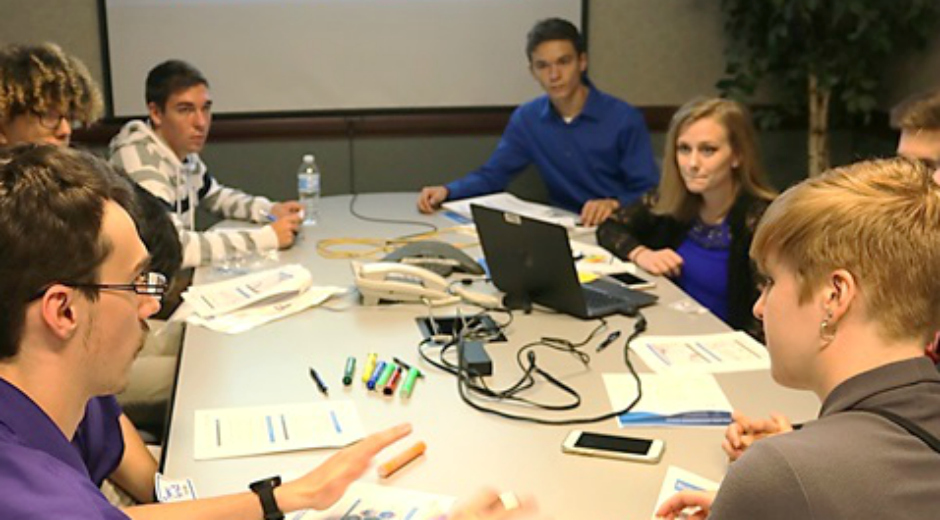 Nearly 100 high school seniors in northeast Ohio's Polaris Career Center engineering program teamed up with FirstEnergy employees to address issues facing America's power grid during a brainstorming session at the company's Northern Region Headquarters in Brecksville.
Prior to the session, students were given information to help them learn about the grid. They put their knowledge to work on Sept. 28, when they were split into teams supported by one experienced FirstEnergy engineer and a rotational engineer.
It was an exercise in engineering, but also a very real test in balancing the realities of generating and delivering electricity with the common misconceptions so many have about energy.
"What happens when the wind stops blowing and the sun goes down?" said Mark Little, a student who attended the session. "We need to build in redundancy, two forms of generation to support the system, not just one. That way we have more reliability."
Participating students, like Little, expressed their interest in pursuing careers within the power industry once they graduate from college.
The goal for this type of student-driven exercise is a two-fold: Introduce high schoolers to engineering jobs at FirstEnergy, while enhancing the company's new high school internship program that launched last summer in the transmission organization.
FirstEnergy's Terry Malone, a generation supervisor who led the session, believes one of the energy industry's biggest challenges is "maintaining the pipeline." Bringing in young, new minds is critical to tackling the rapidly changing nature of our industry.
"I like the collaborative nature of what we're doing with the students," he said. "We introduce them to the whole range of what we do, from generation to transmission to delivery."
Polaris student Taylor Poindexter used an analogy as she explained the importance of grid reliability to her teammates.
"We need to think of generation like a hybrid car: nuclear and fossil are the gas engine, solar and wind renewables are the electric motor, we use them when and where we can – but we have traditional generation to fall back on when we need it."
At the end of the brainstorming session, each team presented their plans, one of which included a goal of renewable energy supported by 20 percent fossil and nuclear.
Malone and his colleagues were very pleased with the outcome of the exercise, and said the students came up with ideas that could transform the world someday.
MEDIA CONTACT: Lauren Siburkis, (330) 203-8850