Pole Inspection and Replacement Program Continues at Met-Ed to Enhance Service Reliability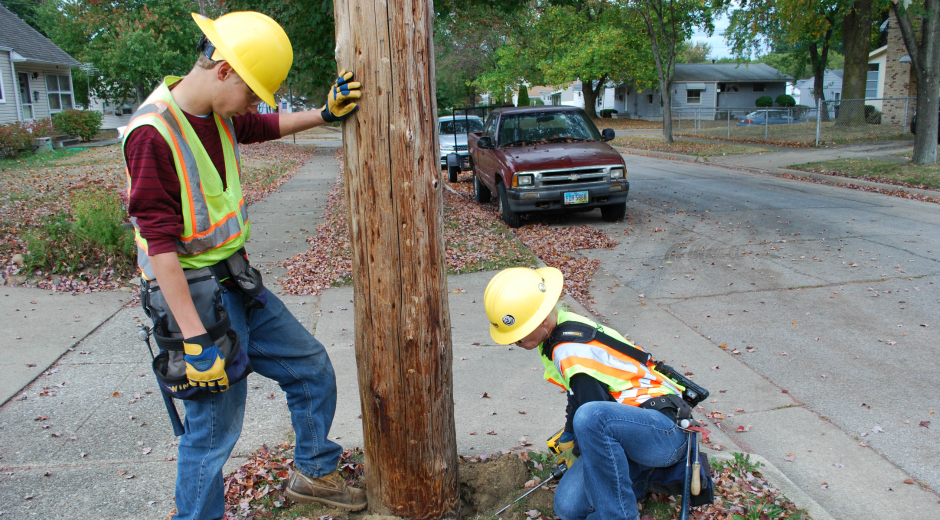 READING, Pa., Nov. 1, 2017 -- To help enhance the reliability of its system, Metropolitan Edison Company (Met-Ed), a FirstEnergy Corp. (NYSE: FE) utility, will replace or repair about 640 wooden utility poles this year as part of the company's annual inspection program. The poles would stretch nearly five miles if laid end to end.
Overall, Met-Ed will inspect approximately 35,000 of its 342,000 wooden poles in 2017 for signs of wear, insect infestation or damage from motor vehicle accidents, with a budgeted cost of approximately $4.5 million.
"Poles are vital to the delivery of electricity to homes and businesses in our area," said Ed Shuttleworth, regional president, Met-Ed. "While durable, these poles are in the elements 365 days a year and subject to damage from a variety of factors. Over time, some poles need to be replaced or repaired to help maintain our system's safety, reliability and resiliency."
A standard 40-foot wooden distribution pole typically is expected to last more than 50 years. The most common utility pole is made from a Southern Yellow Pine tree and costs about $400.
Typically, specialized contractors perform the pole inspections. As part of the process, a visual inspection is completed, along with checking the pole to determine if the interior is sound. Poles also can be reinforced rather than replaced. One of the most common reinforcement techniques is to snug a C-shaped steel beam against the pole, jackhammer the beam into the ground, and secure it to the pole with tight, metal bands.
All wood distribution poles throughout the 15-county Met-Ed service territory are inspected on a 12-year cycle. Inspections began in July and are continuing, with the remaining replacement and repair work scheduled to be completed during the latter part of the year.
Year-to-date, Met-Ed has inspected approximately 21,000 wooden poles in and around the following communities:
Gettysburg – 3,700
Hanover – 1,900
Lebanon – 3,030
Reading – 2,470
York – 8,055
Dillsburg – 1,650
Met-Ed serves approximately 560,000 customers in 15 Pennsylvania counties. Follow Met-Ed on Twitter @Met Ed and on Facebook at www.facebook.com/MetEdElectric.
FirstEnergy is dedicated to safety, reliability and operational excellence. Its 10 electric distribution companies form one of the nation's largest investor-owned electric systems, serving customers in Ohio, Pennsylvania, New Jersey, West Virginia, Maryland and New York. The company's transmission subsidiaries operate more than 24,000 miles of transmission lines that connect the Midwest and Mid-Atlantic regions. Follow FirstEnergy online at www.firstenergycorp.com and on Twitter: @FirstEnergyCorp.
Editor's Note: Photos of FirstEnergy's pole inspection and repair process are available for download on Flickr.
CONTACT: News Media Contact: Scott Surgeoner, (610) 921-6785