Ohio Edison, Penn Power Add New Line and Substation Workers from Power Systems Institute Training Programs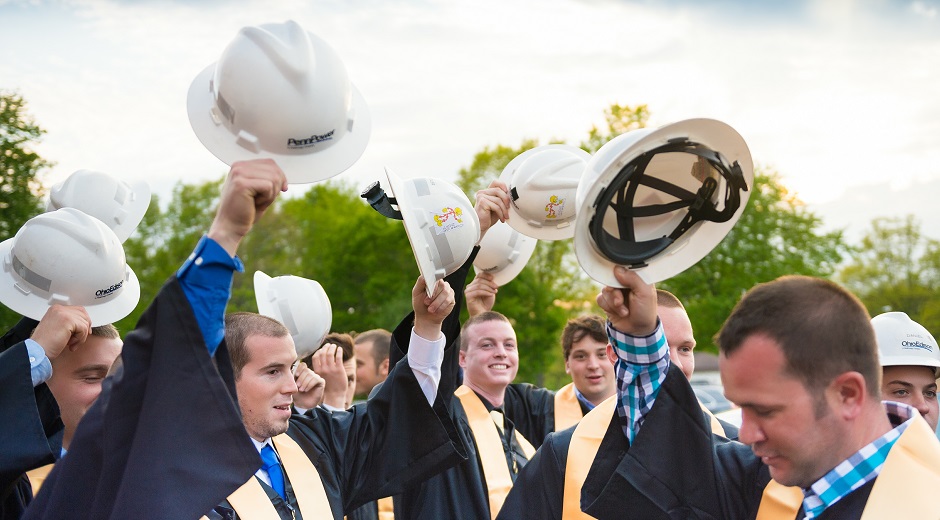 AKRON, Ohio, June 14, 2018 -- Ohio Edison and Pennsylvania Power (Penn Power), FirstEnergy Corp. (NYSE: FE) utilities, have hired 48 graduates of the companies' utility worker training programs as part of ongoing efforts to enhance service reliability for customers.
The new employees include 34 line workers and 14 new substation electricians who are recent graduates of the company's Power Systems Institute (PSI), a utility training partnership established by FirstEnergy at Stark State College in North Canton, Ohio, and Kent State University at Trumbull in Warren, Ohio.
"The PSI program is an effective pipeline for adding well-trained, highly skilled employees to our workforce," said Rich Sweeney, regional president of Ohio Edison and Penn Power. "The rigorous class work and experience gained in the field by working with veteran line and substation personnel helps ensure safe and reliable electric service for our customers, now and in the future."
The new Ohio Edison lines employees listed by work location, with their hometowns, are:
Akron – Richard Dolan, Akron; John Francis III, Norton; Joseph Galbraith, Carrollton; Jacob Kitchen, Uniontown; Corey Savage, Atwater.
Elyria – Joshua Jones, Louisville; Michael Southers, Minerva
Kent – Anthony Vernier, Louisville; Joseph Walker, Canton
Kinsman – Bill Anderson, North Bloomfield;
Macedonia – Anthony Tesauro, Kent; Cody Vaughn, Mogadore
Marion – Jacob Chuning, Orrville; Brad McConnell, Bloomville; Lucas Shepherd, Beach City; Jacob Wagner, Waynesburg
Medina – Zach Longfellow, Marshallville; Cole Thompson, Sterling;
North Jackson – Nick Buonavolonta, Canfield
Salem – Chance Ramsey, East Rochester
Sandusky – Matthew Orahood, Cortland;
Warren – Andy Kalman, Warren; Elias King, Warren; Dylan Williams, Warren
Youngstown – Josh Sponsler, Burghill; Nate Tayman, Austintown;
The new Ohio Edison substation employees listed by work location, with their hometowns, are:
Akron – Cory Bulgrin, Barberton; Micah Herndon, Tallmadge; Phillip Wallace II, Uniontown
Marion – Joseph Fye, Massillon
Sandusky – Dylan Hermes, Sandusky
Youngstown – Derek Anderson, Salem; Steven Chaplow, Lisbon; John Luckner III, Canton; Anthony Townes, Canton;
Warren – Paul Dillworth, Barberton
The new Penn Power lines employees listed by work location, with their hometowns, are:
Cranberry – Matt Chuey, Youngstown; John Davis, Warren; Chad DiBell, Bristolville; Anthony Jannone, Struthers; Brad Ruthrauff, Canfield; Johnithan Vinkler, Petersburg; Matt Vogel, Enon Valley, Pa.; Paul Vogel, Brookfield;
The new Penn Power substation electrician employees listed by work location, with their hometowns, are:
Cranberry – Bud Wynder, Jr., New Wilmington, Pa.
New Castle – Joseph Batcho, Kent, Jared Luchowski, Norton; James Wainwright, Newton Falls
PSI is an award-winning, two-year educational program originally developed by FirstEnergy in 2000 to help prepare the company's next generation of utility line and substation workers.
PSI students split time between classes at Stark State and Kent State Trumbull and Ohio Edison training facilities in Massillon and Warren. Since the program's inception, FirstEnergy has hired more than 1,300 line and 420 substation personnel who completed PSI programs in Maryland, New Jersey, Ohio, Pennsylvania and West Virginia.
For information about the PSI program, call 1-800-829-6801, or go to www.firstenergycorp.com/psi.
Ohio Edison is a subsidiary of FirstEnergy Corp. and serves more than one million customers across 34 Ohio counties. Follow Ohio Edison on Twitter @OhioEdison, on Facebook at http://www.facebook.com/OhioEdison, and online at www.ohioedison.com. Follow Penn Power on Twitter @Penn Power, on Facebook at www.facebook.com/PennPower, and online at www.pennpower.com.
FirstEnergy is dedicated to safety, reliability and operational excellence. Its 10 electric distribution companies form one of the nation's largest investor-owned electric systems, serving customers in Ohio, Pennsylvania, New Jersey, West Virginia, Maryland and New York. The company's transmission subsidiaries operate more than 24,000 miles of transmission lines that connect the Midwest and Mid-Atlantic regions. Follow FirstEnergy on Twitter @FirstEnergyCorp or online at www.firstenergycorp.com.
Editor's Note: Photos of the Ohio Edison and Penn Power Power Systems Institute graduates are available for download on Flickr.
CONTACT: Mark Durbin, (330) 761-4365