Line and Substation Equipment Work Underway in Met-Ed Area to Enhance Service Reliability
Projects Add Equipment and Remote Controls to Reduce Number and Duration of Power Outages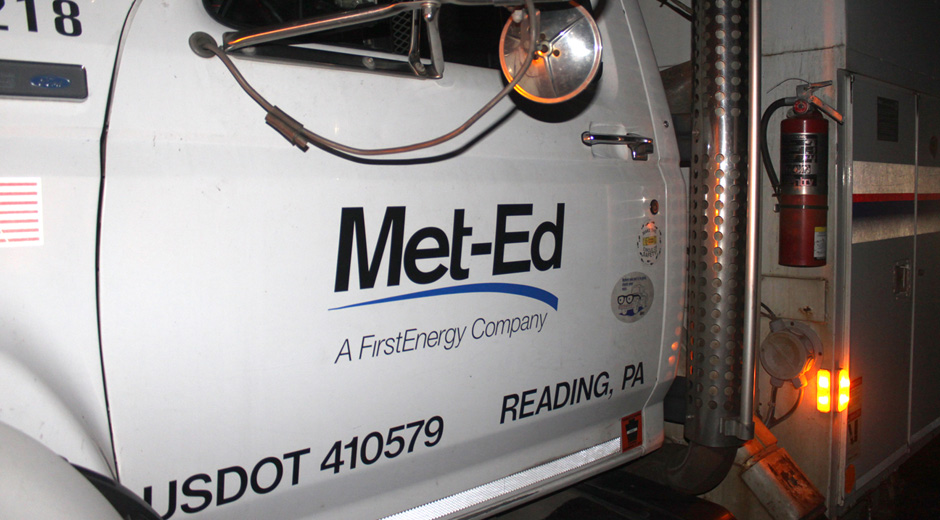 READING, Pa., Aug. 8, 2017 -- Metropolitan Edison Company (Met-Ed) is completing work on approximately $15.9 million of electric system projects as part of a targeted 2017 program specifically designed to reduce the number and duration of power outages experienced by the company's 560,000 customers.
The work involves installing enhanced protective devices on wires and poles, rebuilding electric lines, including replacing damaged insulators, poles, cross arms and wire, and installing automated and remote control devices.
The projects are part of Met-Ed's 2016-2020 Long-Term Infrastructure Improvement Plan (LTIIP) approved by the Pennsylvania Public Utility Commission. Ultimately, this special program focuses on distribution infrastructure enhancement projects in the Met-Ed service area, with a total of $77 million being spent through 2020 on system improvements.
"The additional work is intended to benefit Met-Ed customers by complementing the work we already do each year to enhance the reliability of our electric system," said Ed Shuttleworth, regional president of Met-Ed. "We continue working to make our system the best it can be when it comes to limiting the number and duration of outages our customers experience."
The LTIIP projects slated for completion this year in the Met-Ed service area include:
Replacing more than 750 porcelain protective switches on poles and wires with new polymer devices. The switches – known as "cutouts" – automatically open when a system irregularity is detected, serving to protect the electrical equipment and limit the number of customers affected by an outage. In 2017, protective switches will be replaced on five circuits primarily in Reading, Stroudsburg and Lebanon.
Adding new connection points where circuits come together, along with installing new devices, such as fuses and automated switches, to help limit the number of customers affected when an outage occurs. The work is designed to enhance reliability for Met-Ed customers in the Boyertown, Reading, Lebanon, York and Stroudsburg areas.
Installation of radio-controlled switches on electric circuits. These devices can be operated remotely from the company dispatch center, allowing operators to restore power more quickly and efficiently than dispatching a crew to investigate. Met-Ed is completing this work at 28 locations throughout its service area.
Completion of major line upgrade projects on eleven circuits. This work includes installing news poles, wire, and other equipment as needed.
Replacement of 12,000 feet of cable in underground residential developments.
Installation of more than 430 new fuses throughout Met-Ed's service area.
Replacing 360 wood distribution poles throughout Met-Ed's service area.
In 2018, Met-Ed is expected to spend an additional $13 million on similar projects.
Met-Ed, a subsidiary of FirstEnergy Corp. (NYSE: FE), serves approximately 560,000 customers in 15 Pennsylvania counties. Follow Met-Ed on Twitter @Met Ed and on Facebook at www.facebook.com/MetEdElectric.
FirstEnergy is dedicated to safety, reliability and operational excellence. Its 10 electric distribution companies form one of the nation's largest investor-owned electric systems, serving customers in Ohio, Pennsylvania, New Jersey, West Virginia, Maryland and New York. The company's transmission subsidiaries operate more than 24,000 miles of transmission lines that connect the Midwest and Mid-Atlantic regions. Follow FirstEnergy online at www.firstenergycorp.com and on Twitter: @FirstEnergyCorp.
Editor's Note: Photos of similar equipment being installed as part of Met-Ed's Long-Term Infrastructure Improvement Plan are available for download on Flickr.
CONTACT: News Media Contact: Scott Surgeoner, (610) 921-6785