JCP&L Continuing Repairs in Hardest-Hit Areas Following Severe Winter Storms
Company Monitoring New Weather System as it Develops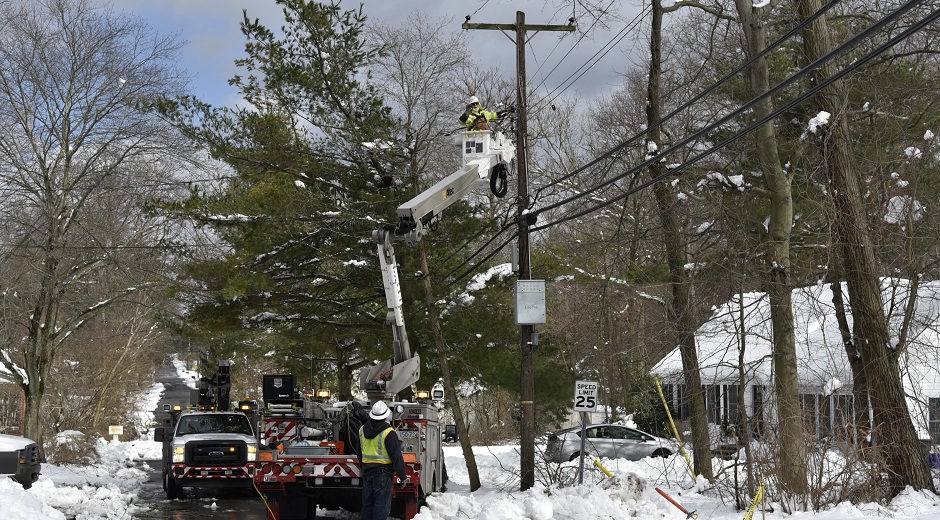 MORRISTOWN, N.J., March 12, 2018 -- Jersey Central Power & Light (JCP&L) is in the process of completing its massive restoration effort following two severe winter storms that resulted in 528,000 customers losing power due to heavy, wet snow and strong winds. The remaining 2,300 customers are expected to be restored by late this evening.
More than 6,200 line workers, hazard responders and assessors, forestry crews, job dispatchers, and electrical contractors are part of a small army that has been working continuously to restore power to JCP&L customers following the damaging winter events.
Company meteorologists also are closely monitoring the possibility of additional snow forecast for later today. While we do not expect significant outages to occur as a result, our crews will respond as needed.
"A small army of utility workers has been working safely around the clock in some very challenging conditions to restore service to our customers affected by the back-to-back damaging winter storms," said Jim Fakult, president of JCP&L. "To provide some scale to our efforts, we have replaced nearly 51 miles of wire, more than 750 poles and cleared trees at more than 5,400 locations. We greatly appreciate the support our customers have shown during this undertaking."
JCP&L continues to post storm updates on social media and on the company website. Follow JCP&L on Twitter @JCP_L, on Facebook at www.facebook.com/JCPandL or online at www.jcp-l.com.
JCP&L reminds customers to immediately report downed wires to their utility at 888-LIGHTSS (888-544-4877), or to their local police or fire department. Customers should never go near a downed wire even if they think it is no longer carrying electricity. Extra caution should be used in areas where downed lines are tangled in trees or other debris.
JCP&L is a subsidiary of FirstEnergy Corp. (NYSE: FE). JCP&L serves 1.1 million New Jersey customers in the counties of Burlington, Essex, Hunterdon, Mercer, Middlesex, Monmouth, Morris, Ocean, Passaic, Somerset, Sussex, Union and Warren. Follow JCP&L on Twitter @JCP_L, on Facebook at www.facebook.com/JCPandL or online at www.jcp-l.com.
FirstEnergy is dedicated to safety, reliability and operational excellence. Its 10 electric distribution companies form one of the nation's largest investor-owned electric systems, serving customers in Ohio, Pennsylvania, New Jersey, West Virginia, Maryland and New York. The company's transmission subsidiaries operate more than 24,000 miles of transmission lines that connect the Midwest and Mid-Atlantic regions. Visit FirstEnergy online at www.firstenergycorp.com and follow on Twitter @FirstEnergyCorp.
CONTACT: News Media Contact, Ron Morano, 888-233-3583