FirstEnergy Foundation's "Gifts of the Season" Campaign Surprises Four Ohio Non-Profit Agencies with Holiday Donations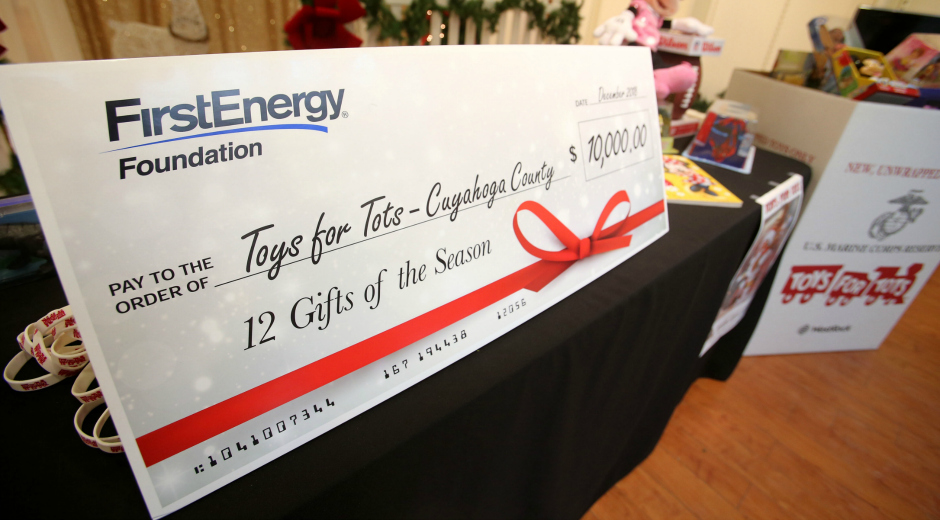 AKRON, Ohio, Dec. 13, 2018 -- The FirstEnergy Foundation presented surprise "Gifts of the Season" totaling $30,000 to four non-profit agencies that are working to make lives better in Ohio communities served by FirstEnergy Corp (NYSE: FE) utilities Ohio Edison, The Illuminating Company and Toledo Edison.
Ohio Edison service area recipients receiving $5,000 gifts are:
Club Surrender, Mansfield – Provides at-risk youth with access to adult role models, community resources and professional services.
Project MKC, Youngstown – Assists families and individuals who are less fortunate by helping them through multiple programs, including diaper banks, food programs, winter clothing, tutoring and social support.
The Illuminating Company service area recipient receiving a $10,000 gift is:
Toys for Tots, Cuyahoga County – Collects and distributes Christmas gifts to less-fortunate children across the Cleveland area.
The Toledo Edison service area recipient receiving a $10,000 gift is:
Connecting Kids to Meals, Toledo – Provides free hot, nutritious meals to children living in low-income and underserved areas within the community.
"We're pleased to provide this surprise support, particularly during the holidays when the services these agencies offer are most vital," said Dee Lowery, president of the FirstEnergy Foundation. "The winners were chosen secretly by FirstEnergy employees, who identified organizations in their local areas that do extraordinary work to strengthen the community. Our goal was to focus on programs that enhance children's services or provide additional support for organizations facing a critical need during the holiday season."
The FirstEnergy Foundation's "Gifts of the Season" campaign includes 17 individual donations to non-profit organizations across FirstEnergy's six-state service territory. Photos of FirstEnergy's "Gifts of the Season" check presentations are being shared on social media using the hashtag #GiftsofFE.
The FirstEnergy Foundation is funded solely by FirstEnergy Corp. and provides support to non-profit, tax-exempt health and human services agencies; educational organizations; cultural and arts programs and institutions; and civic groups in areas served by FirstEnergy's 10 electric operating companies and in areas where the company conducts business.
Connect with FirstEnergy and its Ohio companies online at www.firstenergycorp.com, on Twitter at @FirstEnergyCorp, @OhioEdison, @IlluminatingCo, @ToledoEdison, or on Facebook at www.Facebook.com/OhioEdison, www.Facebook.com/ToledoEdison, www.Facebook.com/IlluminatingCo.
FirstEnergy is dedicated to safety, reliability and operational excellence. Its 10 electric distribution companies form one of the nation's largest investor-owned electric systems, serving customers in Ohio, Pennsylvania, New Jersey, West Virginia, Maryland and New York. The company's transmission subsidiaries operate more than 24,000 miles of transmission lines that connect the Midwest and Mid-Atlantic regions.
CONTACT: Eyad Gheith, (330) 612-1746