FirstEnergy Executives to Ring Closing Bell at New York Stock Exchange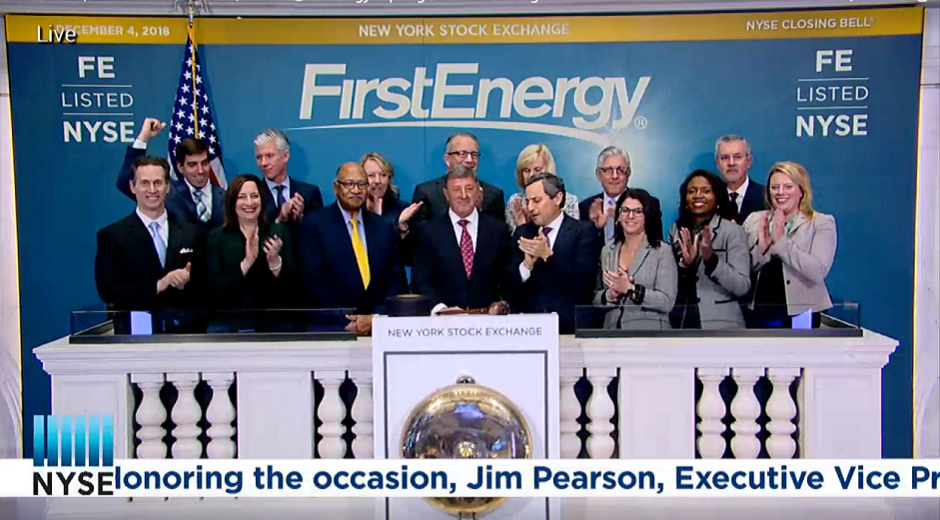 AKRON, Ohio, Dec. 4, 2018 -- Executives from FirstEnergy Corp. (NYSE: FE) will ring The Closing Bell at the New York Stock Exchange on Tuesday, December 4, to celebrate the company's transition to a fully regulated utility.
"Over the last few years, we have worked to transform FirstEnergy into a premier, customer-focused, fully regulated utility," said James F. Pearson, FirstEnergy's executive vice president of Finance. "Today we are celebrating our progress in this transformation, including our track record of meeting our commitments to investors, our platform for sustained customer-focused growth, and a new dividend policy that supports enhanced shareholder returns."
"We are honored to have this opportunity to ring the closing bell at the New York Stock Exchange and we look forward to a bright future for our investors, customers and employees," he said.
Representatives from FirstEnergy's leadership team and Board of Directors will join Pearson for the event at 4:00 p.m. EST. The NYSE website, www.nyse.com/bell will stream video of the ceremony beginning at 3:58 p.m. EST, and the video will be archived on that site. In addition, photos from the event, including FirstEnergy's banner on the exterior of the Stock Exchange, will be available for download on Flickr.
In addition to being a colorful tradition, the NYSE trading floor bells are critical to the orderly functioning of the marketplace, assuring that no trades take place before the opening or after the close. Learn more about the NYSE bell at www.nyse.com/bell/history.
Update: Video from the event:
FirstEnergy is dedicated to safety, reliability and operational excellence. Its 10 electric distribution companies form one of the nation's largest investor-owned electric systems, serving customers in Ohio, Pennsylvania, New Jersey, West Virginia, Maryland and New York. The company's transmission subsidiaries operate more than 24,000 miles of transmission lines that connect the Midwest and Mid-Atlantic regions. Follow FirstEnergy on Twitter
@FirstEnergyCorp
or online at
www.firstenergycorp.com
.
CONTACT: News Media Contact: Tricia Ingraham, (330) 384-5247, or Investor Relations Contact: Irene Prezelj, (330) 384-3859