West Penn Power's Lone Female Line Worker Thrives in Male-Dominated Industry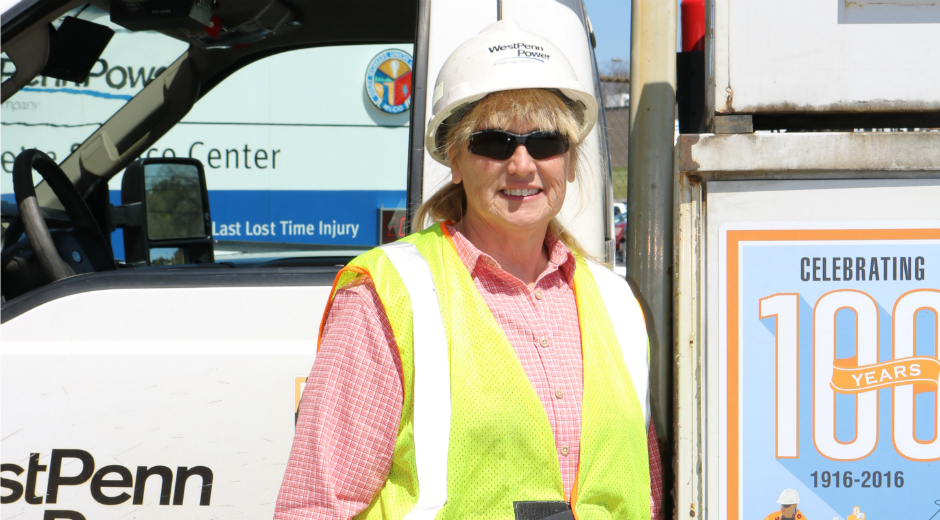 Growing up with three brothers, Jolene Cicci began bucking stereotypes from a young age. After all, she never could understand how acting out pretend dates with Ken and Barbie was more fun than kicking a ball around with the boys in her neighborhood.
Her ability to break down gender barriers led to the start of her career as a line worker at West Penn Power more than 25 years ago – a career not often considered by her female counterparts.
"Some of the proudest days of my life are when I became a line worker and was eventually promoted to lead line worker," said Cicci. "As a single mom of two young daughters at the time, there was a great sense of accomplishment when I was able to show them what a woman could achieve."
Line workers, like Cicci, are responsible for building, maintaining and restoring electrical service – most often during inclement weather or following an accident that has destroyed a power line.
She believes many women shy away from this profession because of the physical aspect of the job. Despite the help of bucket trucks, all line workers must be able to climb utility poles and transmission towers with heavy equipment and balance themselves while working on them.
Even after being employed with West Penn Power for more than two decades, Cicci said she still experiences the oddities that come with being a woman in a field long dominated by men. However, those double takes and obvious looks of doubt have motivated her to perform at the top of her field and show her peers that the job is, in fact, a gender neutral one.
Cicci recalled a particular instance in 2003 when she and her West Penn Power colleagues assisted with Hurricane Isabel restoration efforts in Richmond, Virginia.
"I'll never forget when we showed up to the staging site with about 4,000 line workers from across the country and I was the only woman," she said. "People would look at me and ask if I was a supervisor or engineer because they couldn't believe I was a line worker."
By the end of the trip, Cicci said she earned the utmost respect from her male peers from other utility companies and helped change their views of women line workers.
Cicci is one of four female line workers employed by FirstEnergy Corp.'s 10 electric companies in Ohio, Pennsylvania, New Jersey, Maryland and West Virginia.
They were most recently joined in the field by Vanessa Patterson, who in May 2017 completed FirstEnergy's Power Systems Institute (PSI) training program for line and substation workers. Patterson is now one of two female line workers at Jersey Central Power & Light.
The two-year PSI program combines technical coursework at local community colleges with hands-on skills instruction at company facilities. Line and substation students take part in a paid summer internship between their first and second year of the program.
Patterson said she worked several dead-end jobs prior to enrolling in the PSI program. She sees line work as a way to create a stable career that could provide for her family, and she knows line workers who loved their jobs and have been in the field for decades.
Like Cicci, Patterson said people were initially skeptical of her abilities as a line worker.
"Once they had a chance to watch my work and see my determination, they could see that they can rely on me," said Patterson. "Everyone has been supportive, from the people teaching me to the guys working next to me."
Cicci encourages women who are interested in line or substation work to familiarize themselves with the industry and learn more about FirstEnergy's PSI program at www.firstenergycorp.com/PSI.
"Any stereotypes that someone might have, I'm happy to squash them and explain how, while it's still physical, it's not impossible," she said.
MEDIA CONTACT: Lauren Siburkis, (330) 203-8850