Taking Service Reliability to New Heights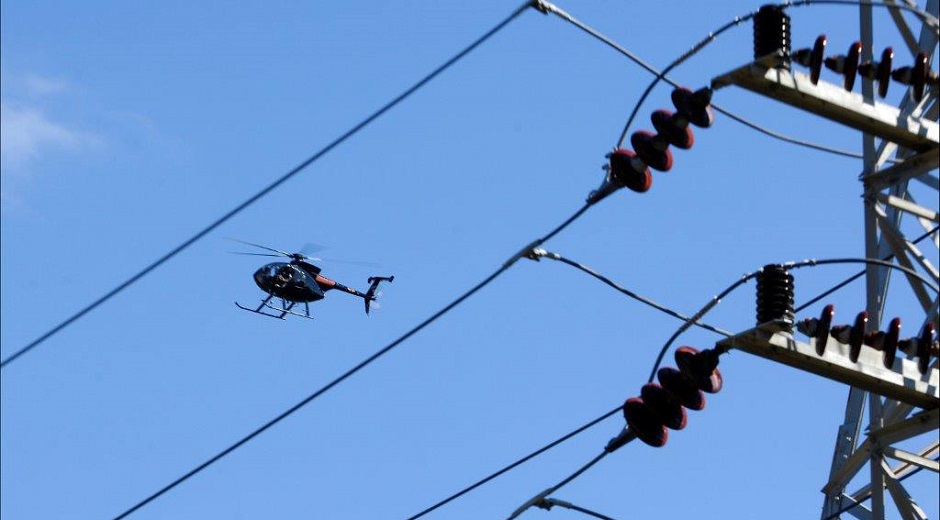 We've all seen linemen in bucket trucks, or maybe even climbing a pole, working to install or repair electrical equipment. But from time to time, you may also catch a glimpse of FirstEnergy field personnel who go to even greater heights to ensure reliable service for customers.
Using helicopters, these workers take to the sky to inspect high-voltage power lines as part of our ongoing maintenance program.
The unique attributes of helicopters – including the ability to take off and land vertically, hover in place, and fly forward, backward and laterally – allow them to access isolated areas that may be difficult to reach by land, and make them valuable tools for FirstEnergy, says Rudy Stanec, manager of Transmission Maintenance at FirstEnergy.
Stanec coordinates FirstEnergy Transmission's Aerial Patrol Program, working with helicopter contractors to schedule routine inspections and maintenance work. Helicopters have become a vital tool to providing reliable service to our customers. In fact, many of the inspections are required by utility commissions in the states we serve, and by our regional transmission operator.
A Bird's-Eye View
FirstEnergy performs three types of inspections using helicopters: routine patrols, ultraviolet/infrared patrols and comprehensive visual inspections.
Routine patrols can help identify broken cross arms, split pole tops, hanging conductors and other equipment issues on transmission lines. This efficient inspection method is performed at a higher rate of speed than the other two patrol types.
"We're getting ready to perform our spring aerial patrols as part of our summer readiness program," Stanec said. "Equipment issues will be entered into a database and ranked according to severity so repairs can be made."
Ultraviolet/infrared patrols are performed every four years using thermal imaging cameras that are mounted onto the belly of a helicopter to identify hot spots on electrical equipment. These inspections are conducted at a slower rate of speed than routine patrols, and they are part of our Transmission group's preventive maintenance program, which attempts to catch problems with equipment before they can cause an outage.
Comprehensive visual inspections (CVI) are, as the name suggests, the most inclusive aerial examination performed on our transmission lines. They use the slowest traveling speed of the three patrol types, and the helicopter periodically hovers over structures to thoroughly examine equipment. High-definition cameras can zoom in on a specific area – close enough to determine if a bolt is loose – and captured images are stored in a database and shared with <operating company>. CVIs are conducted in four-year intervals.
Additionally, our Vegetation Management group maintains its own aerial patrol program to help identify vegetation issues that must be addressed, such as a tree that is leaning toward a power line.
Helicopter inspections are a crucial and effective part of our commitment to reducing the frequency and duration of power outages. Customers depend on us for their electric service, and that's why we're always working to keep the system operating safely and reliably.