FirstEnergy STEM Grant Helps Teacher Modernize Home-Ec Curriculum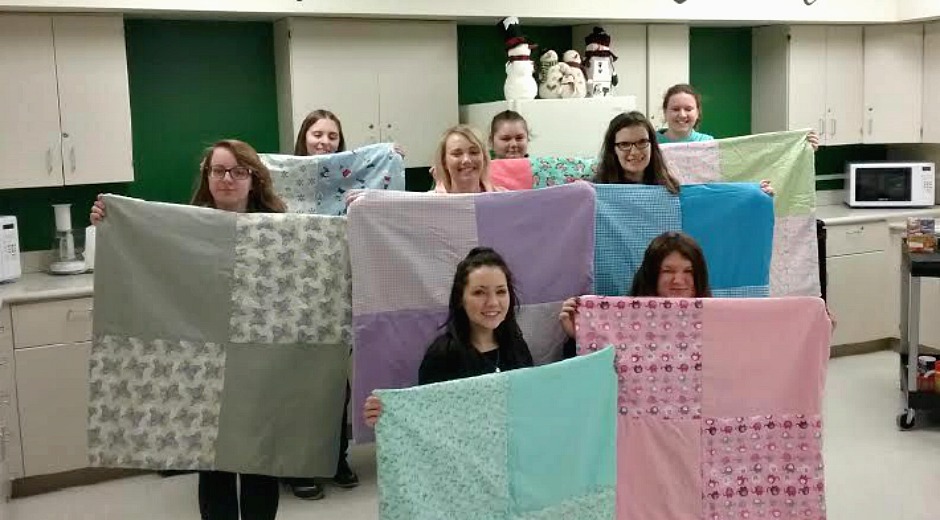 Gone are the days of thinking that home-ec classes merely prepare young women to be homemakers. Home economics of today, referred to as family and consumer sciences, is a popular career program that encompasses the fields of science, technology, engineering and mathematics (STEM).
Leading the effort to change this perception at West Branch High School is Marsha Coffee, a family and consumer sciences teacher. She recently used her $1,000 FirstEnergy STEM grant to purchase a computerized sewing machine, fabric and supplies for her students to make quilts for babies at Mercy Hospital in Canton, Ohio.
"Making things on today's modern sewing machines incorporates all the elements of STEM education in a way that allows students to be creative and learn valuable domestic skills," said Coffee.
At its core, sewing is the construction of two-dimensional pieces into three-dimensional shapes. Coffee said sewing often requires the problem-solving and critical thinking skills engineers use to make or design something.
Before the students even touched a piece of fabric, they received a geometry lesson since patterns, symmetry and shapes are the core functions of quilt-making. Then, they practiced sewing and pattern layout with paper before they were ready to sew their fabric shapes into the final product – an infant quilt filled with soft batting.
Coffee said her students were motivated to finish their quilts because they knew their creations would be used to keep infants warm. She looks forward to incorporating sewing into her curriculum next year with the addition of a new course, "Interior Design & Clothing."
"Without FirstEnergy's support, we would not have been able to purchase this sewing machine, which has allowed us to enhance our course offerings and let students explore STEM education in a different way," she said.
More than 1,000 educators and leaders of youth groups located in communities served by FirstEnergy's 10 electric companies—and in communities where the company has facilities or does business—have received classroom grants from FirstEnergy since the program began during the 1986-87 school year.
Applications for the 2018-19 school year are now available at www.firstenergycorp.com/STEM.

MEDIA CONTACT: Lauren Siburkis, (330) 203-8850