FirstEnergy Partners with PA PUC to Recruit Veterans to Utility Industry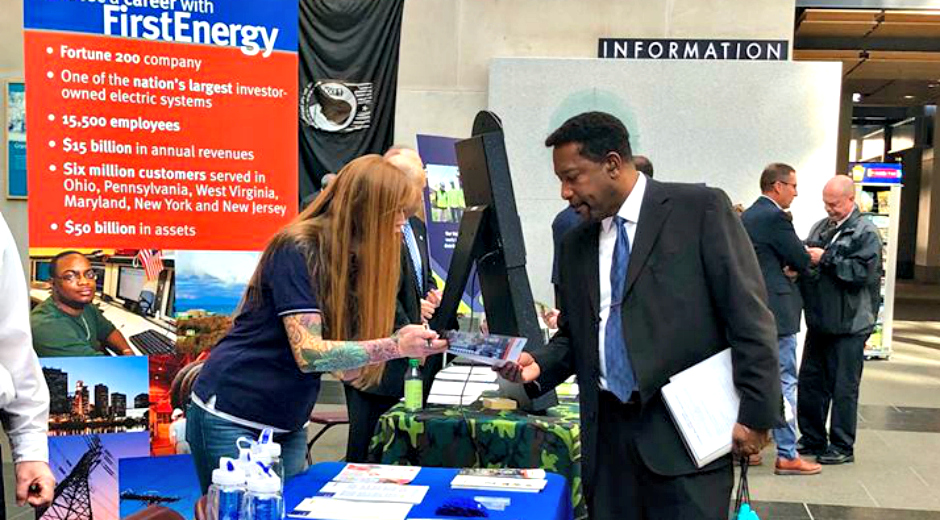 In the spirit of Veterans Day, representatives from FirstEnergy recently attended the Pennsylvania Public Utility Commission's (PUC) Utility Careers Fair for Veterans in Harrisburg to introduce dozens of men and women to rewarding careers within the company.
The career fair was part of the PUC's new #UtilityCareers campaign aimed at recruiting skilled candidates to replace the industry's current aging workforce and fill new, emerging positions in electrical systems and technologies.
"Our veterans have already made a tremendous contribution to keeping our nation safe and secure, and they play a strong role in our public utilities and overall labor force," said PUC Chairwoman Gladys Brown. "These men and women are disciplined, mission-driven, safety focused, community-oriented, and understand the critical nature of utility services."
Although line workers are often the face of the utility industry, Brown said the industry offers a plethora of career opportunities in areas such as information technology, finance, engineering and customer service.
FirstEnergy recruiter Steve Ryba knows firsthand the value veterans bring to the utility industry. He served in the U.S. Army for 25 years and retired as a Lieutenant colonel before joining FirstEnergy.
"When veterans come to me and express interest in a career at FirstEnergy, I'm able to use my background to identify job opportunities based off their skillsets and experience in the military," said Ryba, who praises FirstEnergy's commitment to not only hiring veterans, but making their transition into the civilian workforce smooth and pleasant.
Recognized by G.I. Jobs magazine as a military-friendly employer, FirstEnergy proudly employs more than 1,500 past and present service members of the United States' armed forces. Ryba believes that number will increase significantly over the next few years as baby boomers retire.
"FirstEnergy offers a very inclusive and welcoming environment for veterans and that's why I'm here," Ryba said. "I encourage veterans to look at FirstEnergy as an employer of choice because the people here take pride in welcoming veterans coming out of their military service."
For individuals interested in working directly with electricity, the company partners with community colleges to offer its Power Systems Institute (PSI) line worker and substation electrician training program.
PSI is a unique, two-year program that combines classroom learning with the hands-on training needed to open the door to opportunities in the electric industry. Students who successfully complete the program earn an associate's degree in electrical utility technology.
For more information on all career opportunities at FirstEnergy, please visit firstenergycorp.com/careers.
MEDIA CONTACT: Lauren Siburkis, 330-203-8850