2018 Address to Shareholders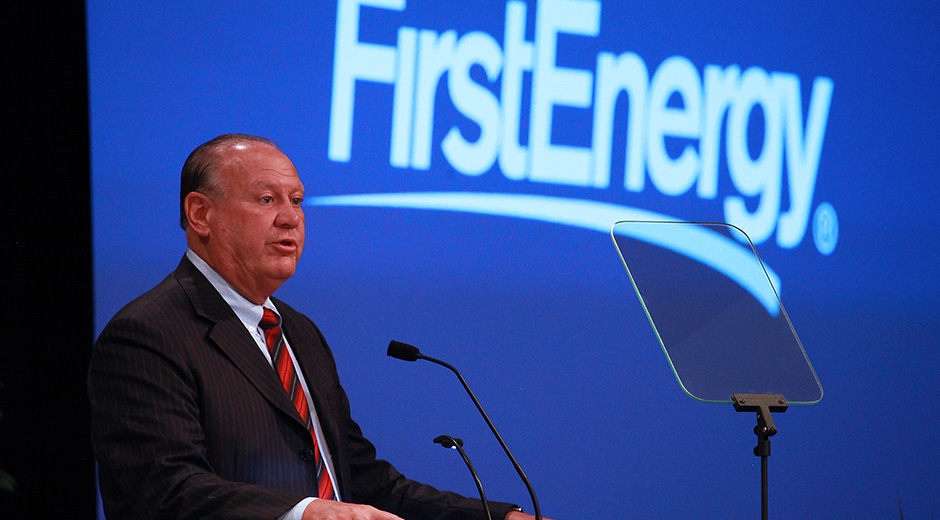 FirstEnergy Corp. Annual Meeting of Shareholders
Remarks by President and Chief Executive Officer Charles E. Jones
May 15, 2018
Thanks George, and good morning everyone. Thank you for joining us here today.
It's safe to say the last week of March was one of the most eventful in our company's history.
Although the developments that took place that week underscore serious problems that continue to plague competitive markets for electricity, they also helped accelerate FirstEnergy's transition to becoming a fully regulated company – one that's better positioned to provide enhanced service to customers while delivering stable, long-term value to shareholders.
At the end of March, our competitive subsidiary, FirstEnergy Solutions, all of its subsidiaries and FirstEnergy Nuclear Operating Company had voluntarily filed petitions under Chapter 11 of the U.S. Bankruptcy Code to facilitate an orderly financial restructuring of their operations. The good news is that, since then, FirstEnergy has reached an agreement in principle with key creditors representing a majority of the outstanding unsecured and secured debt obligations of FES, its related entities and FENOC. This pending agreement is a significant step toward these companies ultimately emerging from bankruptcy.
The bankruptcy filing was made only three days after FES notified PJM, the regional transmission organization, that its three nuclear plants – Davis-Besse and Perry in Ohio and Beaver Valley in Pennsylvania – will be deactivated during the next three years. And, on Thursday of that week, FES called on U.S. Energy Secretary Rick Perry to issue an emergency order directing PJM to compensate nuclear and coal-fired plants in the region for the key benefits they provide – from supporting grid stability to maintaining fuel security and diversity.
Certainly, these were major announcements. But they didn't come as a surprise to most industry experts. That's because as early as November of 2016, we had publicly disclosed that we intended to exit competitive generation markets due to a number of factors – including flawed market policies, weak power prices, insufficient results from capacity auctions and weak demand forecasts. Since 2016, these conditions had already forced FES to make the difficult decision to sell or deactivate 7,819 megawatts of generation.
As FES and its subsidiaries work their way through these challenges and the bankruptcy process, we're taking aggressive steps at FirstEnergy to make our company more financially sound and our regulated energy delivery system smarter and more resilient in the years ahead.
For example, we created a restructuring working group to serve in an advisory role, helping us complete FirstEnergy's transition to full regulation in a timely manner. The group includes Jim Pearson, executive vice president, Finance; Leila Vespoli, executive vice president of Corporate Strategy, Regulatory Affairs and chief legal officer; and Gary Benz, senior vice president of Strategy; as well as two outside members.
We also announced a $2.5 billion equity investment in FirstEnergy from several prominent investors. This investment strengthened our balance sheet, reduced our holding company debt by $1.45 billion, and supported a total contribution of $1.25 billion to our pension plan this year.
With this financing in place, we announced plans to spend more than $10 billion in capital investments throughout our entire transmission and distribution system over the next three years. These investments are expected to support a projected annual growth rate of 6 to 8 percent for our regulated businesses through 2021.* But more important, they will fund a number of improvements designed to make our electric system more secure and responsive to the growing energy needs of our customers.
You've probably noticed a key theme that we're promoting through the displays at today's meeting: Building a Brighter Future. I believe it reflects our company's mission statement and captures the spirit of what we hope to accomplish through these improvements. Our goal is to bring greater value to our customers, shareholders, employees and the communities where we live and work.
We see great promise in new automation technologies, such as remote-controlled reclosers that can help us restore power faster to customers when outages occur. We're also adding more than 1,500 miles of fiber optic cable across our system, for a total network of 8,000 miles. This system enables communications that support advanced monitoring technologies, which have already proven effective in enhancing grid reliability.
Through our multibillion-dollar Energizing the Future initiative, we're keeping pace with customer demand for electricity by upgrading and modernizing our transmission system. We plan to invest up to $4.8 billion from 2018 through 2021 on these improvements – including nearly 1,200 smart grid projects that are designed to make our system more robust, secure and resistant to extreme weather events. Many of these projects take advantage of new technologies that minimize the threat of physical and cyberattacks. All of them are important to providing customers with the power they need, when they need it.
To date, most of our Energizing the Future investments have been made in our Ohio and Penn Power utilities. But now we're expanding this program eastward – especially in areas served by our new Mid-Atlantic Interstate Transmission subsidiary, known as MAIT, which owns and operates assets previously controlled by Penelec and Met-Ed. MAIT is undertaking some 200 projects this year that are expected to benefit more than one million customers in our Penelec and Met-Ed service territories. This work will boost the flow of electricity across the region and incorporate smart technologies that help make our service more reliable and responsive.
Energizing the Future also remains very active in Ohio as our ATSI transmission affiliate continues work on more than $375 million in grid modernization projects this year. For example, we're building two transmission lines and expanding a substation near Springfield, Ohio, and completing work on a 30-mile line near Fremont, Ohio that will enhance the reliability of the power grid serving customers in our Ohio Edison and Toledo Edison service areas.
Looking beyond 2021, we've identified $20 billion in additional projects across our 24,500-mile transmission system that have the potential to further increase reliability, upgrade the condition of equipment, enhance system performance and improve operational flexibility.
Given the importance of our transmission investment program, I look forward to the completion early next year of our Center for Advanced Energy Technology adjacent to our West Akron Campus. This facility will provide our engineers and relay technicians with a hands-on training environment that will simulate real-world conditions on the transmission system. It also will be used for evaluating and testing equipment to ensure it complies with the latest industry standards, including those related to cybersecurity.
Smart grid technologies will play a key role in ensuring our grid is up to the task of meeting the future energy needs of customers. More than 1.5 million customers in Pennsylvania are already benefitting from our deployment of smart meters that can help them better understand and manage their electric use. And, in the future, these devices may help us better detect power outages and restore power more quickly and efficiently.
We're exploring ways to deploy similar technologies in Ohio through our participation in PowerForward, an ambitious grid modernization effort launched in 2017 by the Ohio Public Utilities Commission. We also filed a $450 million grid modernization plan with the PUCO that will provide immediate reliability benefits while preparing our system for future smart grid improvements that make the most sense for our customers. For example, we plan to install new circuit ties that can help us isolate damage to a confined area and restore service to customers by rerouting power from nearby lines.
In our Maryland service area, we're testing other automated technologies – enabled by high-speed communications – that can help prevent service interruptions by proactively evaluating grid conditions and quickly taking corrective actions, even before outages occur. These technologies represent an exciting future for our industry as we build a more dynamic, intelligent and secure energy system for our customers.
As we move forward with these and other enhancements, we're also taking a hard look at FirstEnergy's structure and staffing levels to better align them with our company's needs moving forward. Toward that end, we've created a new leadership team for FE Tomorrow to build on the initial progress we made through this initiative in 2017. The new team will help us identify and understand how corporate support services will be aligned to support FirstEnergy as a fully regulated utility. The previous team's efforts helped us minimize the negative impacts of our transition away from competitive generation by identifying opportunities for some of the affected employees to fill open positions in other parts of the company.
Throughout this process, we remain committed to maintaining a safe, diverse and highly skilled workforce.
Our top priority is safety, and the overall goal is clear – ensure all of our working men and women arrive home safely at the end of every workday. Although our OSHA-recordable injury rate of 0.82 in 2017 places us in the top quartile for safety performance in our industry, we won't be satisfied until we achieve a zero-accident workplace.
I'm proud of the work being done by our Executive Diversity & Inclusion Council, which is charged with helping us build a workforce that more accurately reflects the demographics of the communities we serve. To keep all of us on the right track, we required diversity awareness training for all employees, and we've established a Diversity & Inclusion goal as one of our 2018 incentive compensation targets. This goal applies to every FirstEnergy leader – from the manager level to me. I'm confident it will help us increase diversity in our professional hires and succession plans and give all employees a better understanding of the importance of this key objective.
I'm also proud of the way our company and employees give back to the communities where they live and work. Last year, our Foundation granted $6.1 million to support over 1,000 community-based organizations, and our employees lent their time and talents to assist hundreds of charitable groups.
In addition, we're dedicated to minimizing the environmental impact of our operations. It's all part of our mission to make our customers' lives brighter, the environment better and our communities stronger.
Certainly, these are challenging times for FirstEnergy, our subsidiaries and all of our employees. But I'm confident that FirstEnergy will emerge from this process even stronger – with the resources we need to deliver greater value to shareholders and provide customers with the safe, reliable and affordable service they expect and deserve.
Before I close, I'd like to recognize George Smart for his outstanding 30-year tenure on our Board of Directors – including 14 years as board chairman. I'm proud to know George as both a business associate and a friend, and I've always valued his wise counsel and personal support. Best of luck, George!
I'd also like to thank Bill Cottle for his 15 years of service to our board… welcome Sandra Pianalto as our newest board member… and congratulate Don Misheff for accepting the challenge of building on George's legacy as our board's new chairman.
Now I would like to take a few questions from the audience. If you have a question, please raise your hand and wait for a microphone, and please limit your questions and comments to two minutes. I apologize in advance if we cannot answer every question.
Thank you for joining us here this morning. And on behalf of our FirstEnergy team, we appreciate your continued support of our company. See you next year.
*FirstEnergy's management team cannot estimate on a forward-looking basis the impact of special items in the context of operating earnings (loss) per share growth projections because special items, which could be significant, are difficult to predict and may be highly variable. Consequently, FirstEnergy is unable to reconcile operating earnings (loss) per share growth projections to a GAAP measure without reasonable effort.
Forward-Looking Statements: This speech includes forward-looking statements within the meaning of the Private Securities Litigation Reform Act of 1995 based on information currently available to management. Such statements are subject to certain risks and uncertainties and readers are cautioned not to place undue reliance on these forward-looking statements. These statements include declarations regarding management's intents, beliefs and current expectations. These statements typically contain, but are not limited to, the terms "anticipate," "potential," "expect," "forecast," "target," "will," "intend," "believe," "project," "estimate," "plan" and similar words. Forward-looking statements involve estimates, assumptions, known and unknown risks, uncertainties and other factors that may cause actual results, performance or achievements to be materially different from any future results, performance or achievements expressed or implied by such forward-looking statements, which may include the following: the ability to successfully execute an exit of commodity-based generation that minimizes cash outflows and associated liabilities, including, without limitation, the losses, guarantees, claims and other obligations of FirstEnergy Corp., together with its consolidated subsidiaries (FirstEnergy) as such relate to the entities previously consolidated into FirstEnergy, including FirstEnergy Solutions Corp.(FES), its subsidiaries and FirstEnergy Nuclear Operating Company (FENOC), which have recently filed for bankruptcy protection; the potential for litigation and demands for payment against FirstEnergy by FES and FENOC or certain of their creditors; the risks associated with the bankruptcy cases of FES, its subsidiaries and FENOC, including, but not limited to, third-party motions in the cases that could adversely affect FirstEnergy, its liquidity or results of operations; the ability to experience growth in the Regulated Distribution and Regulated Transmission segments and the effectiveness of our strategy to operate as a fully regulated business; the accomplishment of our regulatory and operational goals in connection with our transmission and distribution investment plans, including, but not limited to, our planned transition to forward-looking formula rates; changes in assumptions regarding economic conditions within our territories, assessment of the reliability of our transmission and distribution system, or the availability of capital or other resources supporting identified transmission and distribution investment opportunities; the ability to accomplish or realize anticipated benefits from strategic and financial goals, including, but not limited to, the ability to grow earnings in our regulated businesses, continue to reduce costs and to successfully execute our financial plans designed to improve our credit metrics and strengthen our balance sheet; the risks and uncertainties associated with litigation, arbitration, mediation and like proceedings; the uncertainties associated with the deactivation of our remaining commodity-based generating units, including the impact on vendor commitments, and as it relates to the reliability of the transmission grid, the timing thereof; costs being higher than anticipated and the success of our policies to control costs; the uncertainty of the timing and amounts of the capital expenditures that may arise in connection with any litigation, including New Source Review litigation, or potential regulatory initiatives or rulemakings; changes in customers' demand for power, including, but not limited to, changes resulting from the implementation of state and federal energy efficiency and peak demand reduction mandates; economic and weather conditions affecting future sales, margins and operations, such as significant weather events, and all associated regulatory events or actions; changes in national and regional economic conditions affecting FirstEnergy and/or our major industrial and commercial customers, and other counterparties with which we do business; the impact of labor disruptions by our unionized workforce; the risks associated with cyber-attacks and other disruptions to our information technology system that may compromise our generation, transmission and/or distribution services and data security breaches of sensitive data, intellectual property and proprietary or personally identifiable information regarding our business, employees, shareholders, customers, suppliers, business partners and other individuals in our data centers and on our networks; the impact of the regulatory process and resulting outcomes on the matters at the federal level and in the various states in which we do business, including, but not limited to, matters related to rates; the impact of the federal regulatory process on Federal Energy Regulatory Commission (FERC) regulated entities and transactions, in particular FERC regulation of PJM Interconnection, L.L.C. (PJM) wholesale energy and capacity markets and cost-of-service rates, as well as FERC's compliance and enforcement activity, including compliance and enforcement activity related to North American Electric Reliability Corporation's mandatory reliability standards; the uncertainties of various cost recovery and cost allocation issues resulting from American Transmission Systems, Incorporated's realignment into PJM; the ability to comply with applicable state and federal reliability standards and energy efficiency and peak demand reduction mandates; other legislative and regulatory changes, including the federal administration's required review and potential revision of environmental requirements, including, but not limited to, the effects of the United States Environmental Protection Agency's Clean Power Plan, Coal Combustion Residuals, Cross-State Air Pollution Rule and Mercury and Air Toxics Standards programs, including our estimated costs of compliance, Clean Water Act (CWA) waste water effluent limitations for power plants, and CWA 316(b) water intake regulation; changing market conditions that could affect the measurement of certain liabilities and the value of assets held in our pension trusts and other trust funds, and cause us and/or our subsidiaries to make additional contributions sooner, or in amounts that are larger, than currently anticipated; the impact of changes to significant accounting policies; the impact of any changes in tax laws or regulations, including the Tax Cuts and Jobs Act, adopted December 22, 2017, or adverse tax audit results or rulings; the ability to access the public securities and other capital and credit markets in accordance with our financial plans, the cost of such capital and overall condition of the capital and credit markets affecting us and our subsidiaries; further actions that may be taken by credit rating agencies that could negatively affect us and/or our subsidiaries' access to financing, increase the costs thereof, letters of credit and other financial guarantees, and the impact of these events on the financial condition and liquidity of FirstEnergy Corp. and/or its subsidiaries; issues concerning the stability of domestic and foreign financial institutions and counterparties with which we do business; and the risks and other factors discussed from time to time in our United States Securities and Exchange Commission (SEC) filings, and other similar factors. Dividends declared from time to time on FirstEnergy Corp.'s common stock, and thereby on FirstEnergy Corp.'s preferred stock, during any period may in the aggregate vary from prior periods due to circumstances considered by FirstEnergy Corp.'s Board of Directors at the time of the actual declarations. A security rating is not a recommendation to buy or hold securities and is subject to revision or withdrawal at any time by the assigning rating agency. Each rating should be evaluated independently of any other rating. These forward-looking statements are also qualified by, and should be read together with, the risk factors included in our filings with the SEC, including but not limited to the most recent Quarterly Report on Form 10-Q, which such risk factors supersede the risk factors contained in the Annual Report on Form 10-K, and any subsequent Quarterly Reports on Form 10-Q or Current Reports on Form 8-K. The foregoing review of factors also should not be construed as exhaustive. New factors emerge from time to time, and it is not possible for management to predict all such factors, nor assess the impact of any such factor on our business or the extent to which any factor, or combination of factors, may cause results to differ materially from those contained in any forward-looking statements. We expressly disclaim any obligation to update or revise, except as required by law, any forward-looking statements contained herein as a result of new information, future events or otherwise.