FirstEnergy Awards Science, Technology, Engineering and Mathematics Grants to Seven Teachers in Met-Ed Service Area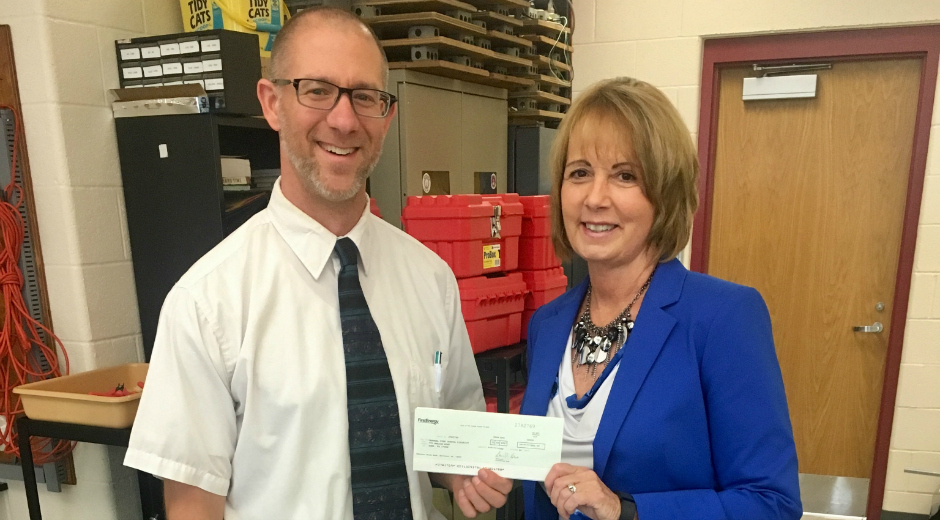 READING, Pa., Nov. 29, 2017 -- FirstEnergy Corp. (NYSE: FE) has awarded Science, Technology, Engineering and Math (STEM) grants totaling more than $5,000 to seven teachers in the company's Metropolitan Edison (Met-Ed) utility service area. The grants will be used for a variety of hands-on projects, workshops and teacher development programs.
The grant winners, their schools and projects are:
Lorraine Coomber, Shallow Brook Intermediate School, Manchester – Using teamwork to solve math and technology problems.
Daniel Dellinger, Red Lion Area Junior High School, Red Lion – Growing trout from fertilized eggs to learn about the life cycle of brook trout, water chemistry, fish biology and watershed health.
Eric Musselman, Central York High School, York – Practicing electrical wiring in a typical residential setting, wiring outlets, light switches and receptacles.
Shannon O'Donnell, Muhlenberg Middle School, Reading – Practicing engineering skills through a variety of tasks with different types of material for building and inventing.
Ashley Pastor, Tulpehocken Area School District, Bernville – Investigating and identifying agricultural problems in various regions of the world, then creating vertical grow systems that could be used to solve these specific problems.
Karen Sipe, New Oxford Middle School, New Oxford – Expanding after-school building toys program to include more students.
Amber Stewart, Boiling Springs High School, Boiling springs – Using hydroponics to grow a winter garden.
"FirstEnergy has long supported educational activities in communities served by our Pennsylvania utilities, particularly those that encourage students to pursue careers in the critical fields of science, technology, engineering and mathematics," said Dee Lowery, president of the FirstEnergy Foundation. "We are pleased to provide assistance to so many STEM projects this year to support our students, schools and educators as they work to help build a strong workforce for the future."
FirstEnergy offers grants up to $1,000 to individual teachers and administrators at schools served by its electric utility operating companies and in communities where it has facilities. Company-wide, these grants totaled almost $70,000 in 2017.
Grant recipients are recommended by local educators who make up FirstEnergy's Educational Advisory Council. As part of the program, recipients must furnish a written summary and evaluation of their projects that can be shared with other educators in FirstEnergy's service area.
Met-Ed, a subsidiary of FirstEnergy Corp., serves approximately 560,000 customers in 15 Pennsylvania counties. Follow Met-Ed on Twitter @Met Ed and on Facebook at www.facebook.com/MetEdElectric.
FirstEnergy is dedicated to safety, reliability and operational excellence. Its 10 electric distribution companies form one of the nation's largest investor-owned electric systems, serving customers in Ohio, Pennsylvania, New Jersey, West Virginia, Maryland and New York. The company's transmission subsidiaries operate more than 24,000 miles of transmission lines that connect the Midwest and Mid-Atlantic regions. Follow FirstEnergy on Twitter @FirstEnergyCorp or online at www.firstenergycorp.com.
CONTACT: News Media Contact: Scott Surgeoner, (610) 384-7939